Hukum Pembuatan Pupuk dari Bangkai Binatang
The Law of Making Fertilizer from Animal Carcasses
Rahmadani Rahmadani

Sekolah Tinggi Ilmu Islam dan Bahasa Arab (STIBA) Makassar

Islahuddin Ramadhan Mubarak

Sekolah Tinggi Ilmu Islam dan Bahasa Arab (STIBA) Makassar

Riska Riska

Sekolah Tinggi Ilmu Islam dan Bahasa Arab (STIBA) Makassar

Nur Afni A.

Sekolah Tinggi Ilmu Islam dan Bahasa Arab (STIBA) Makassar
Keywords:
fertilizer, carcass, animal, law, Islam
Abstract
This study aims to find out and understand what the law of making fertilizer from animal carcasses is. The problems in this research are; First, how about the law of carrion in general? Second, how is the review of Islamic law on the manufacture of fertilizer from animal carcasses? Qualitative descriptive research (non-statistical) using historical approaches and normative juridical approaches. The data used in this study are sourced from primary data and secondary data in the form of the Koran, hadith, classic and contemporary books, journals, theses, papers, and scientific literature related to the title of this research. The results of the research found are first, the law on the use of animal carcasses is okay because it is also a treasure that can be used, what is forbidden from the carcass is consuming or eating it. Second, the review of Islamic law on the manufacture of fertilizer from animal carcasses is lawful because there has been suitability of each analytical review used, such as in terms of manufacture or production, qiyās, istitālah, and maslahah.
References
Al-Qur'an dan Terjemahannya. Kementerian Agama RI
Amri, Miftaakhul. "Konsep Maslahat dalam Penetapan Hukum Islam (Telaah Kritis Pemikiran Hukum Islam Najamuddin At - ThuFi)", Et-Tijarie 5, no. 2 (2018)
Hukum Bangkai-Gigitlah Sunnah dengan gigi Geraham, https://ibnbadar.wordpress.com ( 22 Agustus 2021).
HRP, Rahmayanti. "Pengomposan Sampah Organik Menggunakan Metode Vermikomposting (Studi Kasus: Universitas Sumatera Utara)", Skripsi. Fak. Teknik Universitas Sumatera Utara, 2019.
Izzat, M Kanz. "Pemanfaatan Bangkai (Studi Komperatif Mazhab Syafi'i dan Mazhab Zhohiri)" Skripsi. Jambi: Fak. Fakultas Syariah Universitas Islam Negeri Sulthan Thaha Saifuddin 2018.
Mukhlishin, Ahmad dan Saipudin,"Sistem Jual Beli Pupuk Kandang Perspektif Imam Syafi'i dan Hanafi (Studi Di Kampung Sulusuban Kecamatan Seputih Agung)" Mahkamah 2, no. 2 (2017)
Qardhawi, Yusuf. Halal Haram dalam Islam, Cet. VI; t.t, t.th.
Ragam Mudharat Bangkai Binatang I Republika Online, https://republika.co.id ( 22 Agustus 2021)
Rahmawati, Ria. "Apa itu Istithalah dan Bagaimana Hukumnya Menurut Al-Madzahib Al-'Arba'ah, Artikel, (9 Juli 2019) http://pm.unida.gontor.ac.id (24 Agustus 2021).
Sidiq, Zaini Fajar. "Jual beli kotoran Hewan dalam Perspektif Istiḥsān Hukum Islam" (Studi Kasus Di Desa Sunggingan Kecamatan Miri Kabupaten Sragen), Skripsi. Surakarta: Fak. Syariah Institut Agama Islam Negeri , 2019.
Tohari, Chamim. "Argumentasi Ibn Hazm: Dekonstruksi Kehujjahan Qiyas Sebagai Metode Penetapan Hukum Islam", Jurnal Hukum 13, No. 1 (Mei 2016)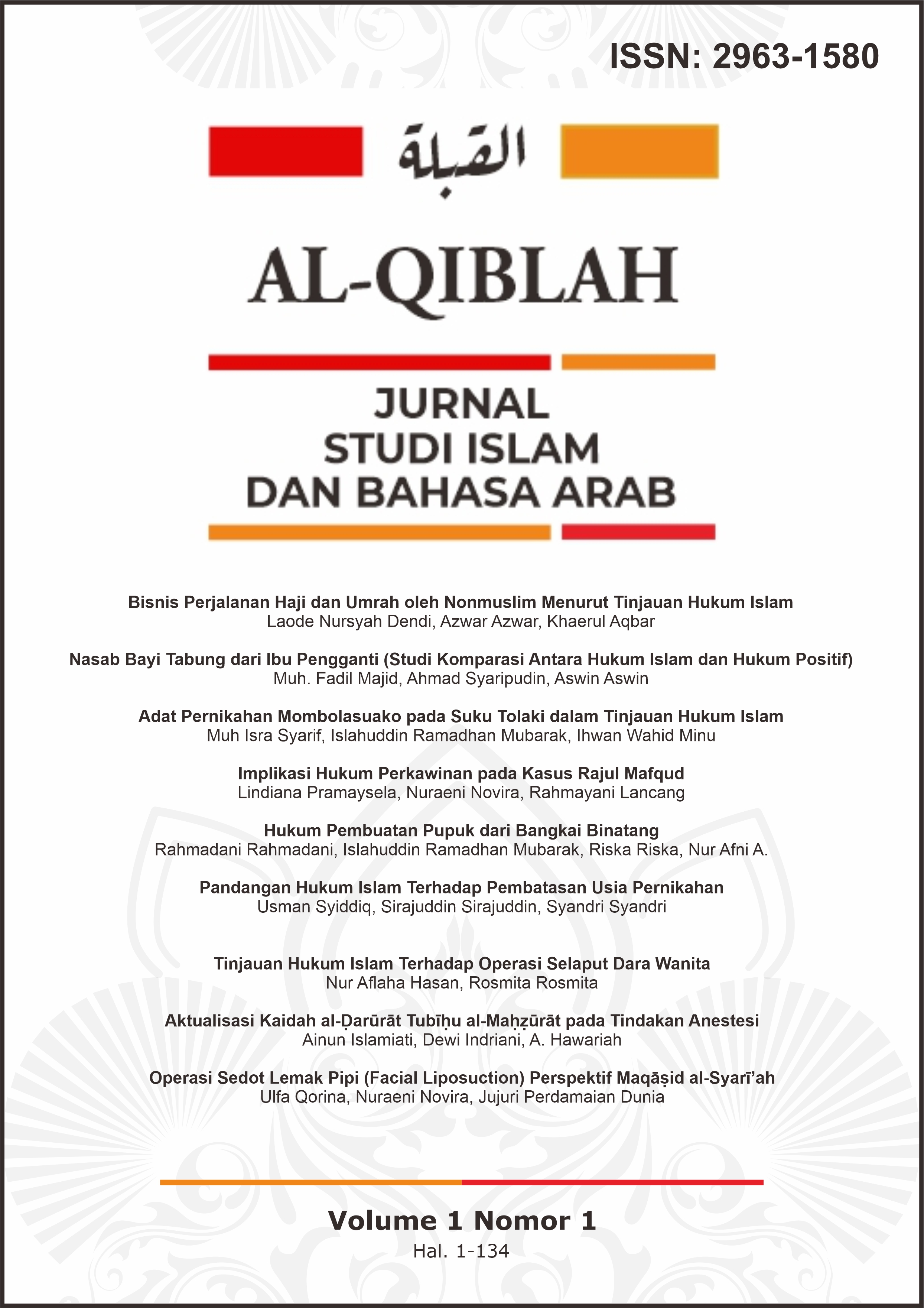 Statistic

Viewed:
120

Downloaded:
62
How to Cite
Rahmadani, Rahmadani, Islahuddin Ramadhan Mubarak, Riska Riska, and Nur Afni A. 2022. "Hukum Pembuatan Pupuk Dari Bangkai Binatang". AL-QIBLAH: Jurnal Studi Islam Dan Bahasa Arab 1 (1), 72-81. https://doi.org/10.36701/qiblah.v1i1.631.
Copyright (c) 2022 Rahmadani Rahmadani, Islahuddin Ramadhan Mubarak, Riska Riska, Nur Afni A.
This work is licensed under a Creative Commons Attribution-NonCommercial-ShareAlike 4.0 International License.