Festival Anak Saleh di Desa Leang-leang Kabupaten Maros
Aswar Aswar

Sekolah Tinggi Ilmu Islam dan Bahasa Arab (STIBA) Makassar

Rosmita Rosmita

Sekolah Tinggi Ilmu Islam dan Bahasa Arab (STIBA) Makassar
Keywords:
Virtuous, Courtesy, Morals, Leang-leang, Maros
Abstract
Community service (PkM) is one pillar of Tri Dharma in Higher Education. One form of its realization is cooperation between the regional government and universities in the form of implementing KKN that is sustainable and provides mutual benefit (symbiosis of mutualism). The purpose of this PkM was to improve the competence, morals, and attitude of elementary-school-age children in Leang-Leang village through the implementation of a program titled "Virtuous Children's Festival" (FAS) organized by the students of Community Service Program (KKN) III STIBA Makassar, which was directly guided by a Field Supervisor (DPL). As for the forms of competition in FAS those were: Adhan competition, Musabaqah Tilawatil Quran (MTQ), Musabaqah Hifdzil Quran (MHQ), Islamic Intelligence Quiz (CCI), and Little Da'i. Method of the implementation of the program was analyzing the needs of elementary-school-age children, planning, implementing, and evaluating and following up on activities. The results of PkM are that elementary-school-age children have had basic Islamic knowledge, memorized short letters of Quran and daily prayers, and are enthusiastic in learning Quran.
References
Arrizal, S. (2019). Penerapan Ekstrakurikuler Da'I Cilik (Dacil) Dalam Pembentukan Karakter Percaya Diri Peserta Didik Sdn Kauman 2 Malang (Doctoral dissertation, University of Muhammadiyah Malang).

Cholifah, S. N. (2019). Strategi Ustadzah dalam Meningkatkan Hafalan Al Qur'An Santri Putri di Pondok Pesantren Raudlatul Musthofa Pundensari Rejotangan Tulungagung.

Fauzia, F., Hasanah, U., Irawati, D. A., Ramadhan, M. H., Wibisono, A. D., Rahman, T., & Sepdiana, R. D. (2018). Artikel Dan Feature KKN UAD Divisi XVII. A. 3" Penyelenggaraan Festival Anak Sholeh di Dusun Jatibungkus, Hargomulyo, Gedangsari, Gunungkidul, DIY". festival anak sholeh.

Hamdani, A. Y. (2019). Manfaat membaca dan menghafal alquran: Studi Living Qur'an terhadap manfaat membaca dan menghafal Alquran pada anggota unit kegiatan santri Ponpes Al-Ihsan (Doctoral dissertation, UIN Sunan Gunung Djati Bandung).

Hasan, A. R. (2019). Pendidikan Karakter Bersaing dalam Musabaqah Tilawatil Qur'an. IQ (Ilmu Al-qur'an): Jurnal Pendidikan Islam, Vol.2, N0.02, h.202-216.

ISLAM, P. P. A., & JAMBI, S. T. S. Dampak Remaja Mengikuti Musabaqah Tilawatil Quran Terhadap Prilaku Hidup Desa Sungai Terap Kecamatan Kumpeh Ulu Tahun 2017.

Maryani, I., & Noveryal, N. (2019). Penyelenggaraan Festival Anak Sholeh di Dusun Seropan I, Desa Munthuk, Kecamatan Dlingo. Jurnal Pemberdayaan: Publikasi Hasil Pengabdian Kepada Masyarakat, Vol.3, No.2, h.131-136.

Noviyanti, R. (2017). Penerapan Strategi C3T (Cerdas, Cermat, Cepat dan Tepat) Dalam Meningkatkan Hasil Belajar Mata Pelajaran Pendidikan Agama Islam Peserta Didik Kelas VIII di SMP PGRI 06 Bandar Lampung (Doctoral dissertation, UIN Raden Intan Lampung).

Pangestu, K. (2019). Pemberdayaan Masjid di Dusun Pakel, Planjan, Saptosari, Gunungkidul, Daerah Istimewa Yogyakarta untuk Kemajuan Ummat.

Profil Kelurahan Leang-Leang Tahun 2019.

Subhin, M. A. (2017). Membentuk Akhlaqul Karimah pada Anak dalam Perspektif Pendidikan Islam. EDUKASI: Jurnal Pendidikan Islam, Vol.5, No.1, h.47-73.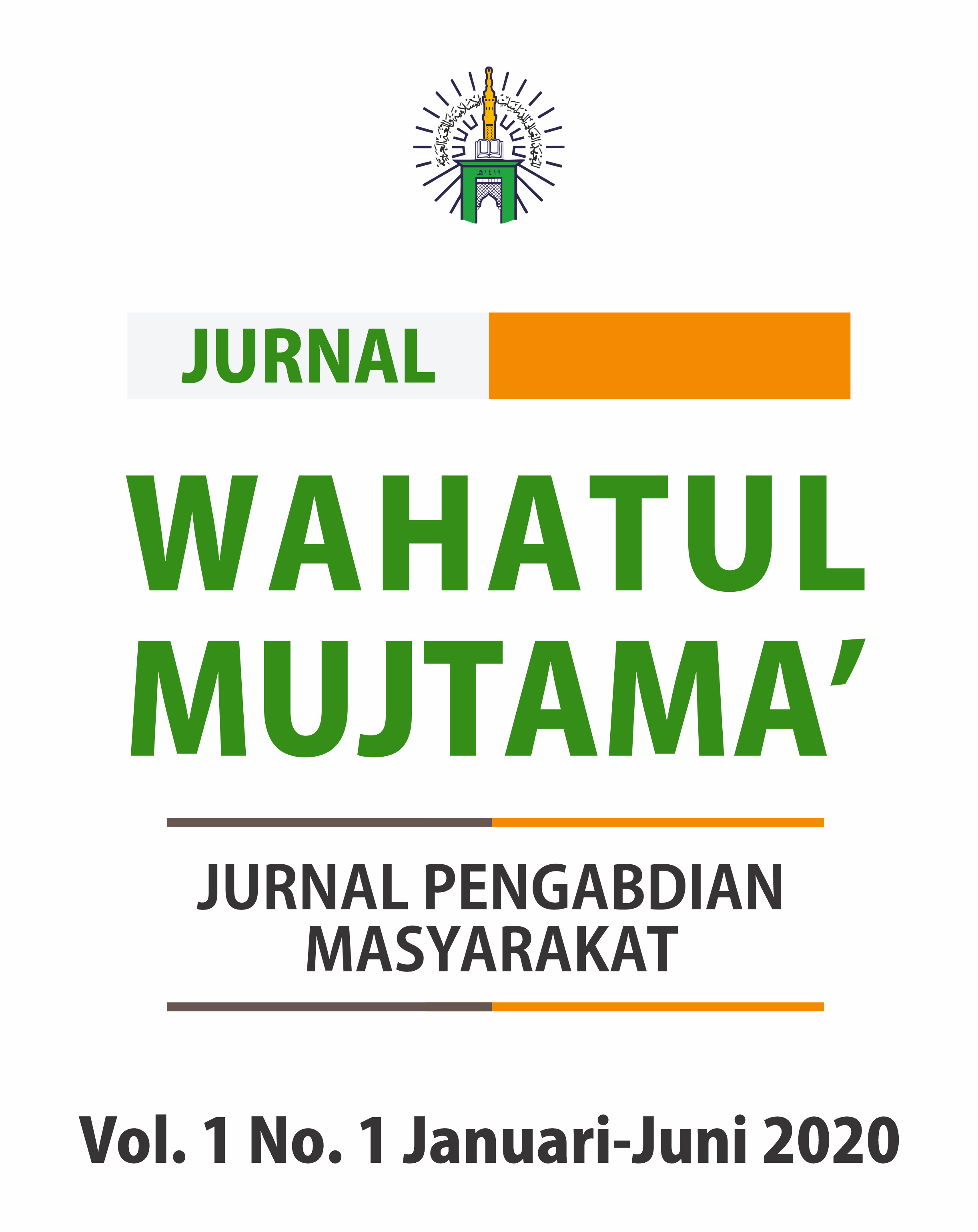 Statistic

Viewed:
76

Downloaded:
55
How to Cite
Aswar, A., & Rosmita, R. (2020). Festival Anak Saleh di Desa Leang-leang Kabupaten Maros. WAHATUL MUJTAMA': Jurnal Pengabdian Masyarakat, 1(1), 54-66. https://doi.org/10.36701/wahatul.v1i1.137