Implementasi Pengabdian Masyarakat melalui Pelaksanaan Dirasah Islamiyah di Desa Tukamasea Kabupaten Maros
Munawara Munawara

Sekolah Tinggi Ilmu Islam dan Bahasa Arab (STIBA) Makassar

Iskandar Iskandar

Sekolah Tinggi Ilmu Islam dan Bahasa Arab (STIBA) Makassar
Keywords:
Tukamasea Village, Dirosa Islamiyah, Muslimah, KKN STIBA
Abstract
The village of Tukamasea is one of the villages that has become a post for the placement of class III STIBA Makassar students in the Bantimurung District, Maros Regency. The implementation of community service scheduled by KKN STIBA Makassar students aims to facilitate the development of the quality of understanding of Muslim Muslim religion in Tukamasea Village, Bantimurung District, Maros Regency. Through the implementation of Islamic dirose which is manifested through various Islamic education and teaching programs for Muslim women. Through community service programs implemented in various dirosa Islamiyah activities for Muslim women in Tukamasea Village, it can be concluded that most of the Muslim women in Tukamasea Village before joining the dirosah Islamiyah program have knowledge and understanding of Islam. which is minimal and after participating in dirosah islamic activities, Muslim women in Tukamasea Village have an increase in knowledge and understanding of Islam.
References
Anshori, A.H. (2015). Strategi Peningkatan Sumber Daya Manusia dalam Pendidikan Islam. JURNAL QATHRUNÂ Vol. 2 No. 2
Azra, A. (2019). Pendidikan Islam: Tradisi dan Modernisasi di tengah Tantangan Milenium III. Jakarta: Prenada Media
Furchan, A. (2004). Pengantar Penelitian Dalam Pendidikan. Yogyakarta: Pustaka Belajar
Harfiani, R., Mavianti. (2019). PKM Peningkatan Kualitas Guru PAUD Dalam Pembelajaran Pendidikan Agama Islam Berbasis Pendidikan Inklusif di Kecamatan Sunggal Kabupaten Deli Serdang. IHSAN: Jurnal Pengabdian Masyarakat, Vol.1, No.1
Iskandar, I., & Amirullah, M. (2020). Pelaksanaan Dirasah Qur'aniyah sebagai Upaya Peningkatan Kualitas Baca Al-Qur'an di Desa Tukamasea Kabupaten Maros. WAHATUL MUJTAMA': Jurnal Pengabdian Masyarakat, 1(1), 42-53. Hal 46.
Langgulung, H. (1992). Asas-asas Pendidikan Islam. Jakarta: Pustaka Al-Husna
Nurlaila. (2011). Model-Model Pengembangan Pendidikan Agama Islam di Sekolah/ Perguruan Tinggi. Ta'dib XVI.
Syah, A. (2017). Term Tarbiyah, Ta'lim, dan Ta'dib dalam Pendidikan Islam: Tinjauan dari Aspek Semantik. Al-Fikra: Jurnal Ilmiah Keislaman, Vol.7, No.1.
Suretno, S., Zakaria, A., Pardian, A., & Ginawan, I. (2020). Implementasi Pendidikan Masyarakat Berbasis Masjid di Islamic Center Palm Raya Melalui Kegiatan Pengabdian Kepada Masyarakat di Kelurahan Bubulak, Kecamatan
Bogor Barat, Kota Bogor. Khidmatul Ummah: Jurnal Pengabdian Kepada Masyarakat, 1(01), 66-83.
Undang-undang No 20 tahun 2003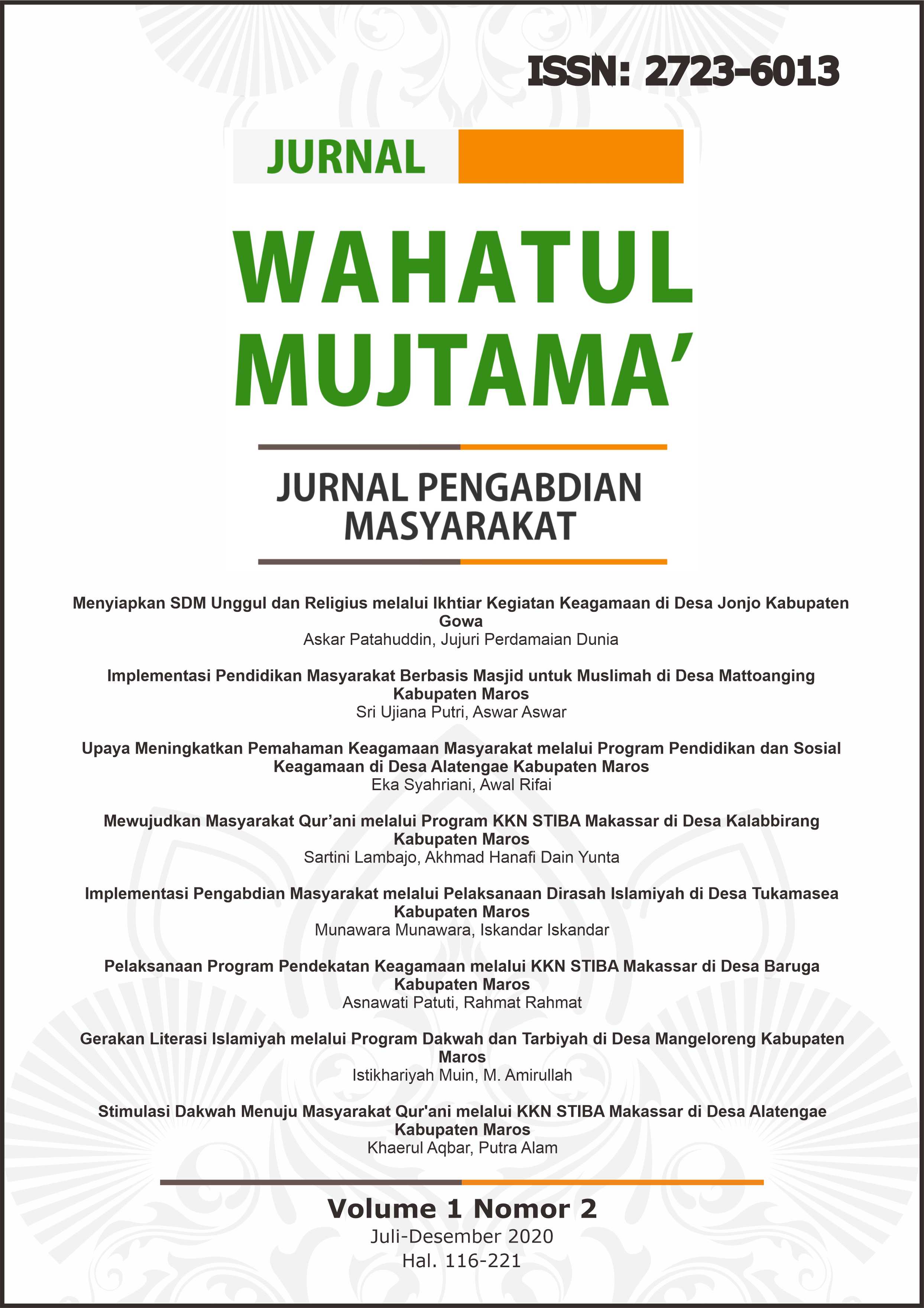 Statistic

Viewed:
271

Downloaded:
320
How to Cite
Munawara, M., & Iskandar, I. (2020). Implementasi Pengabdian Masyarakat melalui Pelaksanaan Dirasah Islamiyah di Desa Tukamasea Kabupaten Maros. WAHATUL MUJTAMA': Jurnal Pengabdian Masyarakat, 1(2), 174-184. https://doi.org/10.36701/wahatul.v1i2.263