Pelaksanaan Program Pendekatan Keagamaan melalui KKN STIBA Makassar di Desa Baruga Kabupaten Maros
Asnawati Patuti

Sekolah Tinggi Ilmu Islam dan Bahasa Arab

Rahmat Rahmat

Sekolah Tinggi Ilmu Islam dan Bahasa Arab (STIBA) Makassar
Keywords:
desa baruga, gowa, KKN, masyarakat
Abstract
Baruga village, Bantimurung sub-district is an area in Maros district where the majority of the original population is Muslim. The existence of Islam in Maros has been around for a long time, namely with the entry of Raja Gowa and Tallo which have a direct border area with the Marusu Maros kingdom so that the Islamic life of the Baruga Village Community, Bantimurung Maros sub-district looks so real. The purpose of Real Work Lecture (KKN) III Stiba Makassar is to realize community service which is one of the pillars of the tri dharma of higher education. The method of implementing this program begins with conducting a field review based on an independent instrument. The results of the KKN program show the importance of community service programs by seeing the benefits felt by KKN participants, the community and the government. Religious activities which are the main orientation of this program have been successfully carried out, as well as social activities, organizational activities and the active role of KKN participants with the government in successful community development efforts.
References
Arobi, M. (2019). Rumah-Rumah Tahfizh di Kota Banjarmasin: Profil, Program, dan Metode Pengajaran Al-Qur'an. Tarbiyah: Jurnal Ilmiah Kependidikan, 8(1), 39-52.
Aswar, A., & Rosmita, R. (2020). Festival Anak Saleh di Desa Leang-leang Kabupaten Maros. WAHATUL MUJTAMA': Jurnal Pengabdian Masyarakat, 1(1), 54-66.
Buku perkembangan penduduk Desa Baruga tahun 2018
Guswenti, M. (2019). Implementasi Metode Dirosa Dalam Pembelajaran Membaca Al-Qur'an Bagi Santri Di Wahdah Islamiyah Bengkulu (Skripsi, IAIN Bengkulu).
Mariam, M. (2019). Peran Majelis Taklim dalam Pemberdayaan untuk Membentuk Kepribadian Muslimah. Lembaran Masyarakat: Jurnal Pengembangan Masyarakat Islam, 5(02), 121-136.
Saddang, Achmad Abu Bakar, Munir. (2018) Implementasi Metode DIROSA dalam Pembelajaran Al-Qur'an Dewan Pimpinan Daerah Wahdah Islamiyah Makassar, (Makassar: Jurnal Diskursus Islam, Vol.6, N0.3
Nadhifa, S. B. (2017). Pemahaman Jamaah Terhadap Pesan Dakwah Ustadz. Abdullah Zaen, Lc., M.A dalam Pengajian Rutin Jum'at Pagi Di Masjid Agung Darussalam Purbalingga (Skripsi, IAIN Purwokerto)
Riswana, R. (2018). Peranan Taklim Muslimah dalam Meningkatkan Pemahaman Hak dan Kedudukan Wanita dalam Rumah Tangga (Studi pada Yayasan Markaz Imam Malik Kota Makassar) (Skripsi, Universitas Islam Negeri Alauddin Makassar).
Widyanto, R. A., Widiyanto, A., & Arfan, M. Penerapan M-Dakwah Pada Kelompok Kajian Jum'at Pagi Sebagai Sarana Dakwah Alternatif.
Wijaya, H. (2020). Pembelajaran Metode Dirosa di Desa Majannang Kabupaten Gowa. WAHATUL MUJTAMA': Jurnal Pengabdian Masyarakat,1(1), 67-74.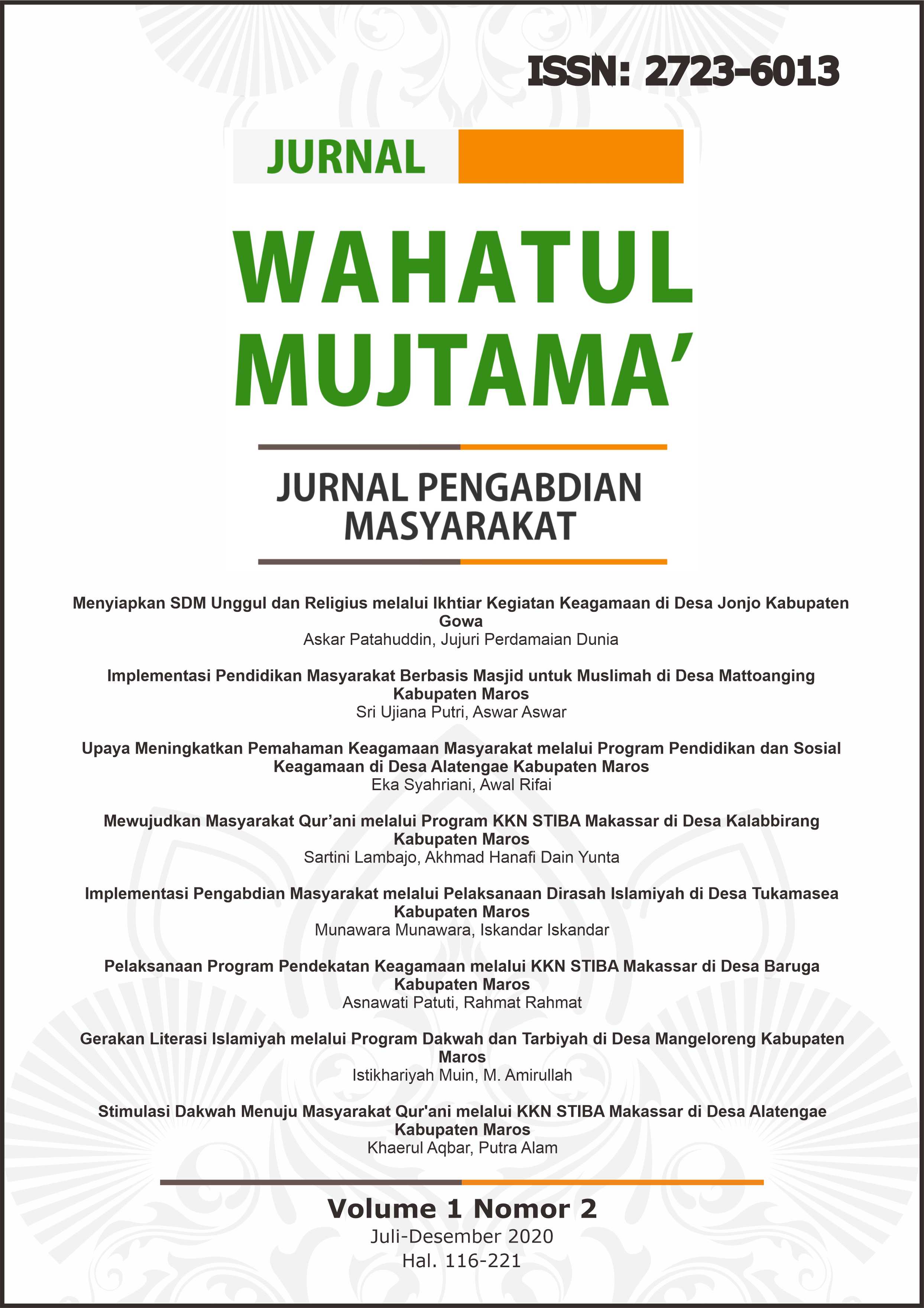 Statistic

Viewed:
216

Downloaded:
983
How to Cite
Patuti, A., & Rahmat, R. (2020). Pelaksanaan Program Pendekatan Keagamaan melalui KKN STIBA Makassar di Desa Baruga Kabupaten Maros. WAHATUL MUJTAMA': Jurnal Pengabdian Masyarakat, 1(2), 185-199. https://doi.org/10.36701/wahatul.v1i2.267