Program Qur'anic Teenagers untuk Menumbuhkan Minat Belajar Al-Qur'an bagi Anak dan Remaja di Desa Wakanimboro, Buton Selatan
Qur'anic Teenagers Program to Enhance the Learning Qur'an Interest for Children and Teenagers in Wakanimboro Village, South Buton
Khaerul Aqbar

Sekolah Tinggi Ilmu Islam dan Bahasa Arab (STIBA) Makassar

Askar Patahuddin

Sekolah Tinggi Ilmu Islam dan Bahasa Arab (STIBA) Makassar
Keywords:
Children, Qur'anic, Teenagers, South Buton, Wakanimboro,
Abstract
PkM aims to: (1) Foster social awareness of students in preaching based on Islamic science that has been obtained while in STIBA Makassar; (2) Practicing Tri Dharma of higher education for Field Guidance Lecturers (DPL) on the pillars of community service; (3) Develop the existence of STIBA Makassar as a university based on the recruitment of scholars and organizers who benefit the community. Therefore, PKM is held in the highland area of Wakinamboro Village, is one of 9 villages located in Siompu Subdistrict, South Buton Regency, Southeast Sulawesi Province. PkM is started by conducting a field survey and then continued by using SOAR analysis as a material to develop a work program, so that 2 activities for less touched areas da'wah because of its geographical location. The two activities are teaching the Qur'an and tahfiz class for teenager. The result of this activity is the ability to read and memorize the Qur'an children and adolescents in Wakinamboro Village increased. The community also felt very helped and thanked by the program held by students kkn STIBA Makassar because their children are able to read the Qur'an faster than ever.
References
Aswar, Aswar, and Rosmita Rosmita. "Festival Anak Saleh Di Desa Leang-Leang Kabupaten Maros." WAHATUL MUJTAMA': Jurnal Pengabdian Masyarakat 1, no. 1 (2020): 54–66. https://doi.org/10.36701/wahatul.v1i1.137.

Aziz, Jamil Abdul. "Pengaruh Menghafal Al-Quran Terhadap Pembentukan Karakter Peserta Didik Di Roudhotul Atfal (RA) Jamiatul Qurra Cimahi." Golden Age: Jurnal Ilmiah Tumbuh Kembang Anak Usia Dini 2, no. 1 (2017): 1–15. http://ejournal.uin-suka.ac.id/tarbiyah/index.php/goldenage/article/view/1357.

Enrekang, Stkip Muhammadiyah. "Pelatihan Dan Pengajaran Baca Tulis Al- Qur ' an Pada TK -TPA At-Taqwa Dalam Mengatasi Buta Aksara Qur ' an Di Kelurahan Kambiolangi Ismail" 1, no. 1 (2019): 21–27.

Hidayat, Nida Khofyya, and Maemunah Sa'diyah. "UPAYA MENINGKATKAN MOTIVASI ANAK MEMPELAJARI AL-QUR'AN MELALUI VIDIO ANIMASI PADA MASA PANDEMI COVID-19." PKM-P 4.1 (2020): 124-132.

Makassar, Universitas Muhammadiyah, Fakultas Keguruan, D A N Ilmu, Program Studi, and Pendidikan Sosiologi. "Nur Aida," 2017.

Muin, Istikhariyah, and M. Amirullah. "Gerakan Literasi Islamiyah Melalui Program Dakwah Dan Tarbiyah Di Desa Mangeloreng Kabupaten Maros." WAHATUL MUJTAMA': Jurnal Pengabdian Masyarakat 1, no. 2 (2020): 200–208. https://doi.org/10.36701/wahatul.v1i2.266.

"Nizan Abu, 2008, Buku Pintar , Jakarta: Qultum Media, h. 7. 139" 1, no. 2 (2021): 139–58.

Profil Desa Wakinamboro

Syahriani, Eka, and Awal Rifai. "Upaya Meningkatkan Pemahaman Keagamaan Masyarakat melalui Program Pendidikan dan Sosial Keagamaan di Desa Alatengae Kabupaten Maros." WAHATUL MUJTAMA': Jurnal Pengabdian Masyarakat 1.2 (2020): 142-156.

Tempo, Rachmat Bin Badani, and Khaerul Aqbar. "Ikhtiar Mahasiswa KKN STIBA Makassar dalam Pembentukan Akhlak Qur'ani Masyarakat Desa Balassuka Kabupaten Gowa." WAHATUL MUJTAMA': Jurnal Pengabdian Masyarakat 1.1 (2020): 90-115.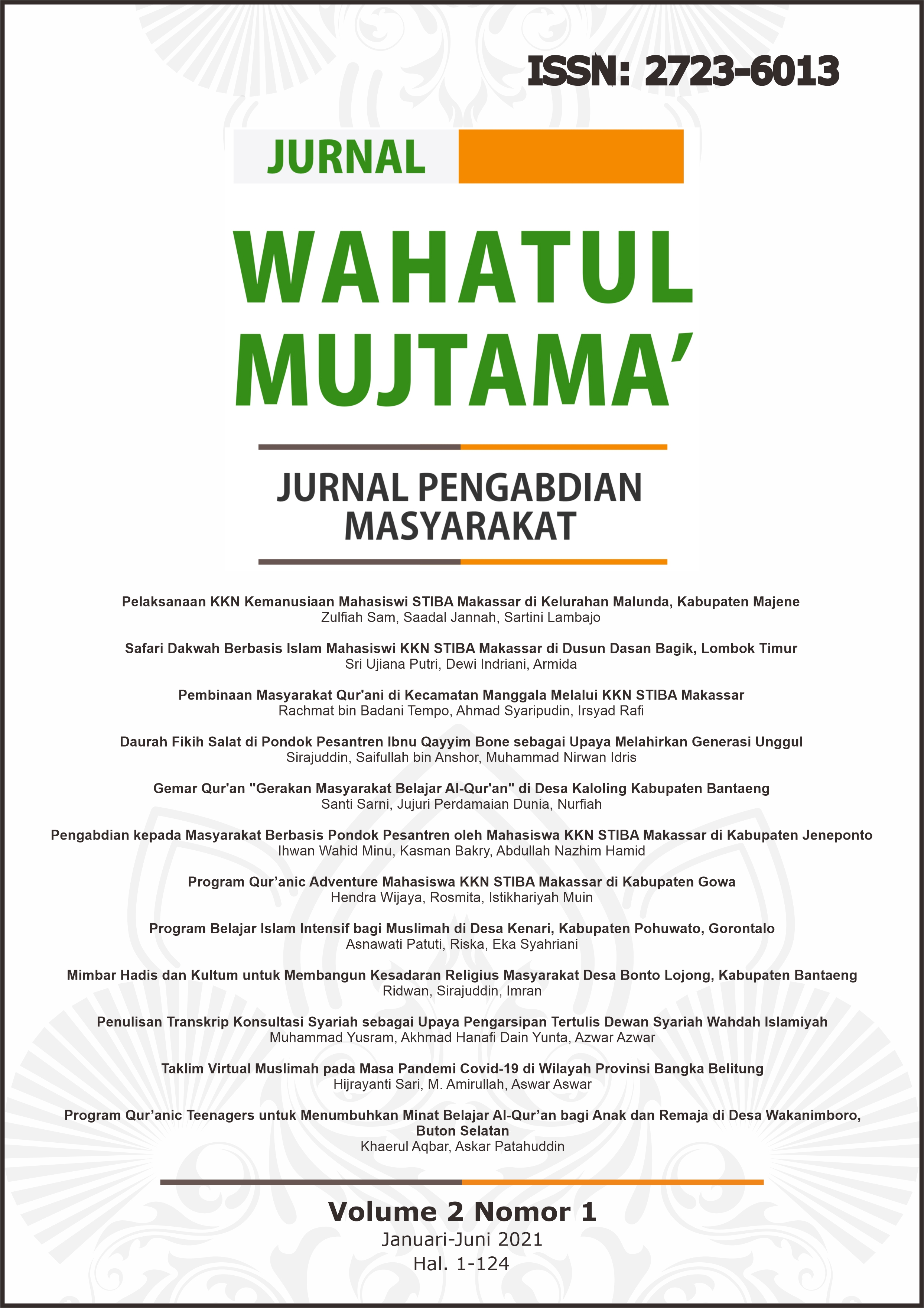 Statistic

Viewed:
111

Downloaded:
107
How to Cite
Aqbar, K., & Patahuddin, A. (2021). Program Qur'anic Teenagers untuk Menumbuhkan Minat Belajar Al-Qur'an bagi Anak dan Remaja di Desa Wakanimboro, Buton Selatan. WAHATUL MUJTAMA': Jurnal Pengabdian Masyarakat, 2(1), 116-124. https://doi.org/10.36701/wahatul.v2i1.348