Mimbar Hadis dan Kultum untuk Membangun Kesadaran Religius Masyarakat Desa Bonto Lojong, Kabupaten Bantaeng
Mimbar of Hadith and Kultum to Build Religious Awareness of Bonto Lojong Village Community, Bantaeng Regency
Ridwan

Sekolah Tinggi Ilmu Islam dan Bahasa Arab (STIBA) Makassar

Sirajuddin

Sekolah Tinggi Ilmu Islam dan Bahasa Arab (STIBA) Makassar

Imran

Sekolah Tinggi Ilmu Islam dan Bahasa Arab (STIBA) Makassar
Keywords:
Bantaeng Bonto Lojong Village, Hadith, Kultum, KKN STIBA Makassar
Abstract
Bonto Lojong village has a status as a definitive village and is classified as a self-help village, including a village that is quite potential, developed and open. However, religious activities are not very lively, so this becomes the basis for the implementation of PKM STIBA Makassar. To identify problems that occur in the community, map problems, the needs of the da'wah movement, and develop strategies for the preparation of KKN programs, soar analysis is used with the results obtained; Strenght: muntea village, Bonto Lojong village, Uluere sub-district and Sunggumanai sub-village Pa'jukukang Pa'jukukang subdistrict Bantaeng 100% Muslim, and open-minded, and STUDENTS STIBA Makassar has been equipped with good religious understanding, has da'wah skills; Oppurtunities: support and cooperation of apparat villages and communities; Aspiration: stakeholders facilitate the community to obtain its spiritual needs; Result: people become more understanding of their religion well. The results of this analysis Realize kultum activities and hadith readings. After the existence of this program, people began to be interested to listen to the reading of hadith and kultum delivered by students of KKN STIBA Makassar. This will certainly add insight to the Islamic congregation of the mosque.
References
Adiyanto, Okka, and K K N Alternatif. "PENUMBUHAN KARAKTER ANAK USIA SEKOLAH BERBASIS MASJID MELALUI KULIAH KERJA NYATA ( KKN ) Menurut Data Informasi Kependudukan Provinsi Daerah Istimewa Yogyakarta Berjumlah Timur : Kelurahan Pakuncen : Kelurahan Notoprajan Selatan : Kelurahan Patangpuluhan." Jurnal Pemberdayaan 2, no. 2 (2018): 333–40.

Aqbar, Khaerul, and Putra Alam. "Stimulasi Dakwah Menuju Masyarakat Qur'ani melalui KKN STIBA Makassar di Desa Alatengae Kabupaten Maros." WAHATUL MUJTAMA': Jurnal Pengabdian Masyarakat 1.2 (2020): 209-221.

Usman, Mukran H. "Potret Dakwah dalam Kegiatan KKN STIBA Makassar di Desa Baruga Kabupaten Maros." WAHATUL MUJTAMA': Jurnal Pengabdian Masyarakat 1.1 (2020): 75-89.

Tempo, Rachmat Bin Badani, and Khaerul Aqbar. "Ikhtiar Mahasiswa KKN STIBA Makassar dalam Pembentukan Akhlak Qur'ani Masyarakat Desa Balassuka Kabupaten Gowa." WAHATUL MUJTAMA': Jurnal Pengabdian Masyarakat 1.1 (2020): 90-115.

Wulandari, Cheni Eka Putri, Sugiatno Sugiatno, and Siswanto Siswanto. "Dampak Kuliah Kerja Nyata Dalam Pengembangan Keagamaan Bagi Remaja." FOKUS Jurnal Kajian Keislaman Dan Kemasyarakatan 5, no. 2 (2020): 221. https://doi.org/10.29240/jf.v5i2.1830.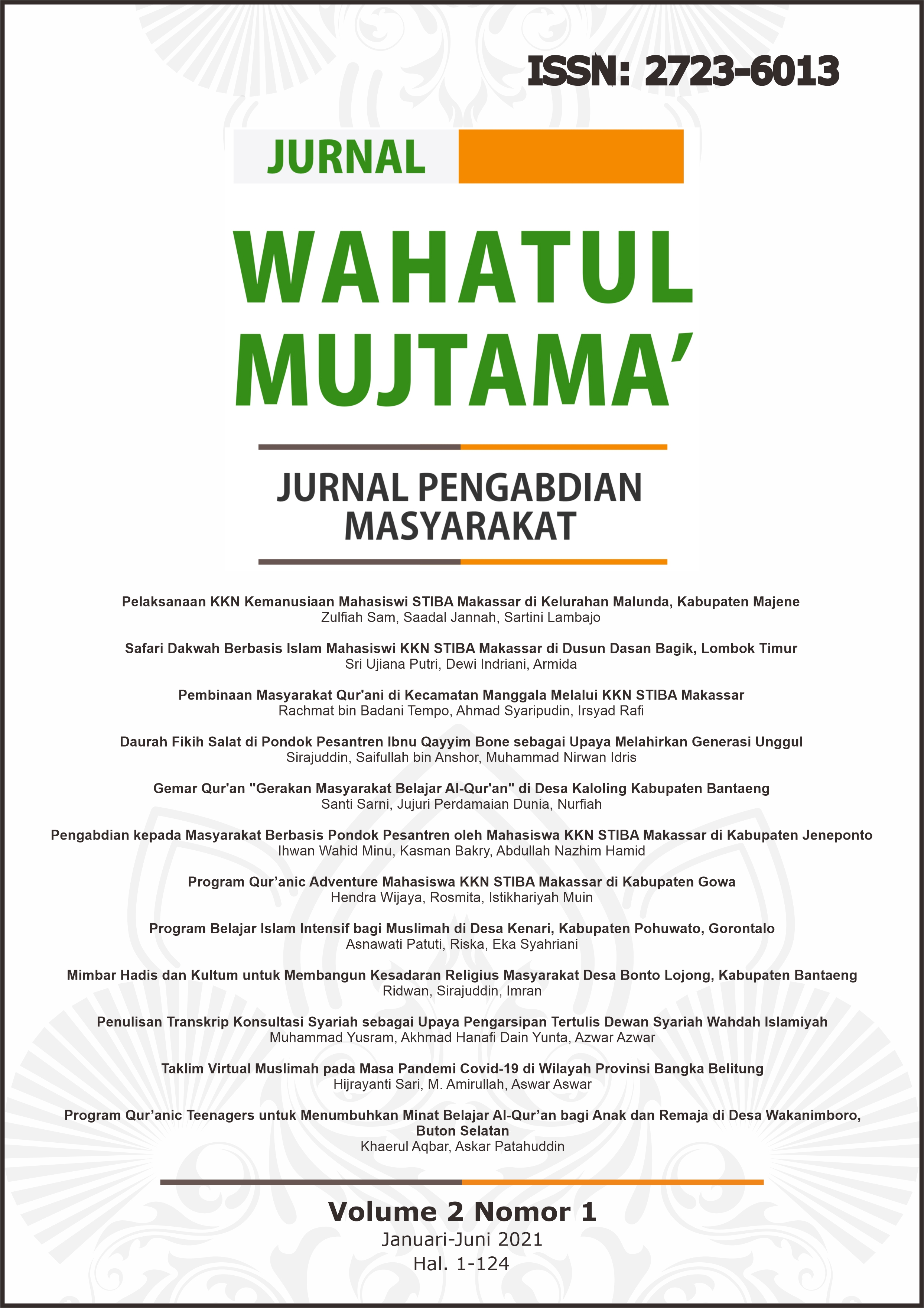 Statistic

Viewed:
110

Downloaded:
94
How to Cite
Ridwan, Sirajuddin, & Imran. (2021). Mimbar Hadis dan Kultum untuk Membangun Kesadaran Religius Masyarakat Desa Bonto Lojong, Kabupaten Bantaeng. WAHATUL MUJTAMA': Jurnal Pengabdian Masyarakat, 2(1), 83-89. https://doi.org/10.36701/wahatul.v2i1.349