Penulisan Transkrip Konsultasi Syariah sebagai Upaya Pengarsipan Tertulis Dewan Syariah Wahdah Islamiyah
Transcript Writing of Sharia Consultation as Effort of Written Archival of Sharia Council of Wahdah Islamiyah
Muhammad Yusram

Sekolah Tinggi Ilmu Islam dan Bahasa Arab (STIBA) Makassar

Akhmad Hanafi Dain Yunta

Sekolah Tinggi Ilmu Islam dan Bahasa Arab (STIBA) Makassar

Azwar Azwar

Sekolah Tinggi Ilmu Islam dan Bahasa Arab (STIBA) Makassar
Keywords:
Sharia Council, Transcript, Sharia Consultation, Wahdah Islamiyah.
Abstract
The Sharia Council of Wahdah Islamiyah is one of the strategic institutions in the structure of Wahdah Islamiyah Organization that has many visual recordings related to sharia consultations delivered by citizens. Therefore, in order to obtain broader benefits, the Sharia Council of Wahdah Islamiyah considers it important to do a transcript on the sharia consultation video. This process is done by copying the data through the recorded visual video. During one month of transcript process, 23 transcript files of Sharia Consultation were collected which were divided into five commissions, namely: General Commission, Worship Commission, Usrah Commission, Akidah Commission and Muamalah Commission. The results of this transcript were sent to the official email of the Sharia Council of Wahdah Islamiyah as an archive. The archive of transcripts of Wahdah Islamiyah Sharia Consultation that has been typed, can be one of the references of the Sharia Council which contains a collection of Questions and Answers (Q&A) of the Sharia Council of Wahdah Islamiyah and can be printed into a book for wider benefit.
References
Hadiati Kuswara, Hadiati, Strategi Komunikasi Wahdah Islamiyah di Sulawesi Selatan (Yogyakarta: Leutikaprio, 2016).
Iskandar, Azwar, Muhammad Yusram, dan Aswanto Muhammad Takwi Hede. "Analysis of Ijtihad Method and Istinbath Jurisprudence in Fatwā Dewan Syariah Wahdah Islamiyah Regarding the Use of Online Payment." Tasharruf: Journal Economics and Business of Islam 5, no. 1 (2020): 46-70.
KBBI Daring, tran.skrip. https://kbbi.kemdikbud.go.id/entri/transkrip (diakses 17 Juni, 2021).
Muktamar Wahdah, Sejarah Singkat Berdirinya Wahdah Islamiyah. https://muktamar.wahdah.or.id/sejarah-singkat-berdirinya-wahdah-islamiyah/ (diakses 17 Juni, 2021)
Perdana, Dian Adi, dan Arianto S. Panambang. "Potret Dakwah Islam di Indonesia: Strategi Dakwah Pada Organisasi Wahdah Islamiyah di Kota Gorontalo." Fikri: Jurnal Kajian Agama, Sosial dan Budaya 4, no.2 (2019): 229-242.
Saleh, Marhaeni. "Eksistensi Gerakan Wahdah Islamiyah Sebagai Gerakan Puritanisme Islam di Kota Makassar." Aqidah-Ta: Jurnal Ilmu Aqidah 4, no.1 (2018): 73-94.
Syandri, K.H. Fathul Muin Dg. Maggading dan Pergolakan Dakwah Sulawesi Selatan Akhir Abad XX (Makassar: STIBA Publishing, 2020).
Syandri, Syandri, dan Azwar Iskandar. "Pemikiran Dakwah KH Fathul Mu'in Dg. Maggading: Gerakan Muhammadiyah Cabang Makassar 1960-1970." KOMUNIKA: Jurnal Dakwah dan Komunikasi 14, no.2 (2020): 223-240.
Wikipedia, Wahdah Islamiyah. https://id.wikipedia.org/wiki/Wahdah_Islamiyah (diakses 17 Juni, 2021).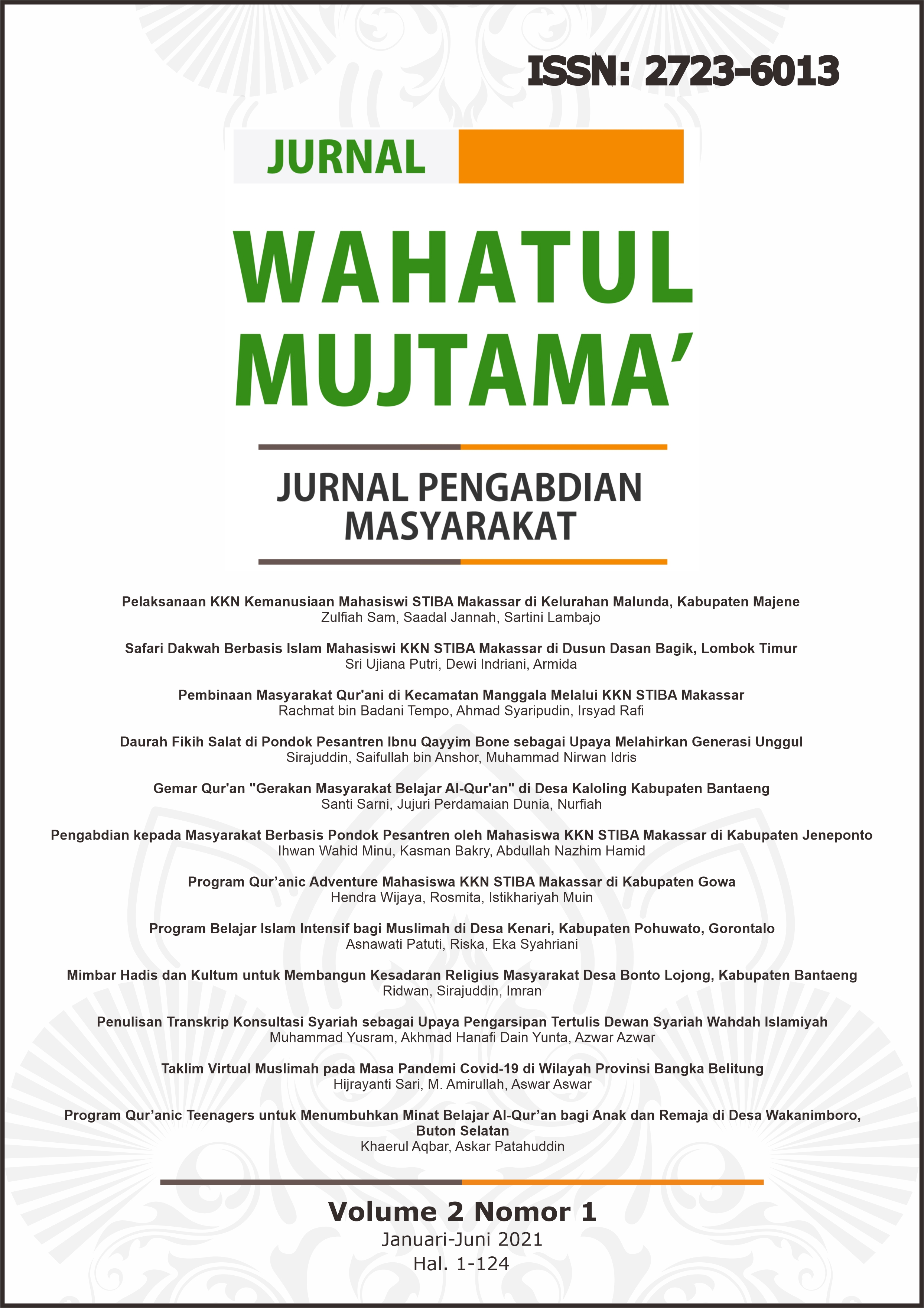 Statistic

Viewed:
132

Downloaded:
153
How to Cite
Muhammad Yusram, Akhmad Hanafi Dain Yunta, & Azwar, A. (2021). Penulisan Transkrip Konsultasi Syariah sebagai Upaya Pengarsipan Tertulis Dewan Syariah Wahdah Islamiyah. WAHATUL MUJTAMA': Jurnal Pengabdian Masyarakat, 2(1), 90-101. https://doi.org/10.36701/wahatul.v2i1.351