Program Daurah Bahasa Arab di Pondok Pesantren Daarul Arqom Batui Kabupaten Luwuk Banggai sebagai Upaya Menyiapkan Generasi Unggul
Arabic Language Training Program at Daarul Arqom Islamic Boarding School of Batui Luwuk Banggai Regency as an Effort to Prepare Superior Generation
Sirajuddin Sirajuddin

Sekolah Tinggi Ilmu Islam dan Bahasa Arab (STIBA) Makassar

Asri Asri

Sekolah Tinggi Ilmu Islam dan Bahasa Arab (STIBA) Makassar

Harsya Bachtiar

Sekolah Tinggi Ilmu Islam dan Bahasa Arab (STIBA) Makassar
Keywords:
Arabic Language, Daarul Arqam, KKN STIBA Makassar
Abstract
The purpose of the Real Work Lecture (KKN) of STIBA Makassar Force IV is to improve the skills and cottonistas santri in interpreting the contents of the Qur'an through the Arabic language recycling program at Pondok Pesantren Darul Arqom. The method of implementing this community service program begins by mapping the problems and needs of students using SOAR analysis. After the analysis process is carried out, a work program is prepared that is appropriate and needed by the santri. In addition to carrying out the Arabic language recycling program, KKN students also help teachers in carrying out Teaching and Learning Activities (KBM) in the hut. The result of this PkM is the interest in learning Arabic and the ability of santri in interpreting the content of the Qur'an is getting better.
References
Akbar, Muhammad, and Aswar Aswar. "Manajemen Peserta Dididk Pada Pondok Pesantren Tahfizh Al-Qur'an Imam Asy-Syaathiby Wahdah Islamiyah Tingkat 'Ulya Bottobaddo." Evaluasi: Jurnal Manajemen Pendidikan Islam 4, no. 2 (2020): 236–60. doi:http://dx.doi.org/10.32478/evaluasi.v4i2.451.
Bidari. "Analisis Tes Bahasa Arab Dalam Kitab Durusullughah Juz Ii Karya Kh Imam Zarkasyi Dan Kh Imam Subani." MAHAROT: Journal of Islamic Education Vol. 2, no. No.2 (2018): 71–92.
Hilmi, Afkhoriyatul, and Muhammad Kautsar Zam-zani. "Analisis Dampak Pembelajaran Bahasa Arab Bagi Para Penghafal Al- Qur ' An." Kajian Tentang Bahasa, Sastra Dan Budaya Arab Vol. 2 (2018): 443–57.
Ibnu Taimiyah, Taqiyyuddin. "Iqtidha' Al Shirath Al Mustaqim," Cet. VII. Baeirūt: dar 'aalam al Kutub, 1999.
Lundeto, Adri. "Digitalisasi Pesantren: Hilangnya Budaya Tradisionalis atau Sebuah Kemajuan?." JURNAL EDUCATION AND DEVELOPMENT 9.3 (2021): 452-457.
Ombatui. "27 Santri Di Pondok Pesantren Darul Arqom Setor Hafalan." Obormotindok.Co.Id, 2021.
Pahlefi, M. Riza. "Analisis Buku Al-'Arabiyyah Baina Yadaik Jilid I." Al Ittijah Vol. 12, no. No. 2 (2020): 157–76. doi:http://dx.doi.org/10.32678/al-ittijah.v12i2.3630.
Pangestu, Dhanu Budi, M. Faisal Aditya, Ula Aulia, and M. Mahaputra Hidayat. "Pengembangan Pondok Pesantren Putri Hikmatun Najiyah Melalui Implementasi Internet of Things Menuju Era 5.0." Abdi Bhayangkara: Jurnal Pengabdian UBHARA Surabaya 2, no. 1 (2020): 243–49.
Risfania, Frida Setia, Khavida Rizza Umami, and Hajar Nurma Wachidah. "Upaya Peningkatan Kreativitas Dan Produktivitas Santri Pondok Pesantren Al – Istiqomah II Melalui Pelatihan Karya Seni Islam." Jurnal SNP2M (Seminar Nasional Penelitian Dan Pengabdian Masyarakat) UNIM 2 (2020): 191–96.
Rozi, Much. Khoir. "Peran Program Pengabdian Dalam Meningkatkan Perilaku Sosial Keagamaan Santri Di Pondok Pesantren Mamba'us Sholihin Gresik." Digital Library Universitas Islam Negeri Sunan Ampel Surabaya, 2020.
Sirajuddin, Saifullah Bin Anshor, and Muhammad Nirwan Idris. "Daurah Fikih Salat Di Pondok Pesantren Ibnu Qayyim Bone Sebagai Upaya Melahirkan Generasi Unggul." WAHATUL MUJTAMA': Jurnal Pengabdian Masyarakat 2, no. 1 (2021): 31–39. doi:doi.org/10.36701/wahatul.v2i1.342.
Undang-Undang Republik Indonesia. Vol. 2003, 2021.
Usman, Mukran H., Aswar Aswar, and Azwar Iskandar. "Menuju Indonesia Berkemajuan Dalam Studi Peradaban Islam" 21, no. 1 (2021): 39–74. doi:https://doi.org/10.24042/ajsk.v21i1.7862.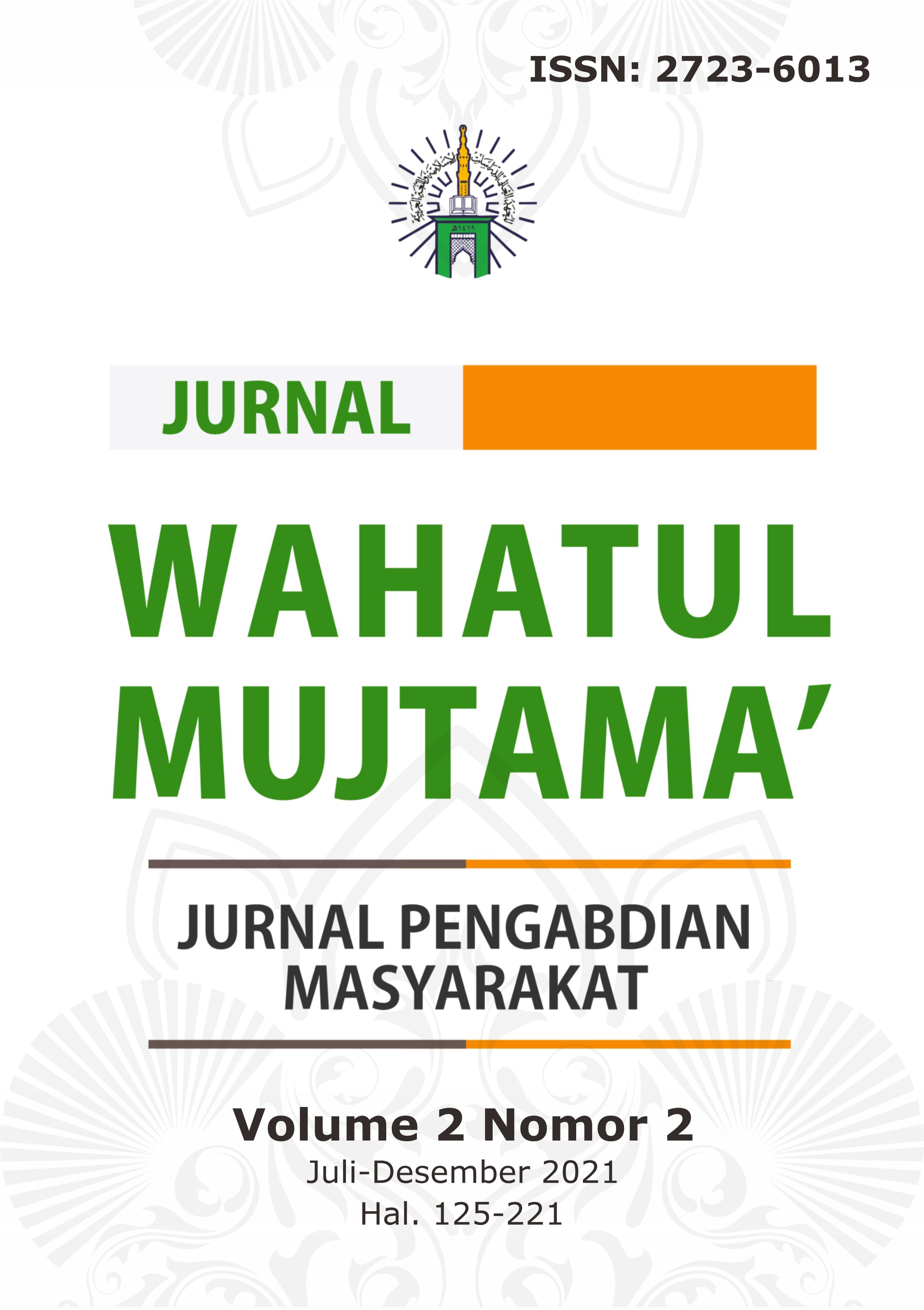 Statistic

Viewed:
143

Downloaded:
158
How to Cite
Sirajuddin, S., Asri, A., & Bachtiar, H. (2021). Program Daurah Bahasa Arab di Pondok Pesantren Daarul Arqom Batui Kabupaten Luwuk Banggai sebagai Upaya Menyiapkan Generasi Unggul. WAHATUL MUJTAMA': Jurnal Pengabdian Masyarakat, 2(2), 189-197. https://doi.org/10.36701/wahatul.v2i2.437
Copyright (c) 2021 Sirajuddin Sirajuddin, Asri Asri, Harsya Bachtiar
This work is licensed under a Creative Commons Attribution-NonCommercial-ShareAlike 4.0 International License.