Workshop Evaluasi Pembelajaran Daring bagi Guru Sekolah Dasar Mitra PGSD UNM Kampus VI Bone
Workshop of Online Learning Evaluation for Elementary School Teachers: Partners of PGSD UNM Campus VI Bone
Asriadi Asriadi

Universitas Negeri Makassar

Achmad Shabir

Universitas Negeri Makassar

Muhammad Farid

Universitas Negeri Makassar
Keywords:
evaluation, online learning, google form.
Abstract
Online learning during Covid-19 pandemic allows teaching and learning activities to occur without having to meet physically and at a distance by utilizing a computer or smartphone. However, the digital skills of Indonesian teachers are still low. So that the evaluation of online learning outcomes is less effective and does not characterize evaluations that measure cognitive, affective and psychomotor abilities. Evaluation is mostly done by giving assignments via Whatsapp, not measurements or tests. While there are many applications that can be used to measure student learning progress, such as Google Forms, Kahoot, Quizizz, and Wordwall. Therefore, community service was carried out in the form of a Workshop of online learning evaluation for elementary school teachers: partners of PGSD UNM Campus VI Bone. This community service is carried out by means of lectures, demonstrations or practices, and evaluation of the results of the training. The result shows that teachers master the use of Google Forms as an effective evaluation platform. Partner teachers are expected to be able to train colleagues both through workshops at the school level and at the Teacher Working Group to improve the digital skills of Indonesian teachers.
References
Ambarsari, Rika Yuni. "Evaluasi Pembelajaran Daring Selama Pandemi Covid-19 di Kecamatan Ulukerto Wonogiri." Jurnal Ilmiah Mitra Swara Ganesha 8, no. 1 (2021): 28–35.
Apriyanti, Nurliana, and Feli Cianda Adrin Burhendi. "Analisis Evaluasi Pembelajaran Daring Berorientasi pada Karakter Siswa." In Jurnal Pendidikan Dasar, 48–54, 2020. http://journal.unj.ac.id/unj/index.php/psdpd/article/view/17760.
Batubara, Hamdan Husein. "Penggunaan Google Form Sebagai Alat Penilaian Kinerja Dosen di Prodi PGMI UNISKA Muhammad Arsyad Al Banjari." Al-Bidayah 8, no. 1 (2016). doi:10.14421/al-bidayah.v8i1.91.
Budiman, Jumardi. "Evaluasi Pelaksanaan Pembelajaran Daring di Indonesia Selama Masa Pandemi Covid-19." Vox Edukasi: Jurnal Ilmiah Ilmu Pendidikan 12, no. 1 (April 29, 2021): 104–13. doi:10.31932/ve.v12i1.1074.
Clark, Ruth Colvin, and Richard E. Mayer. E-Learning and the Science of Instruction: Proven Guidelines for Consumers and Designers of Multimedia Learning. 3rd ed. San Francisco: Pfeiffer, 2011. https://a11-389793.cluster11.canvas-user-content.com/courses/942/files/389793/course files/Content_Files/e-learning.pdf?
Damayanti, Nadhira Aisyah, and Retno Mustika Dewi. "Pengembangan Aplikasi Kahoot Sebagai Media Evaluasi Hasil Belajar Siswa." Edukatif: Jurnal Ilmu Pendidikan 3, no. 4 (June 14, 2021): 1647–59. doi:10.31004/edukatif.v3i4.656.
Fitrah, Muh., and Ruslan Ruslan. "Eksplorasi Sistem Pelaksanaan Evaluasi Pembelajaran di Sekolah pada Masa Pandemi Covid-19 di Bima." Jurnal Basicedu 5, no. 1 (November 24, 2020): 178–87. doi:10.31004/basicedu.v5i1.639.
Henderson, Allan J. The E-Learning Question and Answer Book: A Survival Guide for Trainers and Business Managers. New York: American Management Association (AMACOM), 2003. http://www.books24x7.com/marc.asp?isbn=0814471692.
Khairunisa, Yuyun. "Pemanfaatan Fitur Gamifikasi Daring Maze Chase - Wordwall Sebagai Media Pembelajaran Digital Mata Kuliah Statistika dan Probabilitas." Mediasi 2, no. 1 (June 15, 2021): 41–47. doi:10.46961/mediasi.v2i1.254.
Lely Nurmaya G, Andi, Irsan Irsan, Amelia Ayu Lestari, and Firman Melani. "Analisis Evaluasi Pembelajaran Daring (Online) Sekolah Dasar Selama Pandemi Covid-19." JKPD) Jurnal Kajian Pendidikan Dasar 6, no. 1 (2021): 80–85. doi:10.26618/jkpd.v6i1.4745.
Nissa, Siti Faizatun, and Novida Renoningtyas. "Penggunaan Media Pembelajaran Wordwall untuk Meningkatkan Minat dan Motivasi Belajar Siswa pada Pembelajaran Tematik di Sekolah Dasar." Edukatif: Jurnal Ilmu Pendidikan 3, no. 5 (July 21, 2021): 2854–60. doi:10.31004/edukatif.v3i5.880.
Nurhayati, Erlis. "Meningkatkan Keaktifan Siswa dalam Pembelajaran Daring Melalui Media Game Edukasi Quizizz pada Masa Pencegahan Penyebaran Covid-19." Jurnal Paedagogy 7, no. 3 (July 6, 2020): 145. doi:10.33394/jp.v7i3.2645.
Salsabila, Unik Hanifah, Iefone Shiflana Habiba, Isti Lailatul Amanah, Nur Asih Istiqomah, and Salsabila Difany. "Pemanfaatan Aplikasi Quizizz Sebagai Media Pembelajaran si Tengah Pandemi pada Siswa SMA." Jurnal Ilmiah Ilmu Terapan Universitas Jambi (JIITUJ) 4, no. 2 (December 31, 2020): 163–73. doi:10.22437/jiituj.v4i2.11605.
Sari, Prima Mutia, and Husnin Nahry Yarza. "Pelatihan Penggunaan Aplikasi Quizizz dan Wordwall pada Pembelajaran IPA bagi Guru-Guru SDIT Al-Kahfi." Selaparang: Jurnal Pengabdian Masyarakat Berkemajuan 4, no. April (2021): 195–99. http://journal.ummat.ac.id/index.php/jpmb/article/view/4112.
Setiani, Rizky Nurul, and Dani Firmansyah. "Kahoot! Sebagai Alat Evaluasi Pembelajaran Dikombinasikan dengan Aplikasi Math: Aritgeo Saat Pandemi Covid-19." Pythagoras 10, no. 1 (2021): 13–28.
Su'niyah, Siti Lathifatus. "Media Pembelajaran Daring Berorientasi Evaluasi." Jurnal Studi Keagamaan, Pendidikan Dan Humaniora 7, no. 1 (2020): 1–18. http://e-jurnal.unisda.ac.id/index.php/dar/article/view/2024.
Wahyudi, Wahyudi, Intan Sari Rufiana, and Dwi Avita Nurhidayah. "Quizizz: Alternatif Penilaian di Masa Pandemi Covid-19." Jurnal Ilmiah Soulmath : Jurnal Edukasi Pendidikan Matematika 8, no. 2 (November 16, 2020): 95–108. doi:10.25139/smj.v8i2.3062.
Waruwu, Marinus. "Studi Evaluatif Implementasi Pembelajaran Daring Selama Pandemi Covid-19." Jurnal Administrasi Pendidikan 27, no. 2 (2020): 288–95. doi:10.17509/jap.v27i2.27081.
Zulkifli, Enung Mariah, and Fatkhul Ulum. "Efektivitas Penggunaan Media Wordwall (Jidaru Al-Kalmah) dalam Penguasaan Kosakata Bahasa Arab Siswa Kelas X SMA Negeri 1 Pangkep," 2019. http://eprints.unm.ac.id/id/eprint/17944.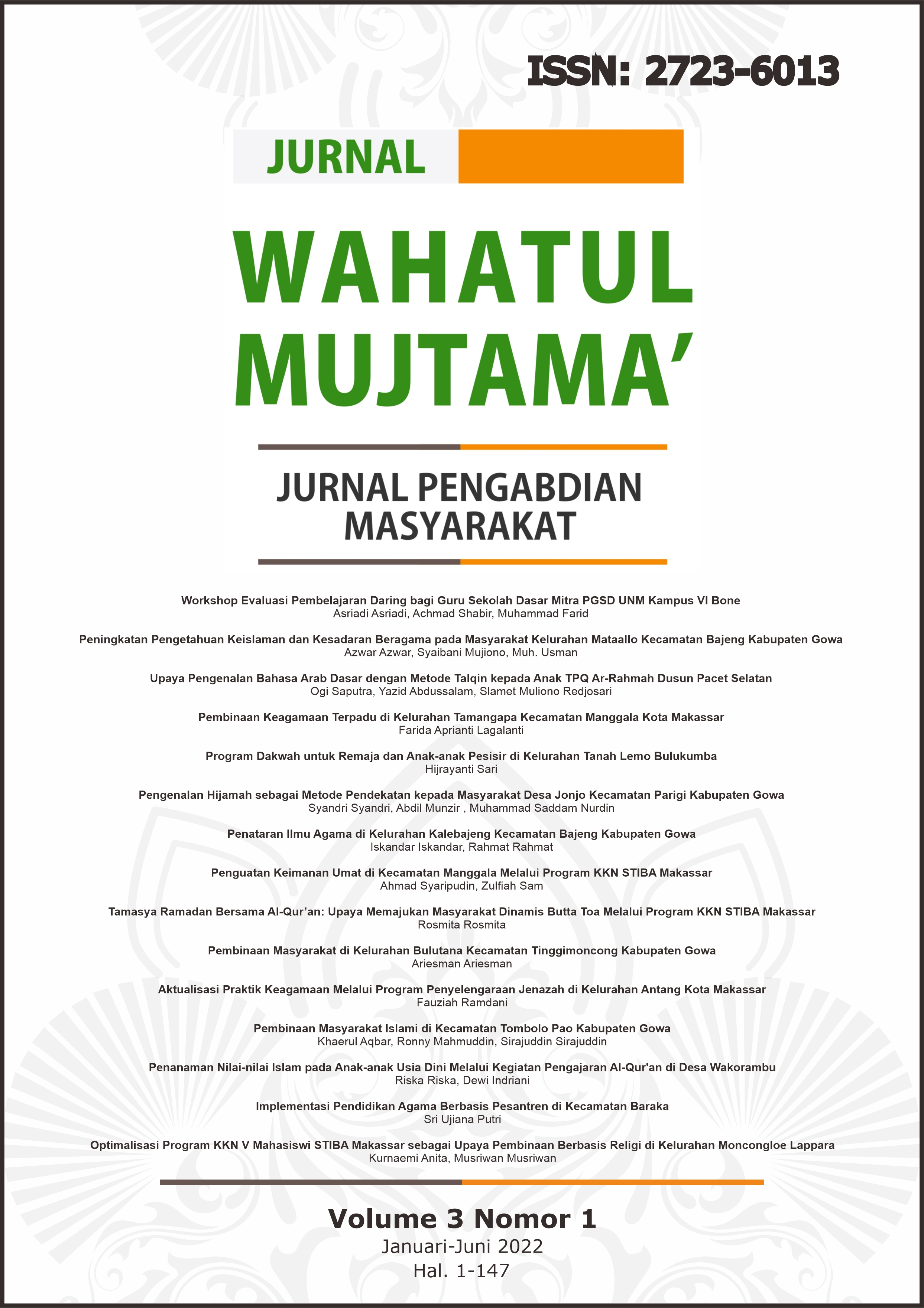 Statistic

Viewed:
149

Downloaded:
106
How to Cite
Asriadi, A., Achmad Shabir, & Muhammad Farid. (2022). Workshop Evaluasi Pembelajaran Daring bagi Guru Sekolah Dasar Mitra PGSD UNM Kampus VI Bone. WAHATUL MUJTAMA': Jurnal Pengabdian Masyarakat, 3(1), 1-10. https://doi.org/10.36701/wahatul.v3i1.451
Copyright (c) 2022 asriadi asriadi
This work is licensed under a Creative Commons Attribution-NonCommercial-ShareAlike 4.0 International License.