Program Dakwah untuk Remaja dan Anak-anak Pesisir di Kelurahan Tanah Lemo Bulukumba
Da'wah Program for Teenagers and Coastal Children in the Tanah Lemo Village, Bulukumba
Hijrayanti Sari

Sekolah Tinggi Ilmu Islam dan Bahasa Arab (STIBA) Makassar
Keywords:
dakwah, remaja, anak-anak, Tanah Lemo
Abstract
The form of community service as a pillar of the tridarma of higher education and media for developing social intelligence for STIBA Makassar students is in the form of the KKN V STIBA Makassar program which is located on the coast of Lemo Village, Bulukumba Regency through a da'wah approach to early ages and adolescents. Observation of site conditions was carried out using SOAR analysis. Work programs that have been successfully implemented include: BARA (Team Fun Talks), Ramadan Quarantine and Al-Qur'an Education Park (TPA). All activities were successfully carried out and yielded results, namely: the participants became enthusiastic to study Islam more intensively than before. Participants experienced a change in their views on ideals, namely ideals framed by worship. During the Ramadan Quarantine activity, the participants understood the Jurisprudence of Ramadan and became enthusiastic about filling the Ramadan time optimally. While the results of TK/TPA activities are in the form of improving reading and memorizing the Qur'an, reading prayers, and daily prayers.
References
Ajah, N Y I. "Penerapan Metode Diskusi Untuk Meningkatkan Motivasi Dan Hasil Belajar Ips Pada Siswa Kelas Iv Mi Pangkalan Kota Sukabumi," 2012, 70.
al-Saʿdī, ʿAbd al-Raḥmān bin Nāṣir bin ʿAbdillāh. Taisīr Al-Karīm Al-Raḥmān Fī Tafsīr Kalām Al-Mannān. Cet. I. t.t.: Mu'assasah al-Risālah, 2000.
Amirullah, M, and Ronny Mahmuddin. "Pembentukan Generasi Qur'ani Dengan Akhlāq Al- Karīmah Di Pondok Pesantren Al-Haris Makassar." WAHATUL MUJTAMA': Jurnal Pengabdian Masyarakat 2, no. 2 (2021): 146–54. doi:10.36701/wahatul.v2i2.433.146.
ARMAWATI. "Sikap Keberagamaan Masyarakat Nelayan Di Kelurahan Tanah Lemo Kecamatan Bontobahari Kabupaten Bulukumba." Universitas Islam Negeri Alauddin Makassar, 2019.
Armida, Sukimin Subu dan. Ramadankan Hidupmu! I. Makassar: STIBA Publishing, 2021.
Hardianto Donumo, Rudi. "Peran Taman Pendidikan Al Qur'an (Tpa) Raudatul Abror Dalam Pembentukan Karakter Anak Di Lingkungan Arong-Arog Barat Kelurahan Dasan Agung Kota Mataram." Universitas Muhammadiyah Mataram, 2019.
Indriani, Dewi, and Rahmayani L. "Program Pembinaan Al- Qur ' An Menuju Generasi Qur ' Ani Di Kabupaten Sidenreng Rappang." WAHATUL MUJTAMA': Jurnal Pengabdian Masyarakat 2, no. 2 (2021): 136–45. doi:10.36701/wahatul.v2i2.440.PENDAHULUAN.
Makmuri, Suhud. "PERAN TPA DALAM MENGEMBANGKAN AKHLAK ANAK DI TPA FUTUHIYYAH JURUGAN BANGUNKERTO TURI SLEMAN YOGYAKARTA." Universitas Islam Indonesia, 2019.
Mukhlas, Moh. "Aktualisasi Konsep Pendidikan Akhlak Al-Ghazali Dalam Pembinaan Remaja." Journal of Chemical Information and Modeling 53, no. 9 (2019): 1689–99.
Risnawati k. "Studi Pengembangan Kawasan Pantai Tanah Lemo Sebagai Pusat Industri Kapal Phinisi Di Kecamatan Bontobahari Kabupaten Bulukumba" 4, no. 1 (2014).
Silfiyasari, Mita, and Ashif Az Zhafi. "Peran Pesantren Dalam Pendidikan Karakter Di Era Globalisasi." Jurnal Pendidikan Islam Indonesia 5, no. 1 (2020): 127–35. doi:10.35316/jpii.v5i1.218.
Suwanto, Priehadi Dhasa Eka, and Randhy Agusentoso. "PkM Menggali Potensi, Memotivasi Dan Mengarahkan Generasi Muda Menyongsong Dunia Kerja." DHARMA LAKSANA Mengabdi Untuk Negeri 2, no. 1 (2019): 45–51.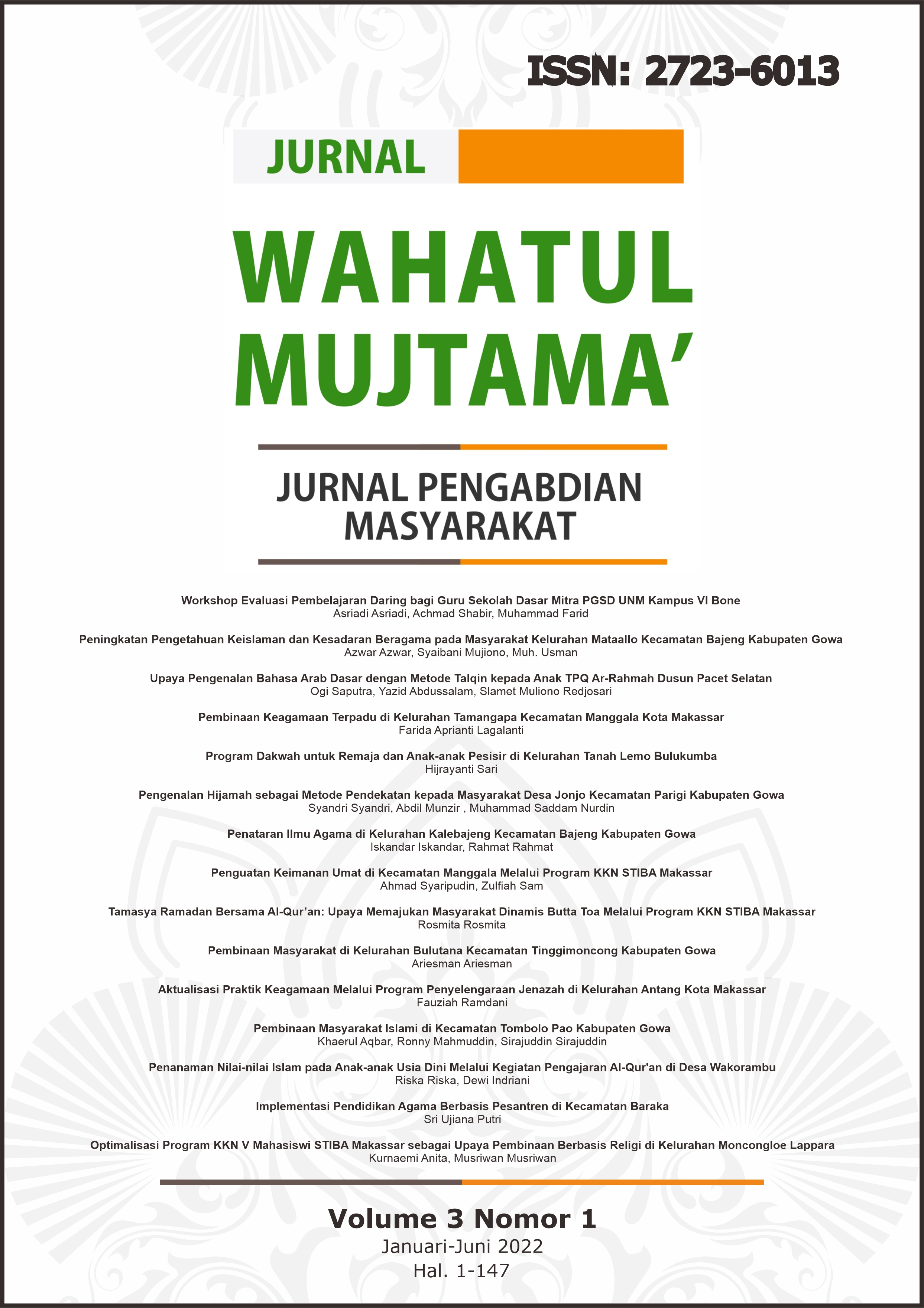 Statistic

Viewed:
53

Downloaded:
56
How to Cite
Sari, H. (2022). Program Dakwah untuk Remaja dan Anak-anak Pesisir di Kelurahan Tanah Lemo Bulukumba. WAHATUL MUJTAMA': Jurnal Pengabdian Masyarakat, 3(1), 39-48. https://doi.org/10.36701/wahatul.v3i1.551
Copyright (c) 2022 Hijrah Muin
This work is licensed under a Creative Commons Attribution-NonCommercial-ShareAlike 4.0 International License.