Pembinaan Keagamaan Terpadu di Kelurahan Tamangapa Kecamatan Manggala Kota Makassar
Integrated Religious Development in Tamangapa Village, Manggala District, Makassar City
Farida Aprianti Lagalanti

Sekolah Tinggi Ilmu Islam dan Bahasa Arab (STIBA) Makassar
Keywords:
TPA, Tahfizh, Arabic Language, KKN V STIBA Makassar
Abstract
KKN V STIBA Makassar is a form of community service which is one of the pillars of the Tridarma Perguruan Tinggi. The method of implementing the service program begins with mapping the problems and needs of the community using SOAR analysis. After the analysis is done, a work program that is appropriate and needed by the community is drawn up. Work programs that have been successfully implemented include: Al-Qur'an Education Program including DIROSA, TPA Teaching, Tahfizh and Al-Qur'an Memorization Programs; The Community Development Program includes Ramadan Special Taklim activities and Arabic Language Learning; The Training Program includes Provision of Body Organizing; The Community Service Program includes Ramadhan Sharing, Mask Sharing, Mukena Sharing and Blessing Friday. The enthusiasm of all activity participants, both children and teenagers, even mothers, was seen in all the programs that were followed. All programs are running well and have shown results that are in accordance with the KKN objectives that have been proclaimed, namely the development of Islamic knowledge, increasing skills in reading the Qur'an and Arabic as well as increasing community skills.
References
Abdul Malik, Hatta. "Pemberdayaan Taman Pendidikan al-Quran (TPQ) al-Husna Pasadena Semarang". Dimas 13, no. 2 (2013): h. 388.
Abdul Rahman, Marhali, dkk. Mahir Tahsin: Panduan Ilmu Tajwid. Makassar: Itqan Manajemen, 2018.
Al-Khal'awi, Mahmud, and Said Muhammad Mursi. Silsilatu Tarbiatul Aulad Ash-Shohihah Fann Gharsil-Qiyam. Edited by Rahman Arif Hakim. Sukoharjo: Insankamil, 2009.
Fuadi, Afnan. "No TitleAnalisis Strategi SOAR Balai Diklat Aparatur Kementerian Kelautan Dan Perikanan Menuju Corporate University." Widya Cipta 4, no. 2 (2020): 131.
Humam, As'ad. Buku Iqra' Cara Cepat Membaca Al-Qur'an. Jakarta: Departemen Agama Pusat, 1990.
Malik, Abdul Hatta. "Pemberdayaan Taman Pendidikan Al-Quran (Tpq) Alhusna Pasadena Semarang." Dimas 13, no. 2 (2013): 388.
Mardhiah, Dkk. "Inovasi Manajemen Pembelajaran Melalui Model Hypnoteaching Dalam Meningkatkan Minat Dan Kemampuan Membaca Al-Qur'an Bagi Anak Pemulung Di Kota Makassar." Muslim Herritage 5, no. 2 (2020): 311.
Muchtar, Ilham M, and Hasan Juhanis. "Sociocultural Approach Dalam Pembinaan Keluarga Muslim Komunitas Pemulung." Tarbawi 3, no. 1 (2018): 51.
Rahman, Abdul Marhali, dkk. Mahir Tahsin: Panduan Ilmu Tajwid. Makassar: Itqan Manajemen, 2018.
Sebulan, Hafal Qur'an. "Apa Itu Tahfizh Al-Qur'an?," n.d. https://www.hafalquransebulan.com/apa-itu-tahfizh-al-quran/.
Tempo, Badani Rahmat Dkk. "Pembinaan Masyarakat Qur'ani Di Kecamatan Manggala Melalui Kkn Stiba Makassar." Wahatul Mujtama 2, no. 1 (2021): 21.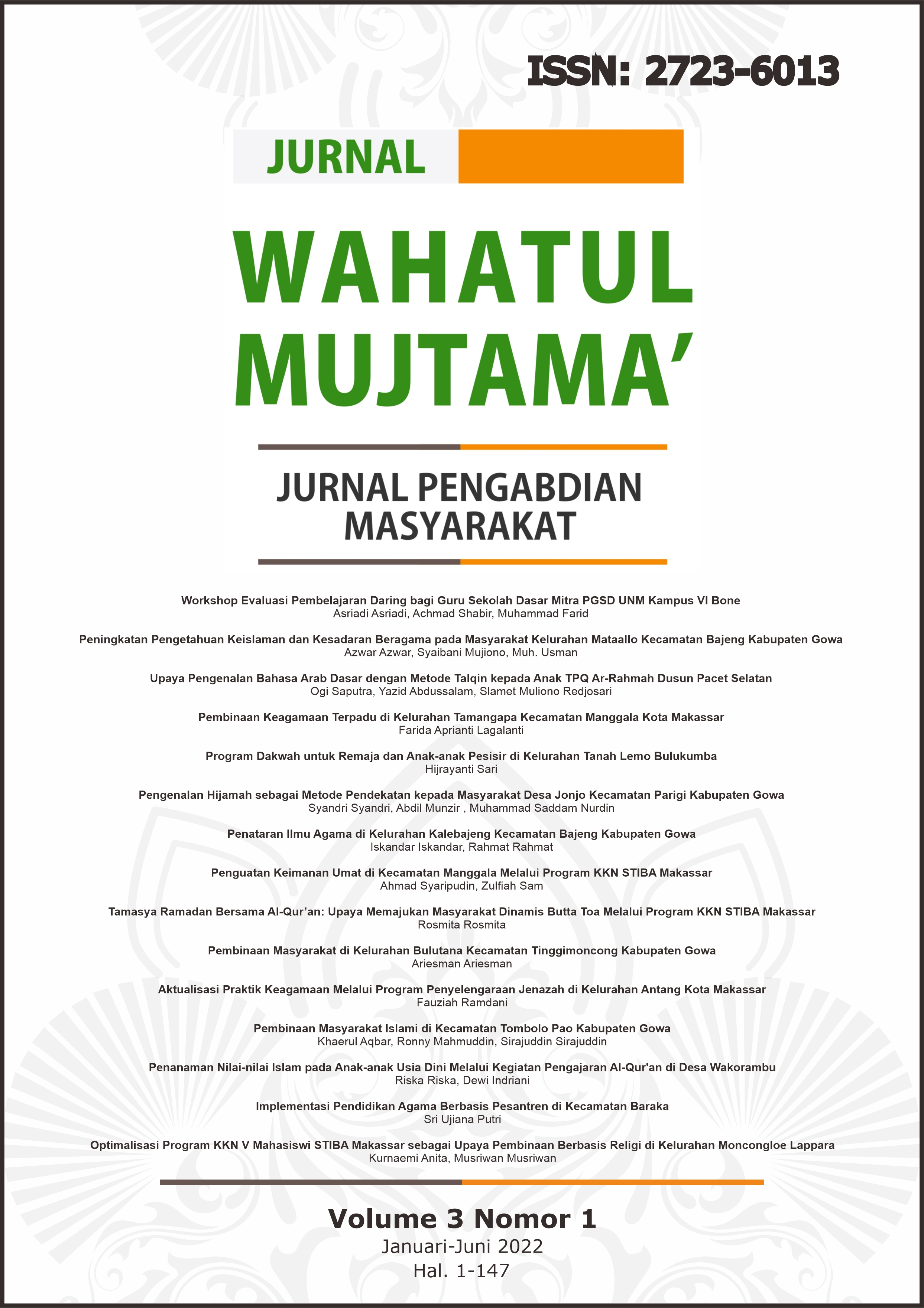 Statistic

Viewed:
119

Downloaded:
120
How to Cite
Lagalanti, F. A. (2022). Pembinaan Keagamaan Terpadu di Kelurahan Tamangapa Kecamatan Manggala Kota Makassar . WAHATUL MUJTAMA': Jurnal Pengabdian Masyarakat, 3(1), 29-38. https://doi.org/10.36701/wahatul.v3i1.552
Copyright (c) 2022 Farida Aprianti Lagalanti
This work is licensed under a Creative Commons Attribution-NonCommercial-ShareAlike 4.0 International License.