Bimbingan Belajar Bahasa Arab Dasar bagi Anak Usia Dini melalui Kegiatan Karya Wisata
Guidelines for Learning Basic Arabic Language for Early Children through Tourism Activities
Khoeriyah Ajeng Prasasti

IAIN Palangka Raya

Marsiah

IAIN Palangka Raya

Ajahari

IAIN Palangka Raya

Surawan

IAIN Palangka Raya
Keywords:
Arabic Learning, Tourism Activities, Speaking Skill
Abstract
Arabic is a foreign language whose position is considered important especially for Muslims. Learning it is sometimes difficult for most people, especially for young children who do not attend madrasa-based schools. This is the reason for the Thematic KKN FTIK IAIN Palangka Raya Students wish to form a small group to teach Arabic to them. In providing learning Arabic, the right strategy is needed so that learning becomes more interactive and not boring. Therefore, by utilizing the Sukamulya Complex side, which incidentally is a tourist area, learning activities are carried out outdoors so that the atmosphere becomes more pleasant. The method used in this activity is the method of games and demonstrations and uses a visual media-based approach in the form of objects around. The result of this activity is that they increase their enthusiasm in learning Arabic, increase their knowledge and insight regarding Arabic vocabulary, and can instill a love of nature through Arabic..
References
Aprizal, Ambo Pera. "Urgensi Pembelajaran Bahasa Arab Dalam Pendidikan Islam." Jurnal Pendidikan Guru 2, No. 2 (2021).
Arinalhaq, Ririen, Dan Delfi Eliza. "Dampak Pemberian Reward And Punishment Untuk Meningkatkan Kedisiplinan Anak Usia Dini." Jisip (Jurnal Ilmu Sosial Dan Pendidikan) 6, No. 1 (2022).
Hakim, Rosyid Ridlo Al. "Pencegahan Penularan Covid-19 Berbasis Aplikasi Android Sebagai Implementasi Kegiatan Kkn Tematik Covid-19 Di Sokanegara Purwokerto Banyumas." Community Engagement And Emergence Journal (Ceej) 2, No. 1 (2021): 7–13. Doi:10.37385/Ceej.V2i1.125.
Laiyan, Theresia Macaria. "Pengembangan Pembelajaran Kreatif Dan Inovatif Untuk Anak Berkebutuhan Khusus Di Alam Terbuka." Jurnal Pelayanan Pastoral 3, No. 1 (30 April 2022): 71–76. Doi:10.53544/Jpp.V3i1.291.
Nashruddin, Muhammad Didin. "Penerapan Metode Karya Wisata Untuk Meningkatkan Keterampilan Menulis Deskripsi Pada Siswa Sekolah Dasar." Jurnal Penelitian Pendidikan Guru Sekolah Dasar 1, No. 2 (2013): 1-8muh.
Nugroho, Arosyid Wahyu, Dan Samsul Ma'arif. "Pengembangan Media Game Edukasi "Marbel Fauna" Pada Siswa Sekolah Dasar." Jurnal Basicedu 6, No. 4 (28 Mei 2022): 6686–94.
Prijanto, Jossapat Hendra, Dan Firelia De Kock. "Peran Guru Dalam Upaya Meningkatkan Keaktifan Siswa Dengan Menerapkan Metode Tanya Jawab Pada Pembelajaran Online." Scholaria: Jurnal Pendidikan Dan Kebudayaan 11, No. 3 (2021): 238–51.
Surawan, Surawan. "Dinamika Dalam Belajar (Sebuah Kajian Psikologi Pendidikan)." K-Media, 2020.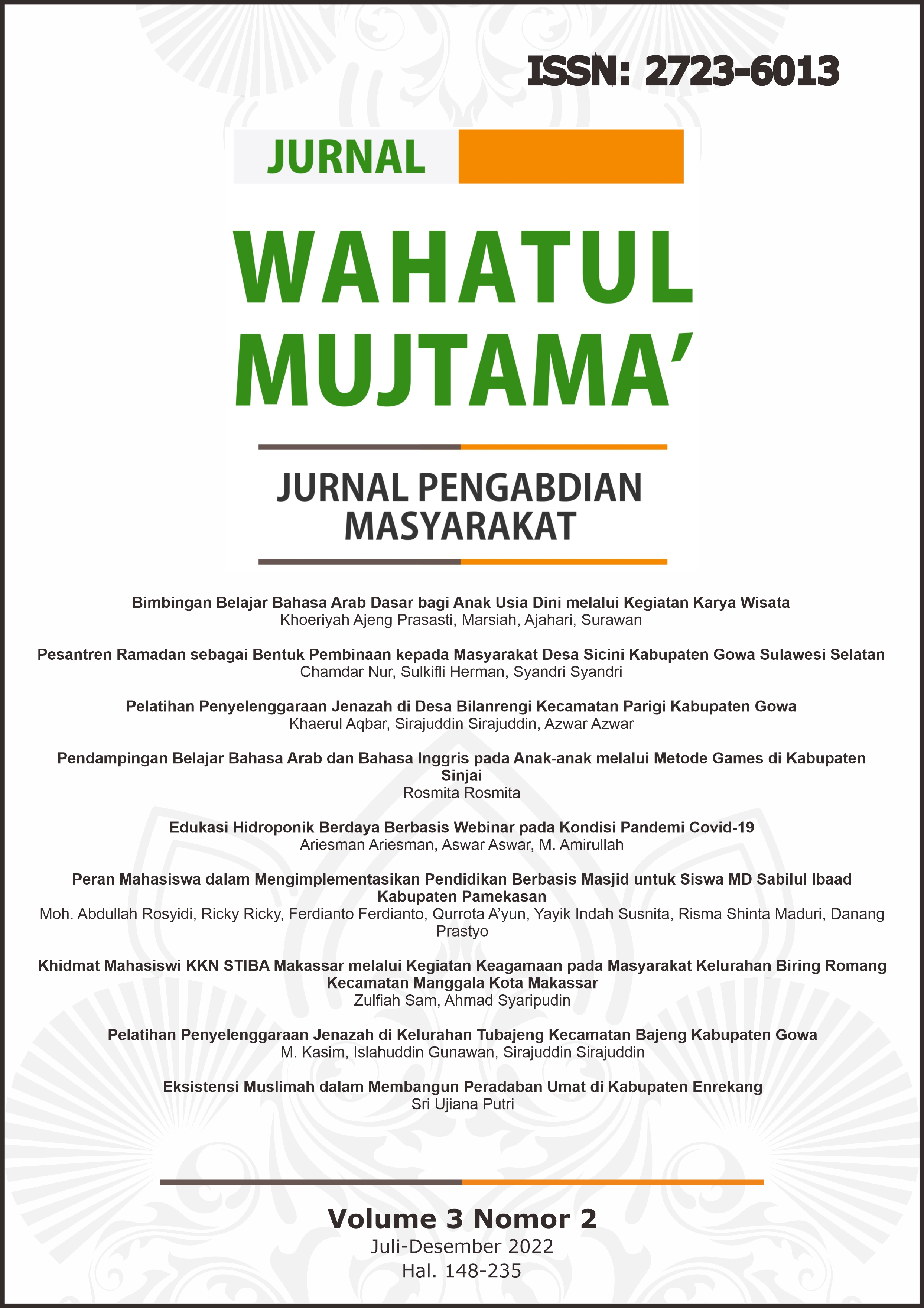 Statistic

Viewed:
113

Downloaded:
75
How to Cite
Prasasti, K. A., Marsiah, M., Ajahari, A., & Surawan, S. (2022). Bimbingan Belajar Bahasa Arab Dasar bagi Anak Usia Dini melalui Kegiatan Karya Wisata. WAHATUL MUJTAMA': Jurnal Pengabdian Masyarakat, 3(2), 148-154. https://doi.org/10.36701/wahatul.v3i2.581
Copyright (c) 2022 Khoeriyah Ajeng Prasasti, Marsiah Marsiah, Ajahari Ajahari, Surawan Surawan
This work is licensed under a Creative Commons Attribution-NonCommercial-ShareAlike 4.0 International License.