تطبيق لعبة العجلة الدوارة على الأساس الرقمي لترقية تعليم المفردات (البحث التجريبى لطلاب الفصل السابع بالمدرسة الثانوية الإسلامية الأهلية الغزالية جومبانج)
Using Digital-Based Spinning Wheel Games to Improve Mufradat Learning (Pre-Experimental Research for Seventh Grade Students at Madrasah Ṣānawiyyah Islamiyah Ahliyah Ghozaliyah Jombang)
Ode Rahman Arfan

Universitas Hasyim Asy'ari Tebuireng Jombang, Indonesia

Mu'ad Mu'ad

Universitas Hasyim Asy'ari Tebuireng Jombang, Indonesia
Keywords:
spinning wheel games, increase in Arabic vocabulary learning
Abstract
Learning Arabic at the Sanawiya madrasah level tends to be less popular due to the lack of media in the learning process. One example is Arabic vocabulary lessons, which are lessons that are considered boring. This research aims to provide variations in learning Arabic vocabulary by using a spinning wheel game, with the aim of increasing students' understanding of vocabulary. Therefore, researchers conducted pre-experimental research on the application of a digital-based spinning wheel game to improve vocabulary learning for class VII students at Madrasah Ṣānawiyyah Ghazaliyya Jombang. The subjects of this research were 30 class VII students. In this study, researchers used the one-group pretest-posttest method. At the initial meeting, the researcher conducted a pretest, then gave treatment with a spinning wheel game, and then conducted a posttest. The results obtained showed that there was a significant increase in learning outcomes before and after carrying out the treatment. In the initial test, students obtained an average score of 57.50, and in the final test after treatment, students obtained an average score of 84.50. So descriptively, the posttest value is better than the pretest value, with a significance level of difference between the two values of 0.000 <0.05 (a sig value of 0.000 is less than 0.05). This means that the use of learning media with spinning wheel games in learning Arabic has a good influence on students. In other words, the spinning wheel game can improve students' learning of Arabic vocabulary.
References
'Alī, wa Aḥmad Ramaḍān Muḥammad. Istrātījiyyāt Ta'allum al-Mufradāt wa 'Alaqātuhā bi al-Żakā' al-Rūḥī wa al-Taḥṣīl al-Dirāsī ladā Muta'allim al-Lugah al-'Arabiyyah ka Lugah Ṡāniyah (Dirāsāt Tarbawiyyah wa Nafsiyyah). Majallah Kulliyyah al-Tarbawiyyah bi al-Zaqāzīq, 30 (80) 2015.
Ali, Atabik dan Ashamd Zuhdi Muhdlor. Kamus Kontemporer Arab-Indonesia Malang:UIN Maulana Malik Ibrahim Press, 2012
Ali, Atabik. Kamus Kontemporer Arab-Inggris-Indonesia, Jakarta: Multi Karya
Ginnis, Paul. Trik dan Taktik Mengajar, Jakarta: PT Indexs, 2008.
Hamzah, H., Utami, L. S., & Zulkarnain Z. Pengembangan Pembelajaran Hayatun Nupus, 2019.
Lestari, K. E., & Yudhanegara, M. R. Penelitian Pendidikan Matematika. Menyenangkan, Bandung: PT Rosda Karya, 2008.
Mujib, Fathul. dan Nailur Rahmawati, Metode Permainan-Permainan Edukatif dalam Grafika, 2003.
Musthofa, Bisri dan Hamid M. Abdul. "Metode & Stategi Pembelajaran Bahasa Arab. Buku Pendamping Tematik Terpadu Berbasis Kontekstual pada Siswa Sekolah Dasar". Jurnal Basicedu Vol 5, No. 5, Tahun 2021 p-ISSN 2580-3735 e-ISSN 2580-1147. https://jbasic.org/index.php/basiceduCHDC, 2007.
Sugiyono. Metode penelitian kualitatif dan kuantitatif & RND. Bandung: Alfabeta, 2021.
Sugiyono. Statistika Untuk Penelitian. Bandung: Alfabeta. 2013
Team Penyusun Kamus Bahasa Indonesia, Kamus Besar Bahasa Indonesia. Jakarta: Pusat Ulya, A. I. 2019.
Zain, N. A. Istikhdām Barmajah fī Ta'allum al-Mufradāt fī al-Madrasah al-Mutawassiṭah al-Islāmiyyah Hāsyim Asy'arī Bātū, 2020.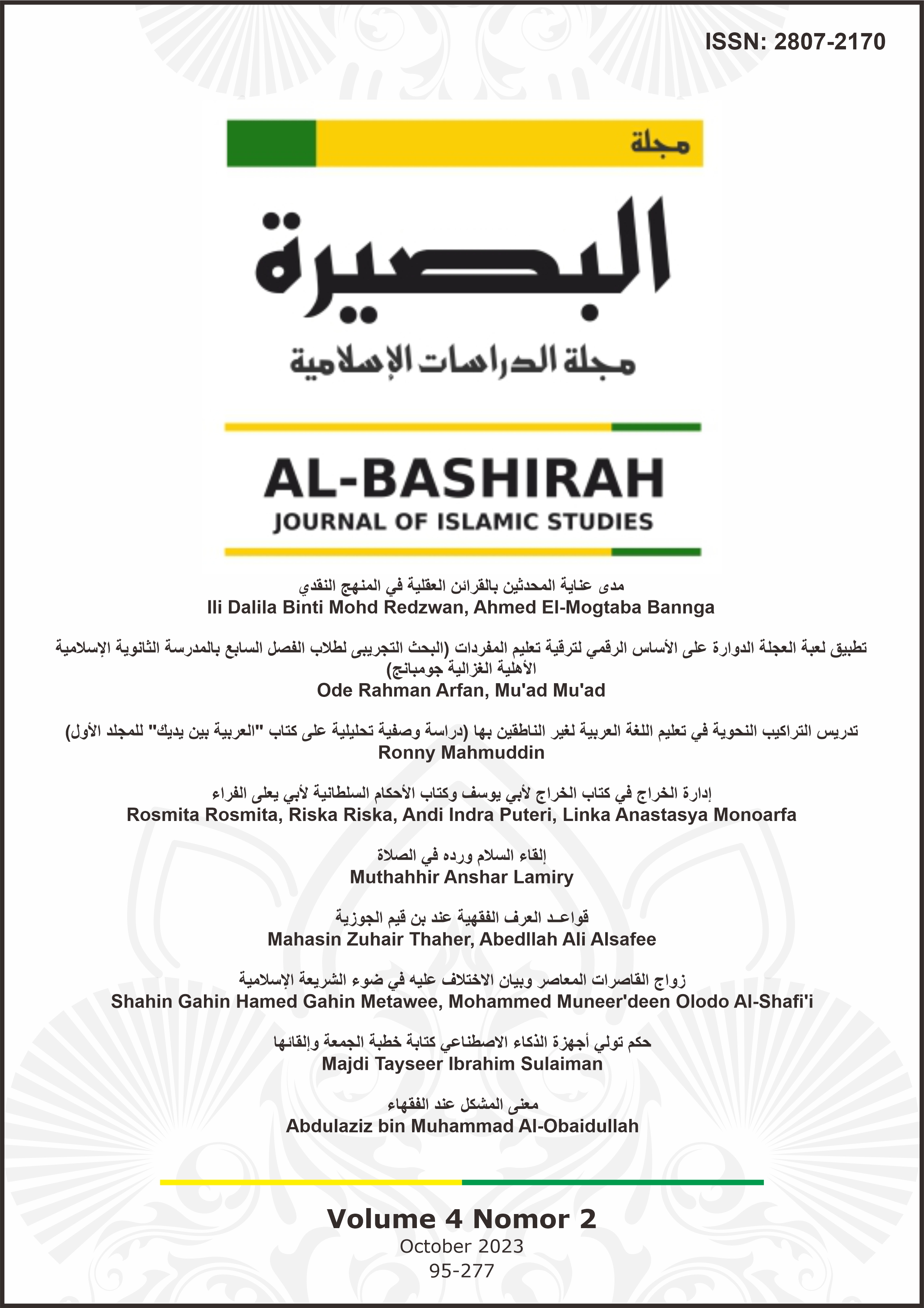 Statistic

Viewed:
24

Downloaded:
14
Copyright (c) 2023 Ode Rahman Arfan, Mu'ad Mu'ad
This work is licensed under a Creative Commons Attribution-NonCommercial-ShareAlike 4.0 International License.