الرخصة الشرعية: تعريفها وأقسامها ومسائل تتعلق بها
Rukhsah: Definition, Division and Issues Related to It
Aḥmad bin Muḥammad bin 'Abd al-Hādī

Universitas Islam Madinah, Arab Saudi
Keywords:
difficulty, shar'i law, rukhsah.
Abstract
Allah SWT. has bestowed Muslims with many advantages and specialties that are not given to other people, among the greatest gifts that Allah 'azza wajalla has given to the Islamic law as well as differentiating it from the previous ummah, namely the existence of relief and eliminating distress according to the passages of the Qur'an and sunnah show this. This study aims to explain the nature of the Rukhshah Syar'iyyah (reliefs) and some of the problems associated with it and to explain the strongest opinion of the differences of opinion of the scholars. The method used in this research is the descriptive analysis method. The results of this study indicate that Rukhshah is a shar'i law that changes from difficult to easy due to an age that causes it to take this relief while still having the original legal cause. There are also some important issues related to the Rukhshah which have an impact on contemporary life. Amongthese are that the Rukhshah is a branch, not the original law and that an immoral person cannot choose an existing Rukhshah, as well as not looking for loopholes to always get one.
References
ʿAbd al-Ḥākim Ḥamādī. "Al-Rukhṣah al-Syarʿīah baina al-Qawāʿid wa al-Uṣūl wa fā'idatuha fī wāqiʿi al-Nās" Majallah Al-żakhīrah lī Al-Buḥūṡ wa Al-Dirāsāt Al-Islāmīah (2017)
Al-Āmidī, abu al-Ḥasan sayyid al-Dīn ʿalī bin abī ʿalī bin Muḥammad bin Sālim al-ṡaʿlabī, (taḥqīq: ʿAbdu al-Razzāq ʿAfīfī). Al-Iḥkām fī uṣūl al-Aḥkām. Bīrūt: al-Maktab al-Islāmī
ʿAbd al-Qādir Muḥammad al-ʿArūsī. Al-Masā'il al-Musytarakah baina uṣūl al-Fiqh wa uṣūl al-Dīn. Al-Riyāḍ: maktabah al-Rusyd
Al-Aṣfahānī, Maḥmūd bin ʿAbd al-Raḥmān. Bayān al-Mukhtaṣar syarḥ mukhtaṣar ibn al-Ḥājib. Al-Ṭabʿah: I. al-Suʿūdiah: dār al-Madanī.
Al-Duktūr Syaʿbān Muḥammad Ismāʿīl. Uṣūl al-Fiqh (tārīkhuh wa rijāluh). Al-Ṭabʿah: II. Dār al-Salām wa al-Maktabah al-Makkīah, 1998
Al-Fayūmī. Al-Miṣbāḥ al-Munīr. al-Qāhirah: dār al-Ḥadiṡ, 2008
Al-Gazālī, Abū Ḥāmid. Al-Mustaṣfā. Al-Ṭabʿah: I. Bīrūt: dār al-Kutub al-ʿIlmiah, 1993
Ibnu Amīr Ḥāj. Al-Taqrīr wa al-Taḥrīr. Bīrūt: dār al-Kutub al-ʿIlmiah
Ibnu ʿAbd al-Hādī. Tanqīḥ al-Taḥqīq fī aḥādīṡ al-Taʿlīq. Al-Ṭabʿah: I. Aḍwā al-Salaf, 2007
Ibnu Khaldūn. Dīwān al-Mubtada' wa al-Khabar. Al-Ṭabʿah: II. Bīrūt: dār al-Fikr
Ibnu Qudāmah al-Maqdisī. Rauḍah al-Nāẓir wa junnah al-Munāzir. Al-Ṭabʿah: III. Al-Maktabah al-Makkīah, 2008
Ibnu al-Liḥām al-Baʿalī al-Ḥanbalī. Al-Qawāʿid wa al-Fawā'id al-Uṣūlīah. Al-Ṭabʿah: I. Al-Qāhirah: dār al-Ḥadīṡ, 1995
Lībā, Muḥammad, Zakarīa Hāmā, Muḥammad Ibrāhīm Naqāsī. "Al-Ijtihād fī al-Rukhṣah al-Syarʿīah" majallah al-Ḥikmah 7, raqm 13 (feb 22 2018)
Al-Muwaffaq Ibnu Qudāmah. Al-Mugnī. Maktabah al-Qāhirah, 1968
Al-Mardāwī ʿAlā al-Dīn, ʿAlī bin Sulaimān. Al-Inṣāf fī maʿrifah al-Rājiḥ min al-Khilāf. Lubnān: baīt al-Afkār al-Dualiah, 2004
Al-Namlah, Ustāż Duktūr ʿAbd al-Karīm. Al-Muhażżab fī ʿIlm uṣūl al-Fiqh. Al-Ṭabʿah: I. Al-Riyāḍ: maktabah al-Rusyd, 1999
Al-Nūrī, Qāsim Maḥmūd. Al-Kāsyif al-Muʿīn ʿan al-Iṣṭilāḥāt wa qawāʿid al-Fuqahā wa al-Uṣūlīyyīn. Al-Ṭabʿah: I, 2009
Al-Qarāfī al-Mālikī. Syarḥ tanqīḥ al-Fuṣūl. Al-Ṭabʿah: I. Syurṭah al-Ṭibā`ah al-Fannīah al-Muttaḥidah, 1973
Al-Sarkhasī, Aḥmad bin Abī Sahl. Uṣūl al-Sarkhasī. Bīrūt: al-Maʿrifah
Al-Syāsyī, Aḥmad bin Muḥammad bin Isḥāq. Uṣūl al-Syāsyī. Bīrūt: dār al-Kitāb al-ʿArabī
Al-sulamī, ʿIyāḍ bin Nāmī. Uṣūl al-Fiqh allażī lā yasaʿu al-Faqīh jahluh. Al-Ṭabʿah: III. Dār al-Tadmuriah
Al-Subkī, Tāj al-Dīn. Jamʿu al-Jawāmi` fī uṣūl al-Fiqh maʿa syarḥ al-Maḥallī wa ḥāsyiah al-ʿAṭṭār. Bīrūt: dār al-Kutub al-ʿIlmiah
Al-Sabt, Khālid bin ʿUṡmān. Tatabbuʿ al-Rukhaṣ. Majmūʿah muḥāḍarāt mufarragah bilmaktabah al-Syāmilah
Al-Syinqīṭī, Muḥammad Amīn. Mużakkirah fī uṣūl al-Fiqh. Al-Iskandarīah: dār al-Itqān
Al-Syāṭibī, Abū Iṣḥāq. Al-Muwāfaqāt. Al-Ṭabʿah: I. Mu'assasah al-Risālah, 2011
Ṣiddīq Ḥasan Khān al-Qinnaūjī. Naīl al-Marām min tafsīr āyāt al-Aḥkām. Al-Ṭabʿah: I. Ramādī linnasyr: 1911
Al-Tuwaījirī, ʿAbd al-Laṭīf. Tatabbuʿ al-Rukhaṣ baina al-Syarʿi wa al-Wāqiʿ. Baḥṡun tābiʿ limajjallah al-Bayān. Al-Ṭabʿah: I, 2009
Al-Zarkalī, Khaīr al-Dīn. Al-Aʿlām. Al-Ṭabʿah: XV. Bīrūt: dār al-ʿIlm lī al-Malāyīn, 2002
Al-Zarkasyī, Abū ʿAbdillāh Badr al-Dīn Muḥammad bin ʿAbdillāh. Al-Baḥru al-Muḥīṭ fī Uṣūl al-Fiqh. Al-Ṭabʿah: I. Dār al-Kutubī, 1994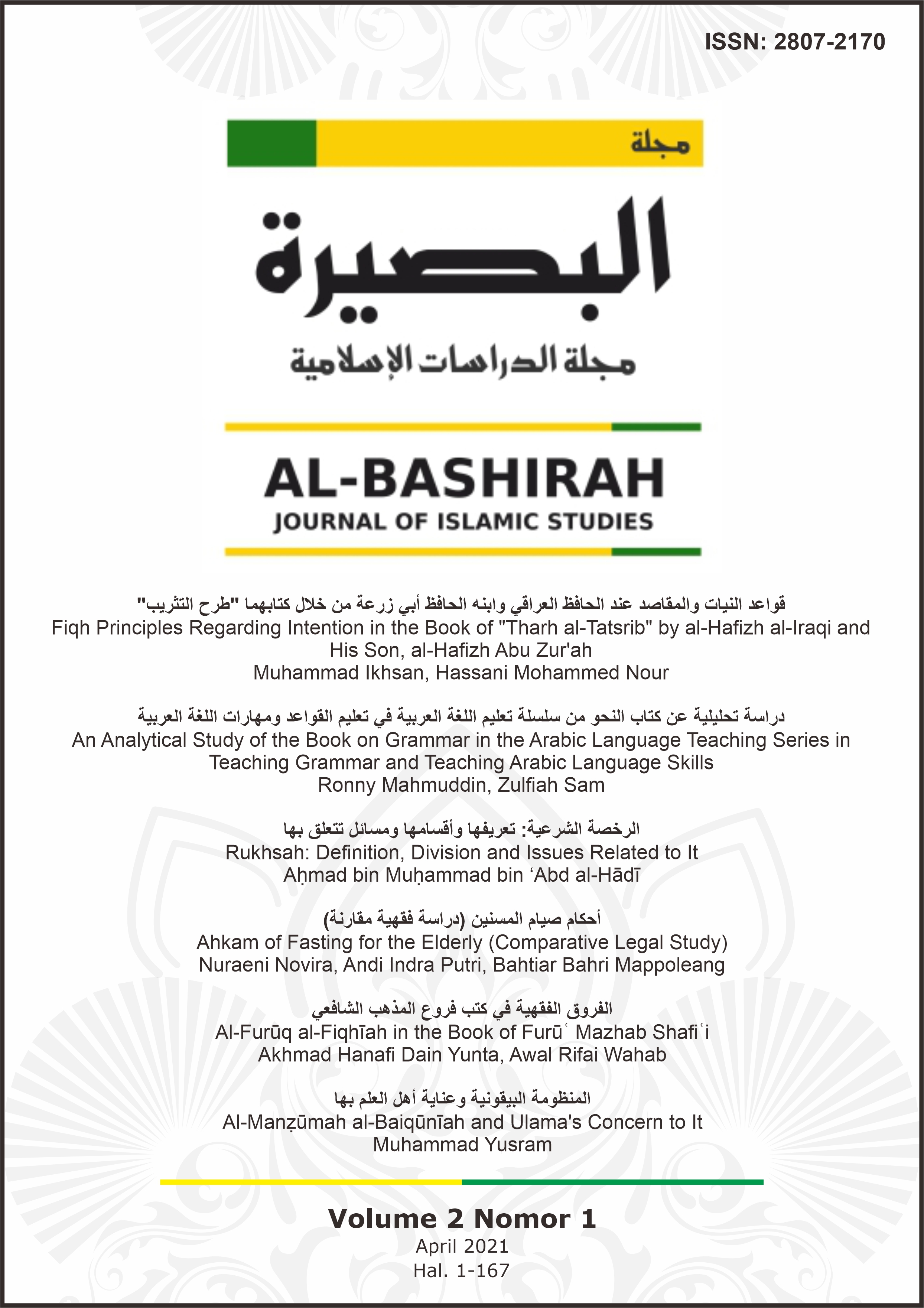 Statistic

Viewed:
101

Downloaded:
161