التدريبات اللغوية في تعليم اللغة العربية (دراسة وصفية تحليلية على كتاب "العربية بين يديك")
Linguistic Exercises in Teaching Arabic (Descriptive Study of Analysis of the Book of al-Arabiyah Baina Yadaika)
Ronny Mahmuddin

Sekolah Tinggi Ilmu Islam dan Bahasa Arab (STIBA) Makassar, Indonesia
Keywords:
textbooks, teaching, Arabic, Language Practice.
Abstract
This study aims to describe and analyze linguistic exercises in teaching Arabic in the book al-Arabiyyah Baina Yadaika. This type of research is a qualitative descriptive research using the library method by analyzing the textbook "al-Arabiyyah Baina Yadaika by looking for references in collecting data. The results of this study indicate that language exercises in teaching Arabic in the book al-Arabiyyah Baina Yadaika is a book that excels in presenting varied and intensive language exercises using Arabic without any instructional language, namely there are three main language exercises , as follows: first, al-Tadribāt al-Aliyyah, namely exercises that aim to make students accustomed to using language with repetition and imitation exercises; second, Tadribāt al-Ma'na, which is an exercise that aims to train students to be able to understand dialogue or reading texts with correct understanding through questions and answers based on the text; and third, al-Tadribat al-Itishaliyyah, which is an exercise that aims to familiarize students with direct communication by giving free questions that are not bound by text.
References
محمود الدين، روني. دراسة تحليلة على أساليب تعليم مهارات الكلام من كتاب العربية بين يديك. مجلة البصيرة، ج.3، الرقم.2، 2022، ص.216-229. https://doi.org/10.36701/bashirah.v3i2.651
ناقة، محمود كامل. تعليم اللغة العربية للناطقين بلغات أخري – أسسه ومداخله وطرق تدريسه-، دون الطبعة. المملكة العربية السعودية: جامعة أم القرى وزارة التعاليم العالي، 1405 هـــ/ 1980م.
الفوزان، عبد الرحمن بن إبراهيم. إضاءات لمعلمي اللغة العربية لغير الناطقين بها، الطبعة الأولى. الرياض: مكتبة الملك فهد الوطنية، 1432ه.
الفوزان، عبد الرحمن بن إبراهيم وأصدقاءه. العربية بين يديك، الطبعة الثالثة. الرياض: العربية للجميع، 1424هــ.
صيني، محمود إسماعيل وأصدقاؤه. مرشد المعلم في تدريس اللغة العربية لغير الناطقين بها، الطبعة الثانية. الرياض: مكتبة التربية العربي لدول الخليج، 1406.
يوكي سوريادرما بنعوان: التدريبات اللغوية المشوقات في تعليم اللغة العربية على ضوء مهارة الكتابة. Jurnal LisanulDhad Vol.3, No.2, Desember 2016, h. 53-68. https://garuda.kemdikbud.go.id/documents/detail/17664
فهرس المصادر بالاندونيسية

Arsyad, Azhar. Bahasa Arab dan Metode Pengajarannya. Cet. II; Jogjakarta: Pustaka Pelajar, 2004.
Mardiyah, Tika. Problematika Pengajaran Bahasa Arab Di Madrasah Tsanawiyah Pesantren Sabilil Muttaqin Tulungagung. Jurnal Prespektive, Vol.X, No. 02 (2017).
Munir, Perencanaan Sistem Pengajaran Bahasa Arab. Cet. I; Jakarta: Kencana; 2017.
Nisa, Luthfi Farihatun, Bety Istif Fani dan Arya Wahyu Pratama. Kitab Turats Sebagai Solusi Efektifitas Pembelajaran Mata Kuliah Tarkib Ibtida'i di Jurusan Sastra Arab Universitas Negeri Malang. Prosiding. Vol. 4 (2020). http://prosiding.arab-um.com/index.php/semnasbama/article/view/618.
Susanti, Reni Dwi. Studi Analisis Buku Ajar "Buku Teks Pelajaran" Pada mata Pelajaran Bahasa Arab di Kelas Tinggi Madrasah Ibtidaiah. Jurnal Arabia, Vol. 5 No. 2 (April- Desember 2013). https://journal.iainkudus.ac.id/index.php/Arabia/article/view/1389.
Zainuri, Muhammad. Analisis Buku Ajar Belajar Membaca Kitab Kuning Metode Ibtida'i Karya Mujahidin Rohman. Jurnal Arabia, Vol. 11, No. 1, 2019. https://journal.iainkudus.ac.id/index.php/Arabia/article/view/5255.
Besse Wahida, Problematika Pembelajaran Bahasa Arab (Studi Kasus terhadap Problematika Metodologis Pembelajaran Bahasa Arab di IAIN Pontianak). Jurnal al-Astar STAI Mempawah, Vol. 7, No. 1 (2017).
Mansoor Fahim dan Mastaneh Haghani, Sociocultural Perspectives on Foreign Language Learning. Journal of Language Teaching and Research, Vol.3, No. 4 (Juli 20`12)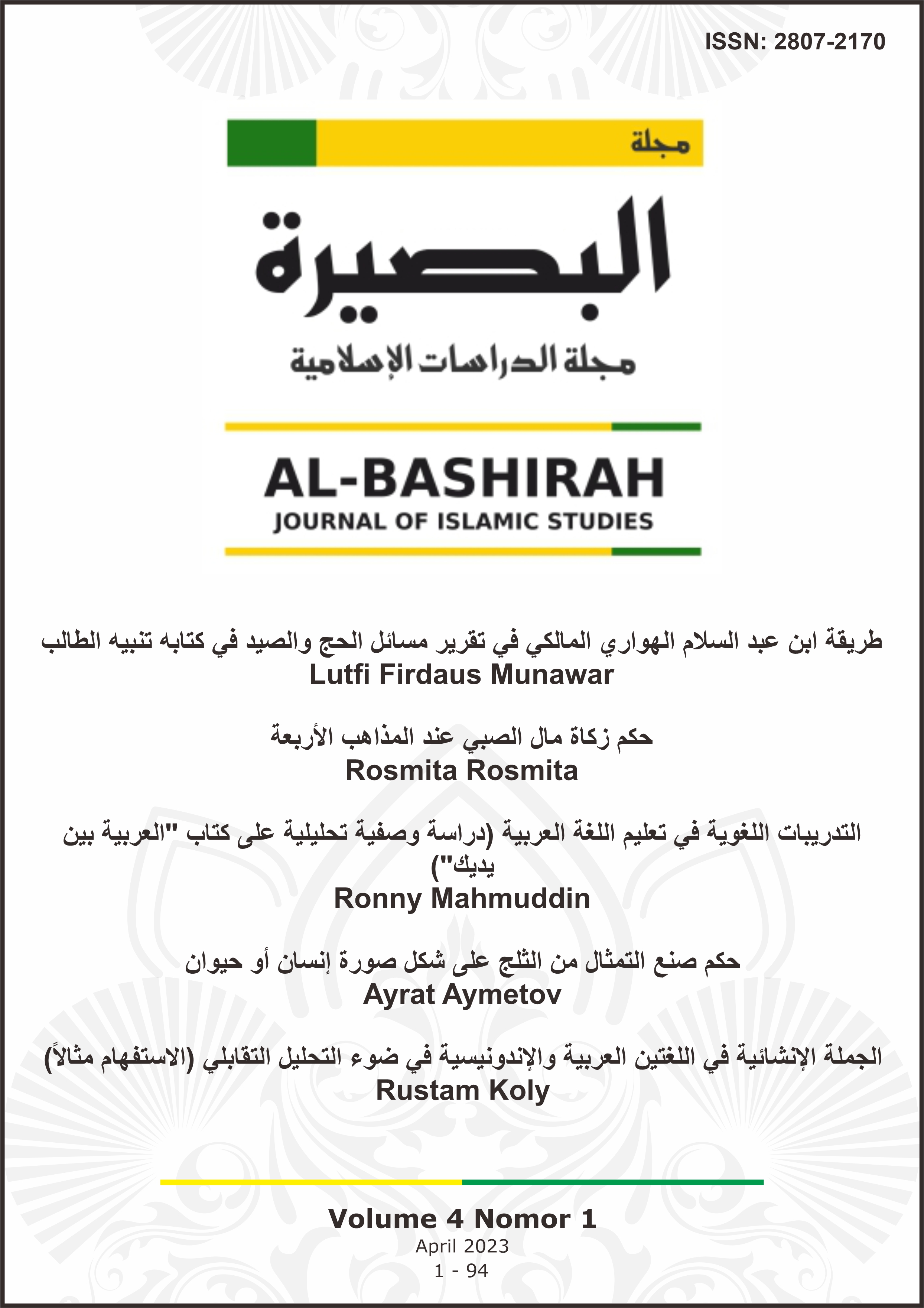 Statistic

Viewed:
97

Downloaded:
84
Copyright (c) 2023 Ronny Mahmuddin
This work is licensed under a Creative Commons Attribution-NonCommercial-ShareAlike 4.0 International License.