Percobaan Kedokteran terhadap Hewan Hidup dalam Perspektif Hukum Islam
Medical Experiment on Living Animals in Islamic Law Perspective
M. Kasim

Sekolah Tinggi Ilmu Islam dan Bahasa Arab (STIBA) Makassar

Farida Aprianti

Sekolah Tinggi Ilmu Islam dan Bahasa Arab (STIBA) Makassar

Sa'adal Jannah

Sekolah Tinggi Ilmu Islam dan Bahasa Arab (STIBA) Makassar

Nurayu Rezki

Sekolah Tinggi Ilmu Islam dan Bahasa Arab (STIBA) Makassar
Keywords:
Medicine, live animals, Islamic law
Abstract
This study aims to determine the legal experimental medicine on live animals from the perspective of contemporary fiqh, as well as to find out the opinions of the scholars in understanding the problem. This research uses descriptive qualitative research (non-statistical) which focuses on the study of manuscripts and texts using a normative juridical approach. The results of the study found that some scholars allowed the use of animals in an experiment. However, some scholars do not allow its use without knowing the ethics in experiments. The reason is that this never existed in the health sector at the time of the Prophet Muhammad. However, if the user is carried out without an urgent need, then the law is not allowed.
References
Al-Qolyubi, Hasyiyah. Al-Maktabah al-Syamilah al- Ishdaru al-Thany, vol. 14 Cet. ll; al-Maktabah al-Syamilah 195 M.
An-Naisaburi, Al-imam Abul Husain Muslim bin Al-Hajjaj Al-Qusayri. Kitab Shahih Muslim, (Maktabah Syamilaah: Riyadh), Bab nahyi an- dhorib Hayawan fii wajhih, No. Hadits 2117, Juz 03, Shofahah. 1673
Dewi, Fitriya N, & J Mark Cline. "Satwa Primata sebagai Hewan Model Studi Biologi dan Kanker Payudara." Jurnal Ilmiah Veteriner Nasional 13 (2014), h. 114.
Endi Ridwan, "Etika Pemanfaatan Hewan Percobaan Penelitian Kesehatan" J Indon Med Assoc. 63, no. 3 (Maret, 2013).
Iskandriati, Diah, Dondin Sajuthi, & Joko Pamungkas. "Pemanfaatan Hewan dalam Pengujuan dan Model Penyakit Manusia." Jurnal Ilmiah Veteriner Nasional 13 (2014): 112.
Jumrodah, "Pandangan Aksiologi terhadap Bioetika dalam Memanfaatkan hewan Coba (Animal Research) di Laborstorium" JURNAL IAIN PALANGKARAYA 2, No. 1 (Februari, 2017)
Joko, Pamungkas, dkk., Prosiding Konferensi Ilmiah Veteriner Nasional.
Kurniawan, Shahdevi Nandar, and Neila Raisa. Penggunaan Hewan Coba pada Penelitian di Bidang Neurologi. Universitas Brawijaya Press, 2018.
Mutiarahmi, Citra Nur, Tyagita Hartady, and Ronny Lesmana. "Kajian Pustaka: Penggunaan Mencit Sebagai Hewan Coba di Laboratorium yang Mengacu pada Prinsip Kesejahteraan Hewan." Jurnal Indonesia Medicus Veterinus 10 (2021).
Mohammad, Na'fi , Islam Peduli Terhadap Satwa, Cet: l, Malang, 2010.
Nainu, Firzan. "Penggunaan Drosophila melanogaster sebagai organisme model dalam penemuan obat." Jurnal Farmasi Galenika (Galenika Journal of Pharmacy)(e-Journal) 4.1 (2018): 50-67.
Nugroho, Agung Endro. "Hewan percobaan diabetes mellitus: patologi dan mekanisme aksi diabetogenik." Biodiversitas 7.4 (2006): 378-382.
Palembang KIVNAS, 2014.
Pamungkas, Joko, Diah Iskandriati, Maryati Surya, & Dondin Sajuthi. "Peran Komisi Etik dalam Kegiatan Penelitian, Pengujuan dan Pendidikan." Jurnal Ilmiah Veteriner Nasional 13 (2014): 107.Diss. UIN Raden Intan Lampung, 2019.
PSKI Fakultas Kedokteran UMY, Medical Ethics Manual, Yogyakarta : 2005
Setijono, Marcellino Mardanung. "Mencit (Mus musculus) sebagai hewan percobaan." (1985).
Ranuwijaya, Utang. "Keharaman Hewan Dalam Perspektif Al-Qur'an Dan Hadits." Al Qalam 22.3 (2005): 457-475.
Yunanda, Rifki. Fauna dalam Perspektif Al-Qur'an (Studi Tafsir Ilmi Kemenag LIPI).
Winoto, Imelda L. "Penanganan dan Pengendalian Hewan Laboratorium." Jurnal Ilmiah Veteriner Nasional 13 (2014): 108-124.
Sumber Online
https://tafsirq.com/2-al-baqarah/ayat-29 (Diakses 18/08/2021)
https://tafsirq.com/45-al-jasiyah/ayat-13 (Diakses 18/08/2021)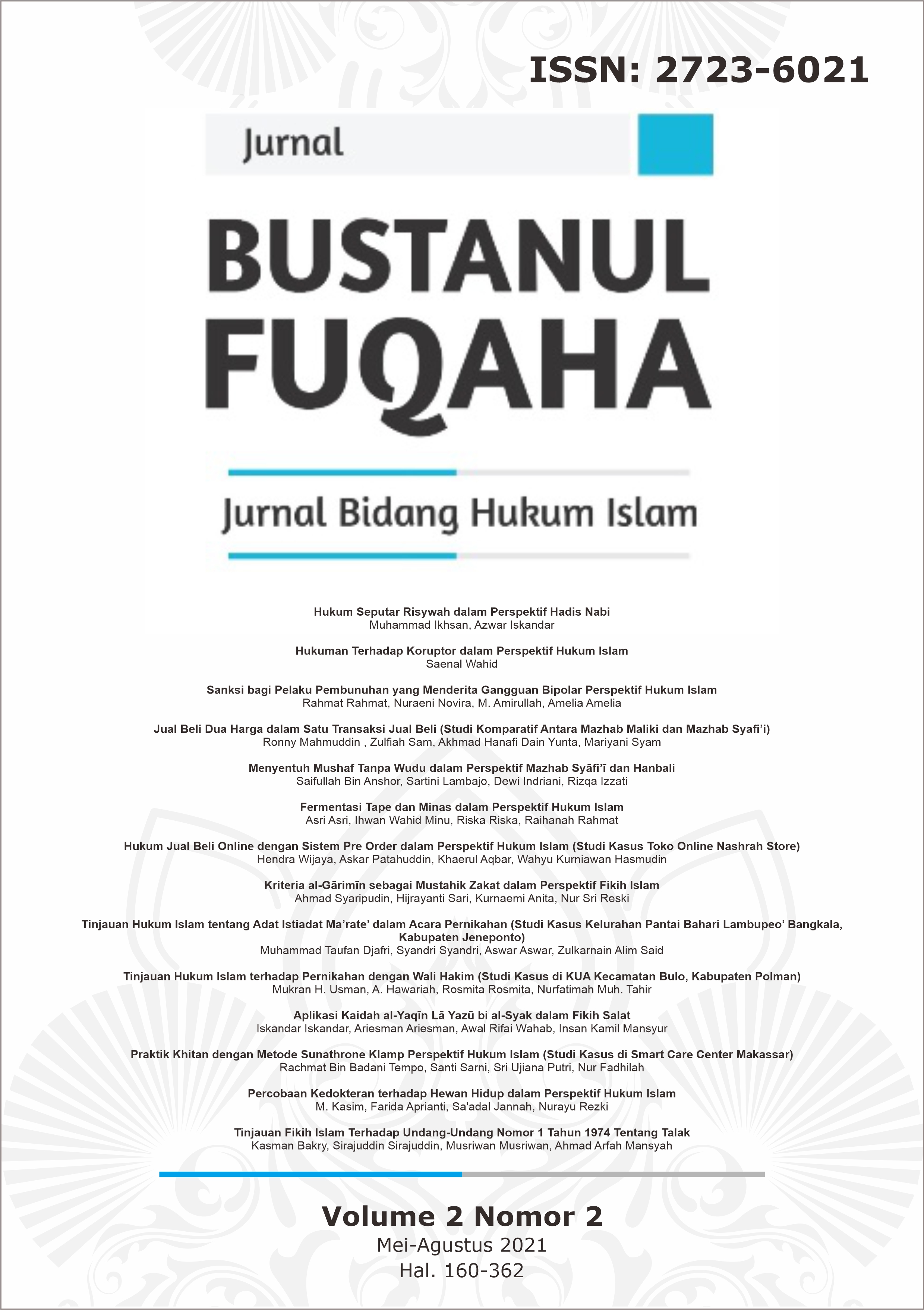 Statistic

Viewed:
910

Downloaded:
1434
How to Cite
M. Kasim, Aprianti, F., Sa'adal Jannah, & Rezki, N. (2021). Percobaan Kedokteran terhadap Hewan Hidup dalam Perspektif Hukum Islam. BUSTANUL FUQAHA: Jurnal Bidang Hukum Islam , 2(2), 336-347. https://doi.org/10.36701/bustanul.v2i2.373