Hukum Islam: Antara Wahyu Tuhan dan Pemikiran Manusia
Islamic Law: Between the Revelation of God and Human Thoughts
Marzuki Umar

Universitas Islam Negeri Alauddin (UIN) Makassar

Kurniati Kurniati

Universitas Islam Negeri Alauddin (UIN) Makassar

Misbahuddin Misbahuddin

Universitas Islam Negeri Alauddin (UIN) Makassar
Keywords:
intellect, law, Islam, revelation, thinking
Abstract
The purpose of this study is to find out how reason and revelation go hand in hand in the formation of Islamic law. The method used is a literature study with a qualitative approach. The results of the study show that reason and revelation are both the basis for giving birth to Islamic law. This study also analyzes that there is no contradiction between reason and revelation in principle. In fact, the position between reason and revelation can be parallel, but theologically it is revelation that is the source of inspiration for reason so that revelation (as a subject) has a higher position. On the other hand, reason cannot be a source of revelation, because reason is a creation while revelation is the word of God. The conclusion of this research is that today's Islamic law must be able to maximize its scientific reasoning (reasoning) in order to find hidden meanings in the texts of the Qur'an and hadith in answering the problems of life in the world without neglecting the benefits of the hereafter.
References
Al-Qardhawi Yusuf. al-'Aql wa al-'Ilm al-Qur'an al-Karim. Cet. I; Mesir: Maktabah Wahbah, 1996.
Asrori. Fungsi Akal dalam Tasawuf al-Ghazalī. Cet. I; Tangerang Selatan; Al- Qolam, 2018.
B. Purwoko, Saktiyono. Psikologi Islami: Teori dan Penelitian (Edisi Kedua). Cet. II; Bandung: Saktiyono WordPress, 2012.
Ibn Manzur. Lisan al-'Arab, Jilid XI. Kairo: Da>r al-Fikr.
Ibn Taymīyah. al-Furqan Bain Awliya al-Rahan wa Awliya al-Syaitun, suntingan dan anotasi Dr. Abd al-Rahman ibn 'Abd al-Karim al-Yahya al-Nashiriyyah. Mesir, 1414 H.
Kawakib, K., & Syuhud, H. (2021). Interrelation of Reason and Revelation: Analysis of the Thought of Ulama Mutakallimin in the Formation of Islamic Law. Journal of Islamic Law (JIL), 2(1), 43-61. https://doi.org/10.24260/jil.v2i1.127
Kementerian Agama. Al-Qur'an dan Terjemahnya. Cet. IV; Semarang: PT. Toha Putra Semarang, 2014.
Mandailing, Taufik. Relasi Akal dan Wahyu Menurut Muhammad Abduh. Cet. I; Yogyakarta: UIN Sunan Kalijaga, 2014.
Mujahidin, A. (2017). Epistemologi Islam: Kedudukan Wahyu sebagai Sumber Ilmu. Ulumuna, 17(1), 41-64. https://doi.org/10.20414/ujis.v17i1.171
Nasution, Harun. Akal dan Wahyu dalam Islam. Cet. II; Jakarta: UI Press, 2011. 'Abed al-Jabiri, Muhammad. Takwin al-'Aql al-'Arab. Cet. X; Beirut, 2009.
Nasution, Harun. Akal dan Wahyu dalam Islam. Jakarta : UI Press, 1986.
Shihab, M. Qurish. Logika Agama . Jakarta: Lentera Hati, 2001. Ya'qub, Hamzah. Filsafat Agama. Jakarta: Pedoman Ilmu Jaya, 1991.
Syarifuddin, Amir. Ushul Fiqh I . Cet. V; Jakarta: Kencana Prenada Media Group, 2014.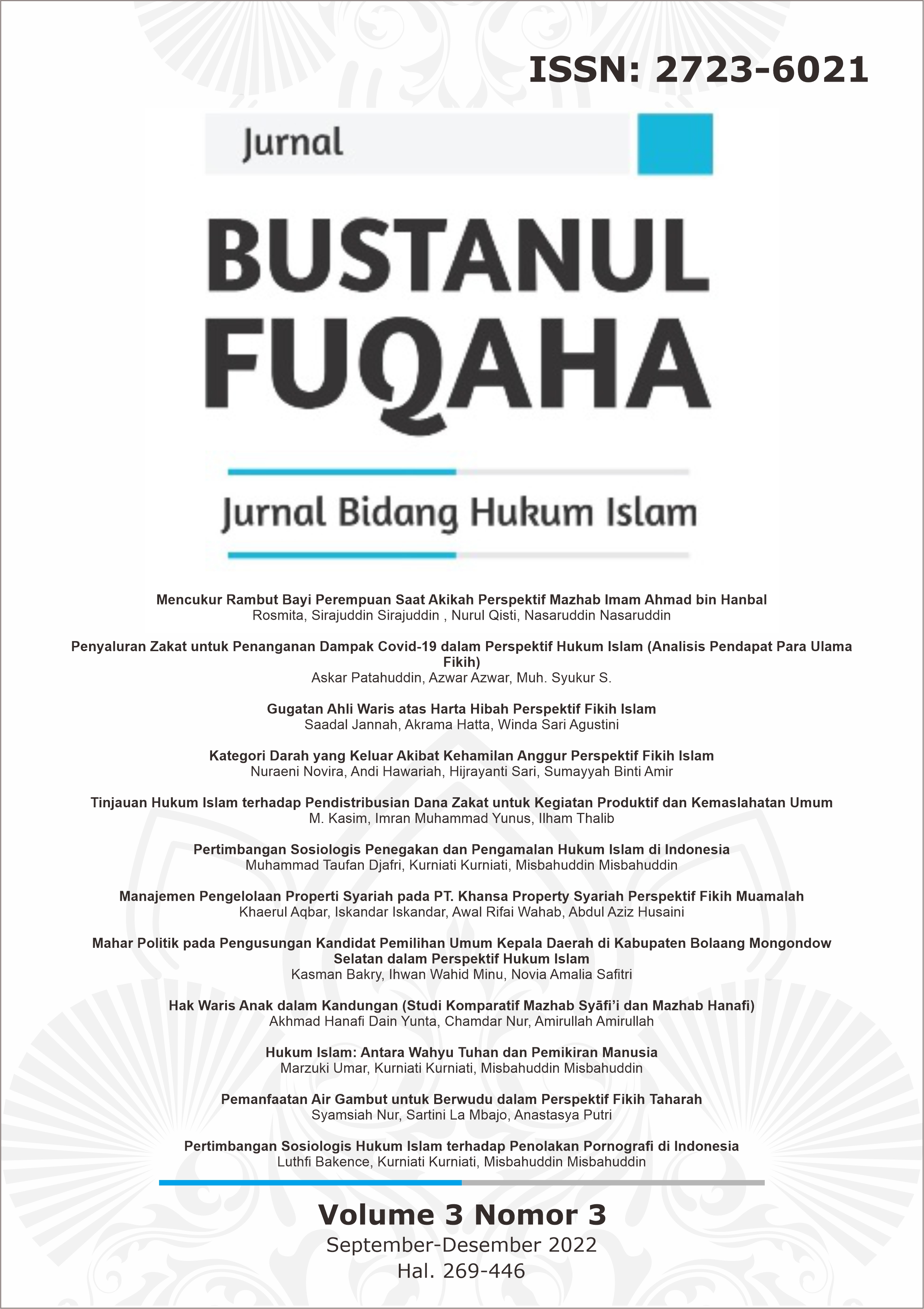 Statistic

Viewed:
45

Downloaded:
34
How to Cite
Marzuki Umar, Kurniati, K., & Misbahuddin, M. (2022). Hukum Islam: Antara Wahyu Tuhan dan Pemikiran Manusia. BUSTANUL FUQAHA: Jurnal Bidang Hukum Islam , 3(3), 409-419. https://doi.org/10.36701/bustanul.v3i3.566
Copyright (c) 2022 Marzuki Umar, Kurniati Kurniati, Misbahuddin Misbahuddin
This work is licensed under a Creative Commons Attribution-NonCommercial-ShareAlike 4.0 International License.