Peran Organisasi Islam di Indonesia dalam Pengembangan dan Penegakan Hukum Islam
The Role of Islamic Organizations in Indonesia in the Development and Enforcement of Islamic Law
Jamaluddin Jamaluddin

Universitas Islam Negeri (UIN) Alauddin Makassar

Misbahuddin Misbahuddin

Universitas Islam Negeri (UIN) Alauddin Makassar

Kurniati Kurniati

Universitas Islam Negeri (UIN) Alauddin Makassar
Keywords:
Islamic organization, Indonesia, enforcement, law
Abstract
This study aims to determine the role and influence of Islamic organizations in the formation and development of Islamic law in Indonesia. This research is a qualitative library research with a normative and conceptual theological approach. The results of the study indicate that the development of Islamic law in Indonesia cannot be separated from the role of Islamic organizations from time to time, starting from the time of independence to the present. Of each Islamic organization in Indonesia, each has its own character and influence in the development and enforcement of Islamic law, but generally carry out religious activities (da'wah), education, health, social, political services, to economic empowerment. Many Islamic organizations have contributed significantly to the growth and development of Islamic law in Indonesia through their legal institutions. It is intended that Islamic law applied in Indonesia has an Indonesian personality or has an Indonesian perspective. Reforms in Islamic law in Indonesia are carried out gradually and not only in the field of worship/religion (diyānī), but also in the field of qaḍā'i (judicial) through fatwas issued by the Islamic legal institutions of each organization.
References
Benda, Harry J. Bulan Sabit Dan Matahari Terbit. Jakarta: Pustaka Jaya, 1980.
Dahlan, Abdul Azis [et al.]. Ensiklopedi Hukum Islam. Cet. I. Jakarta: PT Ichtiar Baru Van Hoeve, 1996.
Effendy, Bahtiar. Islam Dan Negara; Transformasi Pemikiran Dan Praktik Politik Islam Di Indonesia. Cet. I. Jakarta: Paramadina, 1998.
"Https://Id.Wikisource.Org/Wiki/UndangUndang_Republik_Indonesia_Nomor_16_Tahun_2017," n.d. https://id.wikisource.org/wiki/UndangUndang_Republik_Indonesia_Nomor_16_Tahun_2017.
Kahin, George Mc Turnan. Nasionalisme Dan Revolusi Di Indonesia. Surakarta: UNS Press, 1995.
Karim, Helmi. Konsep Ijtihad Majelis Ulama Indonesia Dalam Pengembangan Hukum Islam. Pekanbaru: Susqa Press, 1994.
Kartodirjo, Sartono. Pengantar Sejarah Indonesia Baru: Sejarah Perrgerakan Nasionaldari Kolonialisme Sampai Nasionalisme. Cet. II. Jakarta: Gramedia Pustaka Utama, 1999.
Korver, A.P.E. Sarekat Islam Gerakan Ratu Adil ? Jakarta: Grafiti Pers, 1985. Kurniati, Kurniati, 'Perkembangan Sosial Politik Dalam Tatanan Pembentukan Hukum Islam', Al-Fikr, 17.1 (2013), 176–89
Lapidus, Ira. M. Sejarah Sosial Umat Islam, Bagian Ketiga. Cet. I. Jakarta: PT. RajaGrafindo Persada, 1999.
Machmudi, Yon. Sejarah Dan Profil Ormas-Ormas Islam Di Indonesia. Depok: PTTI UI, 2013.
Mahfudh, KH. Sahal. AhkamulFuqaha; Solusi Problematika Aktual Hukum Islam Keputusan Muktamar, Munas, Dan Konbes Nahdlatul Ulama (1926-1999 M). Cet. II. Surabaya: Diantama Surabaya, 2005.
Mudzhar, Mohamad Atho. The Ulama, The Government, and Society in Modern Indonesia; The Indonesian Councilof Ulama Revisited Dalam Johan Meuleman (Ed), Islam in The Era Glabalization; Muslim Attitudes Towards Modernity and Identity. Jakarta: INIS, 2001.
Perwiranegara, Alamsyah Ratu. Islam Dan Pembangunan Politik Di Indonesia. Jakarta: cv. Mas Agung, 1987.
Rahayu, Sri Sultarini dan Riska Angriani. Peran Organisasi Islam Dalam Pengembangan Dan Penerapan Hukum Islam Di Indonesia, n.d.
Shomad, Abdul. Hukum Islam Penormaan Prinsip Syariah Dalam Hukum Indonesia. Jakarta: PT. Raja Grafindo Persada, 2015.
Wahid, Marzuki dan Rumadi. Fiqh Mazhab Negara; Kritis Atas Politik Hukum Islam Di Indonesia. Cet. I. Yogyakarta: LKis Yogyakarta, 2001.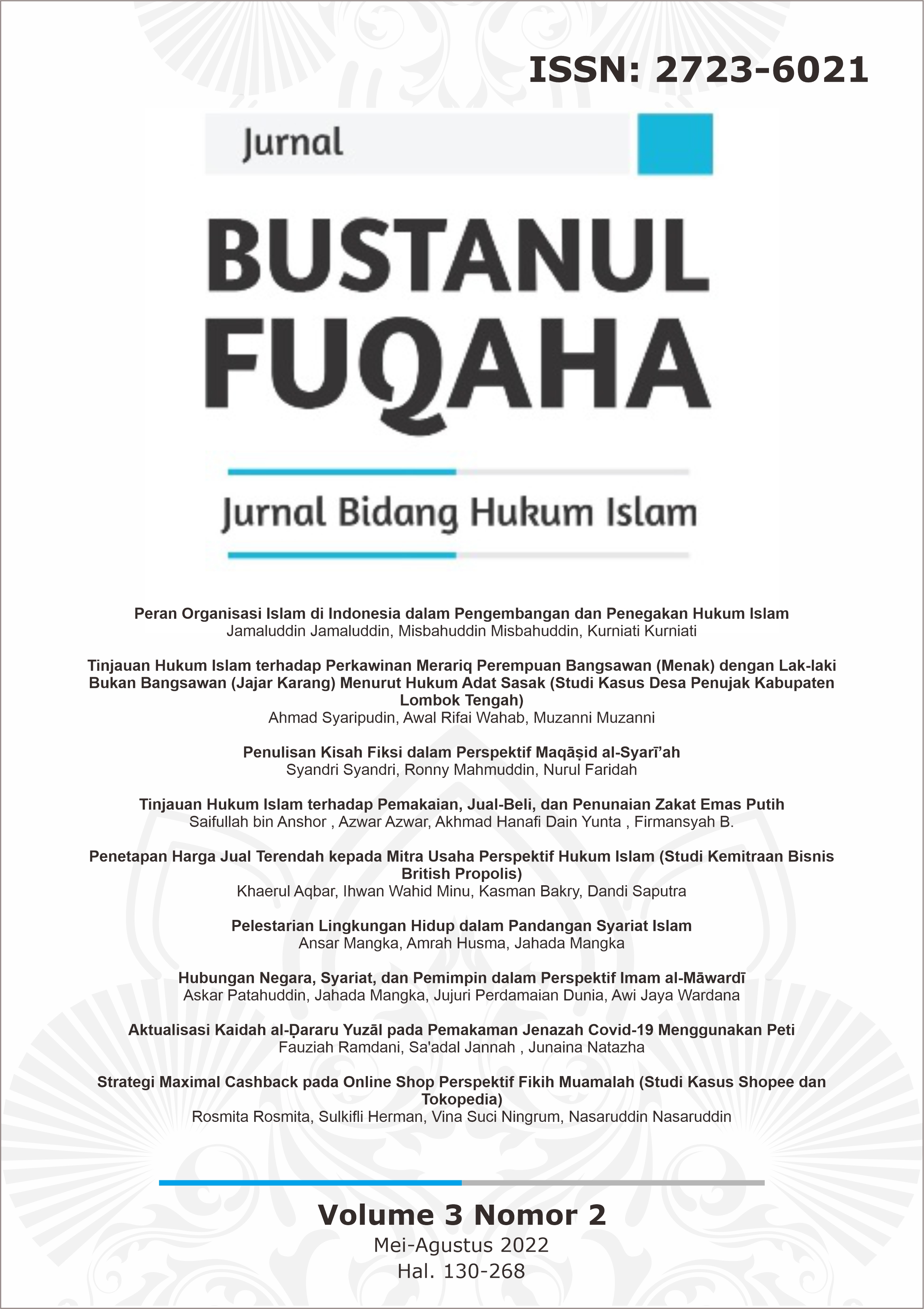 Statistic

Viewed:
405

Downloaded:
249
How to Cite
Jamaluddin, J., Misbahuddin, M., & Kurniati, K. (2022). Peran Organisasi Islam di Indonesia dalam Pengembangan dan Penegakan Hukum Islam. BUSTANUL FUQAHA: Jurnal Bidang Hukum Islam , 3(2), 130-143. https://doi.org/10.36701/bustanul.v3i2.567
Copyright (c) 2022 Jamaluddin Abdul Jalil, Misbahuddin Misbahuddin, Kurniati Kurniati
This work is licensed under a Creative Commons Attribution-NonCommercial-ShareAlike 4.0 International License.