Konsep Keadilan dalam Alquran
Rahmat Rahmat

Sekolah Tinggi Ilmu Islam dan Bahasa Arab (STIBA) Makassar, Indonesia
Keywords:
adil, quran, islam, justice, hikmah
Abstract
Al-Qur'ān explains about justice principles of life comprehensively. The justice criterion is all originating in God set, the principles and application form, that Allah swt is very fair and cannot be cruel to his servant creation. The justice application in Islam is not the relative problems because the escort is very clear. It can be found application form or rule forms also so that justice upholders just do and follow it. Islam has been decided the justice of men and women differences in worship and social interaction concepts, thus the differences between devoting and infidel people have been decided by justice realization on themselves, so that the intervention of human's mind to the decision such as justice rule is Limited. The justice is to give someone according to its right. It is also means objective attitude to view and behave something, or to act proportionately. The justice can also mean al-hikmah, that is to put something in a certain place and not pass over the limitation. The justice also means someone's characteristic keeping himself to do sin as its belief demand. The justice in al-Qur'ān has been developer by some principles, such as equality, honesty, and sincerity.
Keyword : Keadilan, Al-Qur'ān.
Downloads
Download data is not yet available.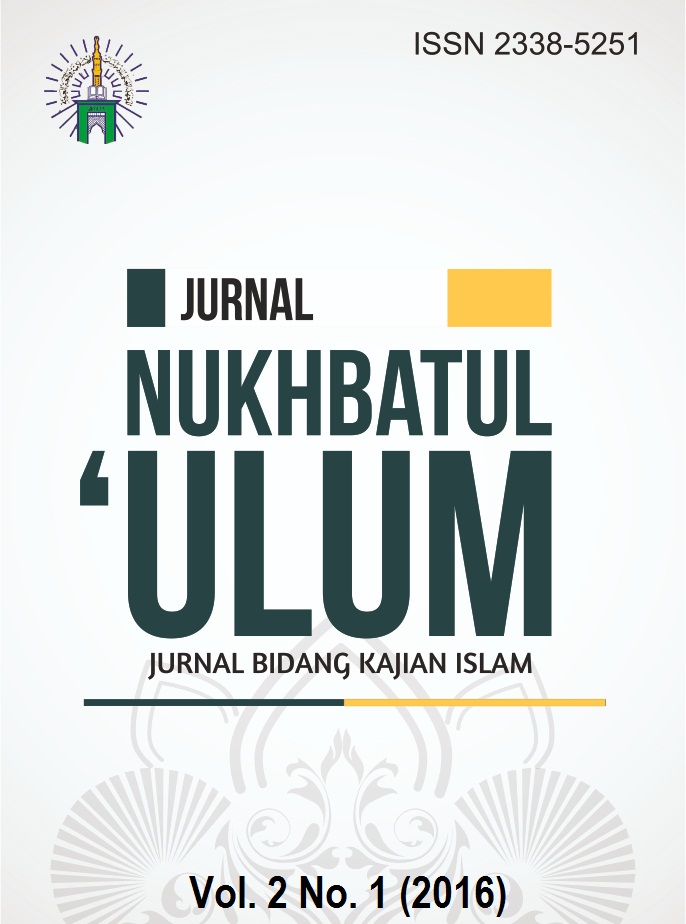 Statistic

Viewed:
381

Downloaded:
381
How to Cite
Rahmat, R. (2016). Konsep Keadilan dalam Alquran. NUKHBATUL 'ULUM: Jurnal Bidang Kajian Islam, 2(1), 167-175. https://doi.org/10.36701/nukhbah.v2i1.12