Urgensi Akta Ikrar Wakaf sebagai Alternatif Penyelesaian Sengketa Tanah
Urgency of Waqf Pledge Certificate as an Alternative of Land Dispute Resolution
Rosdalina Bukido

Institut Agama Islam Negeri Manado

Misbahul Munir Makka

Institut Agama Islam Negeri Manado
Keywords:
Waqf, Dispute, Urgency of Waqf Certificate
Abstract
This paper was to identify the truth and position of waqf that occurred in Bongkudai Village, East Bolaang Mongondow District, Indonesia and to determine ways to resolve the problems that happened in the village. There are problems regarding waqf land which is used for personal interests and the issue of land payment receipts intended for waqf makes the writer have the intention to prepare this study. The method used by the author in the completion of this study was a qualitative method whose approach is a descriptive approach, by prioritizing interviews and field facts as the main source, for data collection conducted by the author was observation, interviews, and documentation to get concrete data and facts that occur in the field. The results obtained are that land which is known as waqf land has been partly used for personal use. Besides, there is a problem with the receipt in question. The land that is known as waqf land should never be used for individual interests. A receipt is actually not an urgent matter in a problem, as long as the disputing party has no evidence to oppose it. Therefore it must be a land payment receipt intended for waqf to directly record the endowment so that problems do not occur in the future.
Downloads
Download data is not yet available.
References
Djamika, R. (1983). Tanah Wakaf. Al-Ikhlas.
Djunaidi, A., & Al-Asyhar, T. (2007). MENUJU Era Wakaf Produktif. Mumtaz Publishing.
Habibi, M. (2017). Fiqih Wakaf, dalam Pandangan Empat Mazhab dan Problematikanya. Santri Salaf Press.
Halim, A. (2005). Hukum Perwakafan di Indonesia. Ciputat Press.
Hasanah, U. (2012). Urgensi Pengawasan Dalam Pengelolaan Wakaf Produktif di Indonesia. Al-Ahkam: Jurnal Pemikiran Hukum Islam, 22(1).
Ihroni, T. O. (2001). Antropologi Hukum: Sebuah Bangsa Rampai. Yayasan Obor Indonesia.
Ismawati, & Et.al. (2019). Implementasi UU Wakaf dalam Penyelesaian Sengketa Wakaf di Wilayah Pesisir Jawa Tengah. Jurnal Masalah-Masalah Hukum, 48(4), 331–340.
Jamal, R. (2008). Hukum Perwakafan Kompilasi Hukum Islam Dalam Sorotan. Jurnal Ilmiah Al-Syir'ah, 6(1).
Komariah, U. (2014). Penyelesaian Sengketa Wakaf di Pengadilan Agama. Jurnal Hukum Dan Peradilan, 3(2).
Magnesi, H. A. (2018). Analisis Terhadap Sertifikasi dalam Sengketa Tanah Wakaf (Studi Kasus Mushola Nurun Nafi' di Jalan Kintelan Kelurahan Bendugan Kecamatan Gajah Mungkur Kota Bandung). Fakultas Syariah dan Hukum, Universitas Islam Negeri Walisongo.
Manan, A. (2008). Aneka Masalah Hukum Perdata di Indonesia. Kencana.
Qohar, A. (2011). Tanya Jawab, Hukum Pembuktian dalam Teori dan Praktik. Pustaka Biru.
RI, D. A. (2007). Fiqih Wakaf. Direktorat Jenderal Bimbingan Masyarakat Islam.
Sari, E. K. (2007). Pengantar Hukum Zakar dan Wakaf. Grasindo.
Siregar, I. (2012a). Penyelesaian Sengketa di Indonesia: Pendekatan Sejarah Sosial Hukum Islam. MIQOT: Jurnal Ilmu-Ilmu Keislaman, 13(1).
Siregar, I. (2012b). Penyelesaian Sengketa Wakaf di Indonesia. MIQOT, 36(1).
Suwaidi, A. (2011). Wakaf dan Penerapannya di Negara Muslim. Economic: Jurnal Ekomomi Dan Hukum Islam, 1(2), 14–33.
Usman, S. (1999). Hukum Perwakafan di Indonesia. Darul Ulum.
Zelania. (2017). Problematika Tanah Wakaf yang Tidak Memiliki Akta Ikrar Wakaf (Studi di Desa Kotway Kecamatan Buay Pemaca Kabupaten Ogan Komering Selatan). Institut Agama Islam Negeri Metro.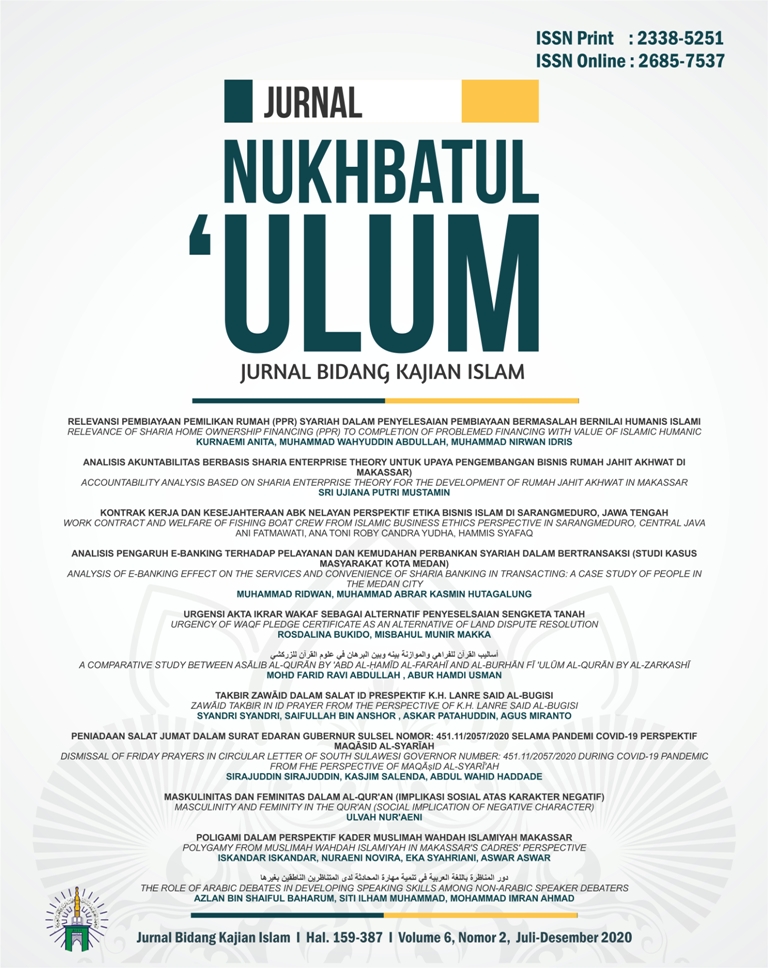 Statistic

Viewed:
642

Downloaded:
617
How to Cite
Bukido, R., & Misbahul Munir Makka. (2020). Urgensi Akta Ikrar Wakaf sebagai Alternatif Penyelesaian Sengketa Tanah. NUKHBATUL 'ULUM: Jurnal Bidang Kajian Islam, 6(2), 244-257. https://doi.org/10.36701/nukhbah.v6i2.161
Copyright (c) 2020 Rosdalina Bukido, Misbahul Munir Makka
This work is licensed under a Creative Commons Attribution-NonCommercial-ShareAlike 4.0 International License.