Analisis Pengaruh e-Banking Terhadap Pelayanan dan Kemudahan Perbankan Syariah dalam Bertransaksi (Studi Kasus Masyarakat Kota Medan)
Analysis of E-Banking Effect on the Services and Convenience of Sharia Banking in Transacting: A Case Study of People in the Medan City
Muhammad Ridwan

Universitas Potensi Utama

Muhammad Abrar Kasmin Hutagalung

Universitas Potensi Utama
Keywords:
E-banking, Service, transaction Convenience, Islamic Banking
Abstract
This study aimed to study and analyze. the effect of e-banking on the service and convenience of Islamic banking in the transaction for the people of Medan City. The method used in this research was a quantitative approach using data in the form of numbers, using multiple linear regression analysis and Islamic values ​​in using e-banking services and ease of transactions, supported by statistical tests, using the version-20-SPSS program. The research conducted simultaneously shows that this research has an F-count greater than the F-table or 33.791 > 2.47. Partially testing the e-banking coefficient, there is an effect of making transactions of 2.405. There is an effect of service coefficient in making transactions of 3,352. The coefficient of convenience has an effect in making transactions of 2,610. Therefore simultaneously and partially there is an effect of e-banking on services and convenience of transacting for the people of Medan City.
Downloads
Download data is not yet available.
References
Al-Qur'anul karim
Adiwijaya, I. G. B. P. (2018). Kemudahan Penggunaan, Tingkat Keberhasilan Transaksi, Kemampuan Sistem Teknologi, Kepercayaan dan Minat Bertransaksi Menggunakan Mobile Banking. Jurnal Manajemen Bisnis, 15(3), 135-153.
Az-Zuhaili, Wahbah. (2012). At-Tafsir Al-Wasith, terj. Muhtadi Jakarta: Gema Insani Press
Departemen Agama. (2013). Alquran dan Terjemahan, Jakarta: Pustaka Al-Mubin
Ghozali, I. (2006). Aplikasi Analisis Multivariate dengan program SPSS edisi 3. Semarang: Badan Penerbit Universitas Diponegoro.
Isnaini, H., & Ridwan, M. (2016). Islamic Economic, Medan: FEBI Press.
Indonesia, I. B. (2016) Memahami Supervisi Audit Intern Bank Syariah, Jakarta: Gramedia Pustaka Utama
Ismail. (2010). Manajemen Perbankan syariah Dari teori menuju aplikasi, Jakarta: kencana
Jogiyanto. (2007). Sistem Informasi Keperilakuan. Edisi Revisi. Yogyakarta: Andi Offset.
Katsir, I. (2005). Tafsir Ibnu Katsir, terj. M. Abdul Ghoffar et. al. Bogor: Pustaka Imam Asy-Syafi" i.
Keuangan, O. J. (2015). Bijak Ber-E-banking. Jakarta.
Kotler, P., & Amstrong, G. (1997). Prinsip-prinsip Pemasaran Jilid I, Jakarta: PT. Salemba Empat.
Moenir. (2015). Manajemen Pelayanan Umum Di Indonesia. Jakarta: PT Bumi Aksara.
Rambat, L. (2013). Manajemen Pemasaran Jasa Teori dan Praktik. Jakarta: Salemba Empat.
Remy, S. S. (2014). Perbankan Syariah, Produk dan Aspek-Aspek Hukum, Jakarta: Kencana.
Soemitra. A. (2012). Bank syariah & lembaga Keuangan Syariah Jakarta: Kencana.
Suwiknyo. D. (2010). Jasa-Jasa Perbankan Syariah, Yogyakarta: Pustaka Pelajar.
Undang-Undang No. 10 Tahun 1998 Bank Syariah.
Undang-Undang. Pasal 2 PBI No. 6/24/PBI/ 2004 Tentang Bank Umum.
Walandouw, G. I., Mekel, P. A., & Soegoto, A. S. (2014). Kualitas Pelayanan Dan Citra Merek Pengaruhnya Terhadap Kepercayaan Nasabah Bertransaksi E-Banking Melalui Kartu Debit Taplus Bni. Jurnal EMBA: Jurnal Riset Ekonomi, Manajemen, Bisnis dan Akuntansi, 2(2), 1261-1271
Yani, E., Lestari, A. F., Amalia, H., & Puspita, A. (2018). Pengaruh Internet Banking Terhadap Minat Nasabah Dalam Bertransaksi Dengan Technology Acceptance Model. J. Inform, 5(1), 34-42.
Yusanto, M. I., & Yunus, M. A. (2011). Pengantar Ekonomi Islam. Al-Azhar Press.
Zein, H. A. (2020). Metode Riset Penelitian Kuantitatif, Yogyakarta: Deepublish Publisher.
Dalam 4 Tahun, Nasabah E-Banking Naik hingga 270%. (24 Juli 2017) https :// economy .okezone .com /read/2017/07/24/320/1743125/dalam-4-tahun-nasabah-e-banking-naik-hingga-270.
Industri-pembayaran-digital-bank-dan-fintech-berebut-pasar. (25 Februari 2019). Diunduh dari https://finansial.bisnis.com/read/20190225/90/893062/industri-pembayaran-digital-bank-dan-fintech-berebut-pasar.
Thariq. A., Sharia-complaint Investing: Concept and Opportunities:http//www.csri.orgnz/ document/tashraf,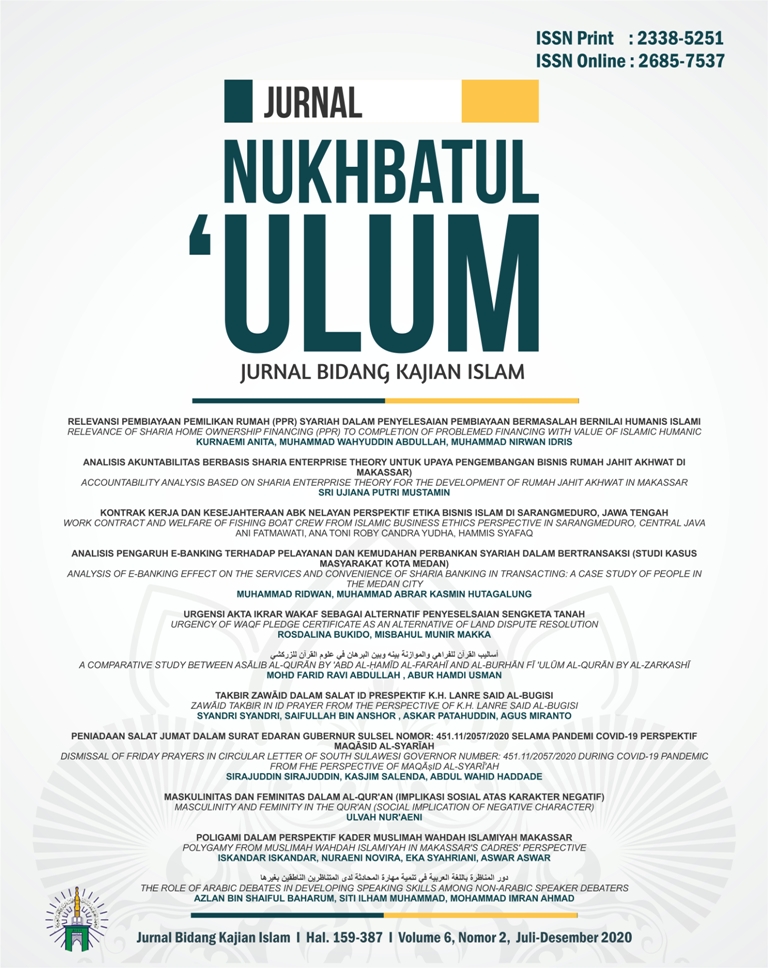 Statistic

Viewed:
962

Downloaded:
525
How to Cite
Muhammad Ridwan, & Hutagalung , M. A. K. (2020). Analisis Pengaruh e-Banking Terhadap Pelayanan dan Kemudahan Perbankan Syariah dalam Bertransaksi (Studi Kasus Masyarakat Kota Medan). NUKHBATUL 'ULUM: Jurnal Bidang Kajian Islam, 6(2), 221-243. https://doi.org/10.36701/nukhbah.v6i2.247
Copyright (c) 2020 Muhammad Ridwan, Muhammad Abrar Kasmin Hutagalung
This work is licensed under a Creative Commons Attribution-NonCommercial-ShareAlike 4.0 International License.