Manajemen Skala Prioritas Kehidupan Manusia dalam Perspektif Agama Islam
Management of the Priority Scale of Human Life in the Islamic Perspective
Satria Kharimul Qolbi

Universitas Islam Negeri Sunan Kalijaga Yogyakarta, Indonesia

Sutrisno Sutrisno

Universitas Islam Negeri Sunan Kalijaga Yogyakarta, Indonesia
Keywords:
Management, Priority Scale, Islamic Perspective
Abstract
Every human activity has its own role and importance. In this case, a priority scale is required for each activity to be organized on a regular basis. Islam with all forms of teaching provides solutions to every problem of life without exception, as well as in terms of priorities. This research aims to explain the procedures for regulating the scale of priorities in human life according to the foundation of Islamic teachings. To arrive at that goal, the study used a dexatriptive-qualitative method with literature study techniques. In addition, the study also used a thematic approach by collecting Qur'anic verses that addressed a particular topic and ordered it wherever possible. The results of this study show that setting priorities begins with careful planning, solid organizing, proper implementation, and monitoring for control. All these stages are then integrated with the principle of priority jurispruding, namely the measure of truth highlighted in the Qur'an, the main priority over branch priorities, and the priority of people's rights to this right individually.
Downloads
Download data is not yet available.
References
A. Latif, Husni Mubarrak. "Studi Fiqh Prioritas Dalam Sunnah Nabi." Jurnal Ilmiah Al-Mu'ashirah 16, no. 1 (2019): 22. https://doi.org/10.22373/jim.v16i1.5738.
Aan Rukmana. "Kedudukan Akal Dalam Al-Qur'an Dan Al-Hadis." Mumtäz 1, no. 1 (2017): 23–34.
Abdul Goffar. "MANAJEMEN DALAM ISLAM (PERSPEKTIF AL- QUR'AN DAN HADITS)." Pendidikan Dan Keislaman 3, no. 1 (2018): 35–58.
Abdul Malik Abdul Karim Amrullah. Tafsir Al-Azhar Jilid 5. Jakarta: Pustaka Nasional PTE LTD Singapura, 1965.
Aditya Widya Putri. "Empati Diatas Tempat Duduk Prioritas KRL." Tirto.Id, November 11, 2016.
Celly Beto. "Prioritas Pendidikan Tahun 2021, Menurut Menteri Pendidikan Dan Kebudayaan Nadiem Makarim." https://www.depoedu.com/2020/08/31/edu-talk/prioritas-pendidikan-tahun-2021-menurut-mentri-pendidikan-dan-kebudayaan-nadiem-makarim/#:~:text=Prioritas%20Pendidikan%20adalah%20proses%20penentuan,target%20pendidikan%20akan%20dapat%20tercapai., 2020.
Dendy Sugono. Kamus Bahasa Indonesia. Jakarta: Pusat Bahasa, 2008.
Engkoswara, Aan Komariah. Administrasi Pendidikan. Bandung: Alfabeta, 2012.
Hanafi, Mamduh. Konsep Dasar Dan Perkembangan Teori Manajemen. Modul. Vol. 1, 2015. http://repository.ut.ac.id/4533/1/EKMA4116-M1.pdf.
Imat Maftuhah. "Pemikiran Ijtihad Syekh Yusuf Qordhawi." Tazkiya Jurnal Keislaman, Kemasyarakatan & Kebudayaan 19, no. 1 (2014): 95–105.
Maragustam. "Paradigma Revolusi Menta Dalam Pembentukan Karakter Bangsa Berbasis Sinergitas Islam Dan Filsafat Pendidikan." Jurnal Pendidikan Agama Islam XII, no. 2 (2015): 161–76.
Mirzaqon, Abdi. "Studi Kepustakaan Mengenai Landasan Teori Dan Praktik Konseling Expressive Writing Library." Jurnal BK UNESA 8, no. 1 (2018): 1–8.
Muammar M. Bakry. "Asas Prioritas Dalam Al-Maqashid Al-Syari'ah." Al-Azhar Islamic Law Riview 1, no. 1 (2019): 1–8.
Mundiri. Logika. Jakarta: Raja Grafindo Persada, 2000.
Prof. Dr. Sutrisno. Fazlur Rahman Kajian Terhadap Metode, Epistimologi Dan Sistem Pendidikan. Yogyakarta: Pustaka Pelajar, 2006.
Qardawi, Yusuf. Fiqh Prioritas. Jakarta: Robbani Press, 1996. https://www.darulkautsar.net/.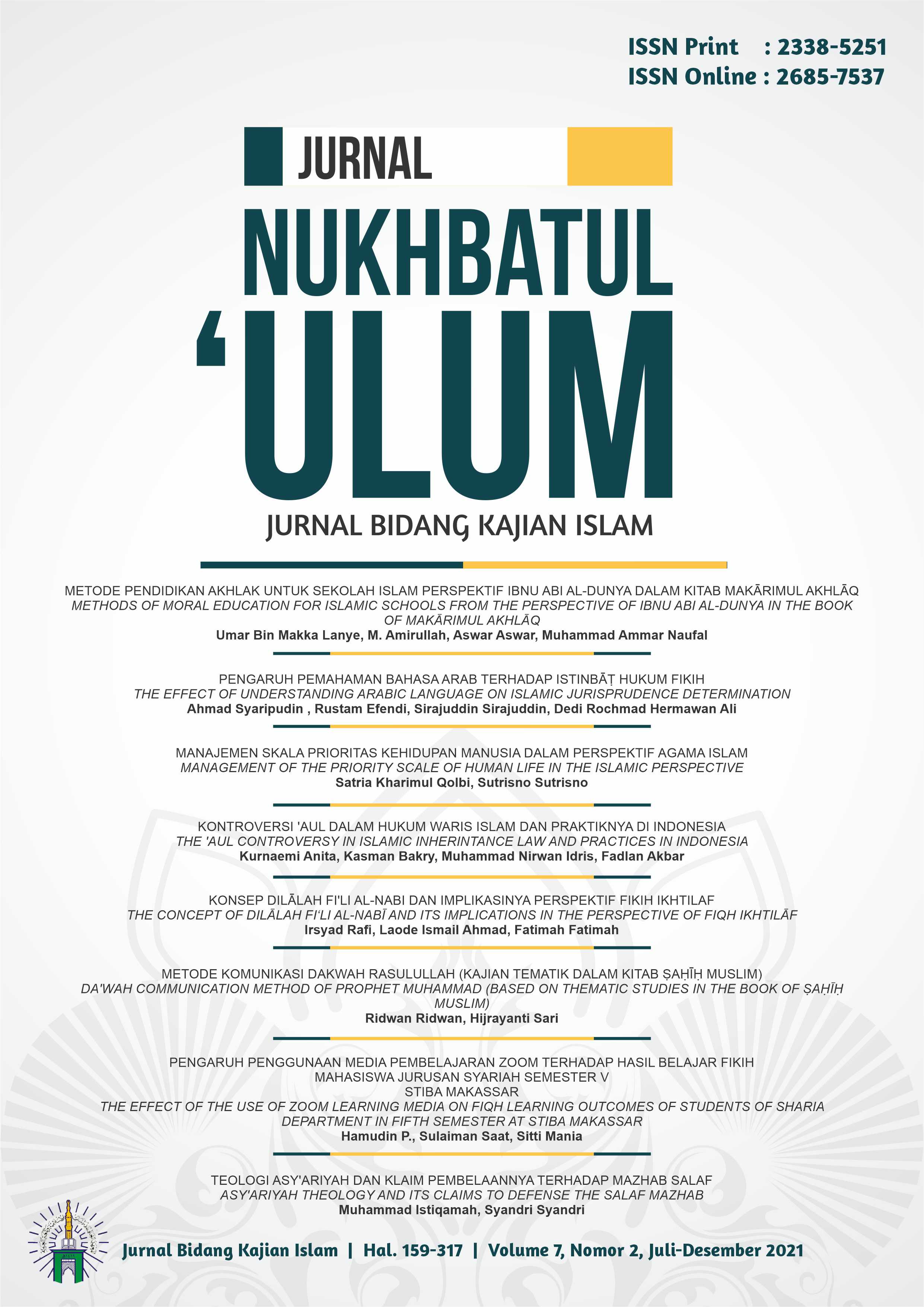 Statistic

Viewed:
446

Downloaded:
1009
How to Cite
Satria Kharimul Qolbi, & Sutrisno, S. (2021). Manajemen Skala Prioritas Kehidupan Manusia dalam Perspektif Agama Islam. NUKHBATUL 'ULUM: Jurnal Bidang Kajian Islam, 7(2), 197-210. https://doi.org/10.36701/nukhbah.v7i2.357
Copyright (c) 2021 Satria Kharimul Qolbi, Sutrisno Sutrisno
This work is licensed under a Creative Commons Attribution-NonCommercial-ShareAlike 4.0 International License.