Konsep Bai' Mabrūr pada Transaksi Barter Petani Garam di Kabupaten Jeneponto
Bai' Mabrūr Concept on Salt Farmers' Barter Transactions in Jeneponto District
St Nurrahma

Universitas Islam Negeri (UIN) Alauddin, Makassar

Irwan Misbach

Universitas Islam Negeri (UIN) Alauddin, Makassar

Amiruddin K

Universitas Islam Negeri (UIN) Alauddin, Makassar
Keywords:
barter, bai' mabrūr, Islamic economic, salt farmer
Abstract
This study aims to analyze the barter transactions of salt farmers and then to elaborate on the concept of bai' mabrūr in transactions carried out by the community in Jeneponto Regency. The research method used is descriptive qualitative method with a sharia economic approach. The results of the study show that salt barter transactions have occurred since ancient times and are still ongoing today. The objects exchanged are basic necessities, such as rice, sugar, coffee and cigarettes. The exchange stage starts with the process of mutual contact between farmers and traders, then the process of negotiation and price estimation. In terms of mabrur or acceptance of barter transactions, the results of these barter transactions are more dominant in terms of the good or the benefits rather than the disadvantages. Salt barter transactions show a form of mutual help for both parties, where traders help farmers in meeting their daily needs and in marketing salt, while from the other side, farmers also help traders in terms of getting salt more easily which is also resold. to get more profit.
Downloads
Download data is not yet available.
References
Abdul, Syafa'at Kholiq dan Rohmatullah, "Analisis Hukum Islam Terhadap Praktik Jual Beli Hasil Pertanian Padi Sistem Tebasan Di Dusun Kelir Kabupaten Banyuwangi", Darusalam 10, no.1, (2018)
Arifin, dkk., "Analisis Praktek Barter Pasca Panen Padi Padi Ditinjau Dari Perspektif Ekonomi Islam," Jurnal Ekonomi Islam 3, no. 1 (2019): h.20
Aziz, Abdul Muhammad Azzam: Fiqh Muamalat sistem transaksi dalam islam, (Jakarta: Amzah , 2010), h. 27
Afrisa, Hellen, "Pengaruh Fitur Tabungan Mabrur Junior Terhadap Nasabah Di Bawah Usia 17 Tahun" Jurnal Banque 6 no. 2 Desember (2020): h.6
Budi, Purbayu Snatoso dan Aris Anwaril Muttaqin, "Larangan Jual Beli Gharar: Telahh terhadap hadis dari Musnad ahmad bin hanbal", Equilibrium 3,no.1 (2015): h. 156
Bakar, Abu Al-Khilal. "al-Hatstsu ala al-Tijarah wa al-Shina'ah". Maktabah Syamilah.1 h.14
Departemen Agama RI, Al-Quran Dan Terjemahnya, (Bandung : CV Penerbit J-ART, 2004). h.2
Ferdinand, Novingky, "Prinsip Perniagaan Menurut Islam : Sebuah Tinjauan Fiqih Untuk Muamalah Kontemporer", STIES Mitra Karya Bekasi(2021)
Hadis muslim, https://carihadis.com/hadis-sahih/2176. Diakses pada tanggal 1 April 2021
Ichsan, Muchammad, "Konsep Uang Dalam Perspektif Ekonomi Islam," Profetika:Jurnal Studi Islam (2020).
Ida, Efa Amaliyah, "Tasawuf dan Kesalehan Sosial (Keterepaduan antara Nilai-Nilai Individu dan Sosila", Jurnal Akhlak dan tasawuf 3, no. 1 (2017): h. 1
Marsun, "Implementasi Pembiayaan Akad Istisna' Dalam Transaksi Jual Beli Alat Bangunan Di Mibel Barokah Pademawu Pamekasan," Journal of Chemical Information and Modeling 53, no. 9 (2013): h. 68.
Muzan, Amrul " Perilaku Pedagang dan Konsep Bai'i Mabrûr Dalam Fiqih Muamalah, Hukum Islam XVIII No. 1 Juni (2018),h.19
Rasjid, Sulaiman, Fiqih Islam. Bandung :Sinar Baru Algensindo, (2014), h.282
Rijali, ahmad, "Analisis Data Kualitatif," Alhadharah: Jurnal Ilmu Dakwah (2019
Rahman, Abdul Ghazal, dkk, Fiqih Muamalah, (Jakarta: kencana,2010), h.67
Suhendi Hendi," Fiqih Muamalah", (Jakarta: PT. Rajawali Pers, 2010), h.69
KBBI, "Arti Mabrur", Situs Resmi KBBI. http//kbbi.web.id/implementasi (4 April 2020, diakses pada jam 08:17).
Shaihi bukhari, https//carihadis.com/Shahih_Bukhari/%jual20%beli. Diakses pada tanggal 1 April 2021
Syaifullah, "Etika Jual Beli Dalam Islam."Jurnal Studia Islamika, 11, no.2, Desember (2014): h.471
Zed, Mestika, "Metode Penelitian Kepustakaan", Yayasan obor Indonesia, Jakarta,2008.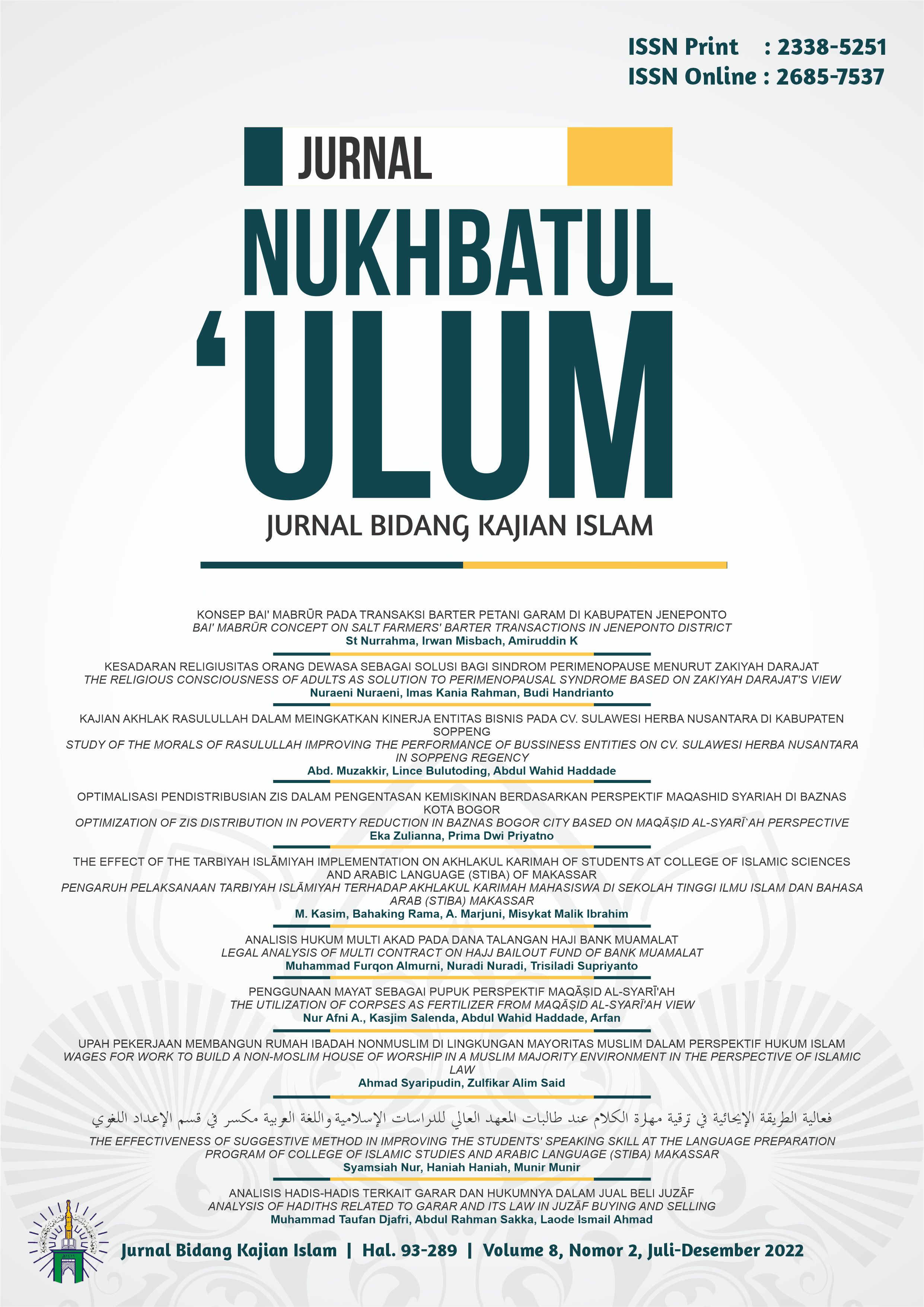 Statistic

Viewed:
78

Downloaded:
70
How to Cite
St Nurrahma, Irwan Misbach, & Amiruddin K. (2022). Konsep Bai' Mabrūr pada Transaksi Barter Petani Garam di Kabupaten Jeneponto. NUKHBATUL 'ULUM: Jurnal Bidang Kajian Islam, 8(2), 93-107. https://doi.org/10.36701/nukhbah.v8i2.560
Copyright (c) 2022 St Nurrahma, Irwan Misbach, Amiruddin K
This work is licensed under a Creative Commons Attribution-NonCommercial-ShareAlike 4.0 International License.