Kesadaran Religiusitas Orang Dewasa sebagai Solusi bagi Sindrom Perimenopause Menurut Zakiyah Darajat
The Religious Consciousness of Adults as Solution to Perimenopausal Syndrome Based on Zakiyah Darajat's View
Nuraeni Nuraeni

Universitas Ibnu Khaldun Bogor, Indonesia

Imas Kania Rahman

Universitas Ibnu Khaldun Bogor, Indonesia

Budi Handrianto

Universitas Ibnu Khaldun Bogor, Indonesia
Keywords:
perimenopause, menopause, religious knowledge, family wholeness
Abstract
This research discusses perimenopause, which is the period leading up to menopause. This period is the final stage of the biological process experienced by women, where at this time there are various changes both in terms of physical, and psychological. This research aims to provide a solution to the discomfort felt by perimenopause women who actually need help, both by themselves and their environment, with their religious knowledge. This paper uses qualitative methods with this type of literature and field research. The results showed that the situation in the tumultuous perimenopause period, can only be faced by getting close to Allah ﷻ, therefore a perimenopausal woman must further deepen her religious knowledge. The religious knowledge possessed by a perimenopause woman will automatically help fortify her to deal with the turmoil of perimenopause accompanied by the full support of family and the environment. The authors hope that this study can give color to the study of Islamic counseling guidance for adults with cases of perimenopause, and contribute information about all matters related to the perimenopause period to government and private institutions and the wider community so that the resilience of Muslim households can be maintained in the context of feel Calm, love and affection.
Downloads
Download data is not yet available.
References
Al-Qur'ān al-Karīm..
Al-Qurthubi, Syaikh Imam, Tafsir Al Qurthubi. Penerjemah, Ahmad Khatib, Dudi Rosyadi, Faturrahman, Fachrurazi. Jakarta: Pustaka Azzam, jilid 17, 2009.
Alu Syaikh, Abdullah bin Muhammad bin Abdurrahman, Tafsir Ibnu Katsir. Penerjemah, M. Abdul Goffar, Abu Ihsan al-Atsari. Jakarta: Pustaka Imam Asy- Syafi'i, jilid 8, 2008.
Ath-Thabari, Abu Ja'far Muhammad bin Jarir Tafsir Ath-Thabari, Penerjemah: Ahsan Askan, Yusuf Hamdani, Abdus-Shamad, Misbah. Jakarta: Pustaka Azzam, jilid 20, 2009.
Az-Zuhaili, Wahbah, Tafsir Al-Munir. Penerjemah: Abdul Hayyi al-Kattani, dkk. Jakarta: Gema Insani, jilid 12, 2013.
Bener, Abdulbari dan Anas Falah. "A Measurement-Specifi Quality-Of-Life Satisfaction During Premenopause, Perimenopause And Postmenopause In Arabian Qatari Women". Journal of Mid-life Health, Vol. 5. No. 3, 2014.
Dzakiyah Darajat, Menghadapi Masa Menopause (mendekati masa tua). Jakarta: Bulan Bintang, 1974.
Herawati, Rika, Heny Sepduwiana, dan Andria. "Strategi Memperlambat Usia Menopause Di Posyandu Posyandu Lansia Kabupaten Rokan Hulu". Jurnal Maternity and Neonatal, Vol. 1, No. 4, 2014.
Hessy, Fiyya Anaqotul dan Trimeilia Suprihatiningsih. "Hubungan Syndrom Pre Menopause Dengan Tingkat Stres Pada Wanita Usia 40-45 Tahun", Jurnal Kesehatan Al-Irsyad (JKA), Vol. XI, No. 1, 2018.
HM, Hamdanah. "Kecemasan Menghadapi Perubahan Saat Menopause", Jurnal Tarbiyatuna Pendidikan Islam. Vol. 1, No. 1, 2011.
Jannah, Miftahul, Fakhri Yacob, dan Julianto, "Rentang Kehidupan Manusia (Life Span Development) Dalam Islam", Gender Equality: International Journal of Child and Gender Studies, Vol. 3, No. 1, 2017.
Mustafa. "Perkembangan Jiwa Beragama Pada Masa Dewasa", Jurnal Edukasi Vol. 2, No. 1, 2016.
Risnawati, Nasruddin, dan Werna Nontji. "Concentration Of Calsium Acceptor Injective Depomedroxion Of Acetat Progesteron With Combination Of Perimenopause Women". Jurnal Life Birth, Vol. 4, No.1, 2020.
Sari, Nunik Ike Yunia, Rita Benya Adriani, dan Ambar Mudigdo. "Effect of Menopause Duration and Biopsychosocial Factor on Quality of life of Women in Kediri District, East Java", Journal of Maternal and Child Health), Vol. 2, No. 2, 2017.
Saryono, "Konsep Fitrah dalam Perspektif Islam", Medina-Te, Jurnal Studi Islam, Vol. 14, No. 2, 2016.
Sayyid Fi-Dzhilalil Qur'an (Di Bawah Naungan al-Qur'an). Penerjemah, M. Misbah, Aunur Rafiq Shaleh Tamhid, Jakarta: Robbani Press, Jilid 10, 2000.
Sriwaty, Ida, 2015, Pengaruh Psikoedukasi Menopause dan Relaksasi Untuk Menurunkan Kecemasan Wanita Perimenopause, Tesis pada Univ. Ahmad Dahlan Yogyakarta. Tidak diterbitkan.
Sriwaty, Ida. "Pengaruh Psikoedukasi Menopause Dan Relaksasi Untuk Menurunkan Kecemasan Pada Wanita Perimenopause", Jurnal Fakultas Psikologi EMPATHY, Vol. 3. No. 2, 2015.
Susilaningsih, Is, dan Zahro Saluhiyah. "Usia Pasangan Berpengaruh terhadap Perilaku Seksual Wanita Paruh Baya. Studi pada Karyawati Rumah Sakit Jiwa Prof. Dr. Soerojo Magelang", Jurnal Promosi Kesehatan Indonesia, Vol. 8, No. 2, 2013.
Triastutik, Arik, Andik Matulessy, dan Herlan Pratikno. "Efektivitas Pelatihan Seft (Spiritual Emotional Freedom Technique) Terhadap Penurunan Kecemasan Wanita Yang Berada Pada Masa Klimakterium Berdasarkan Pengetahuan Tentang Premenopause", Personifikasi Jurnal Ilmu Psikologi. Vol. 8. No. 2, 2017.
Vebrian, Handri Rezki 2020, Efek Pemberian Melatonin Terhadap Kualitas Tidur Wanita Perimenopause Berdasarkan The Pittsburgh Sleep Quality Index (Psqi), Tesis pada Departemen Obstetri Dan Ginekologi Fakultas Kedokteran Universitas Sumatera Utara Medan. Tidak diterbitkan.
Wulan, Mayang. "Faktor Yang Berhubungan Dengan Kesiapan Menghadapi Menopause Pada Ibu Pramenopause", Jurnal Kebidanan Vol. 9 No. 2, 2020.
Wawancara dilakukan terhadap konselor Wahdah Islamiyah.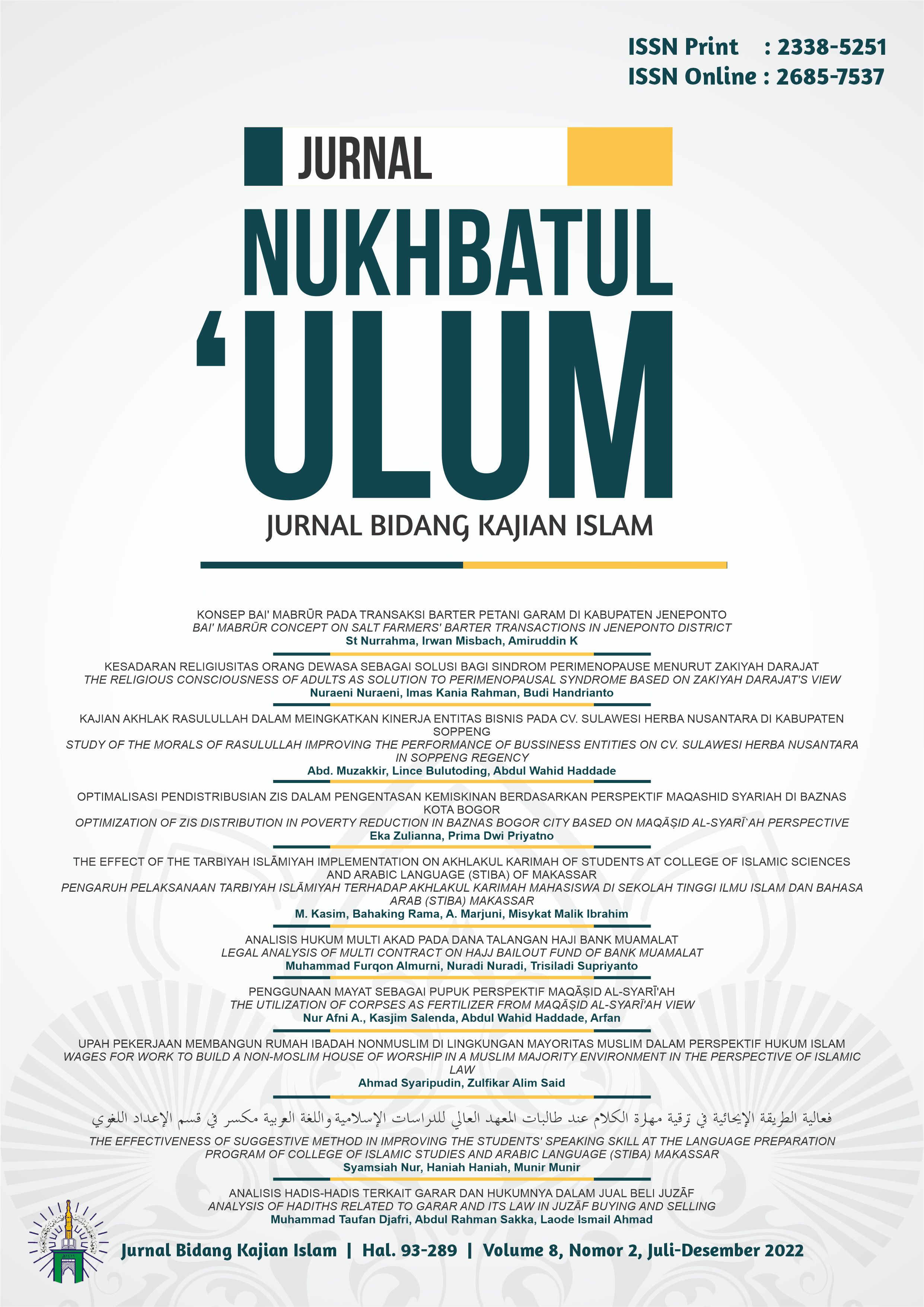 Statistic

Viewed:
48

Downloaded:
76
How to Cite
Nuraeni, N., Imas Kania Rahman, & Budi Handrianto. (2022). Kesadaran Religiusitas Orang Dewasa sebagai Solusi bagi Sindrom Perimenopause Menurut Zakiyah Darajat. NUKHBATUL 'ULUM: Jurnal Bidang Kajian Islam, 8(2), 108-124. https://doi.org/10.36701/nukhbah.v8i2.563
Copyright (c) 2022 Nuraeni Nuraeni, Imas Kania Rahman, Budi Handrianto
This work is licensed under a Creative Commons Attribution-NonCommercial-ShareAlike 4.0 International License.