Optimalisasi Pendistribusian ZIS dalam Pengentasan Kemiskinan Berdasarkan Perspektif Maqashid Syariah di Baznas Kota Bogor
Optimization of ZIS Distribution in Poverty Reduction in Baznas Bogor City Based on Maqāṣid al-Syarī`ah Perspective
Eka Zulianna

UPN Veteran Jakarta

Prima Dwi Priyatno

UPN Veteran Jakarta
Keywords:
maqashid syariah, pendistribusian, pengentasan kemiskinan, ZIS
Abstract
Along with the increasing poverty rate from year to year, the Bogor City Baznas also contributes to poverty alleviation efforts, especially in the Bogor City area by directing several distribution programs. However, in reality, the poverty rate in Bogor is increasing. This study aims to understand how the Bogor City Baznas take steps to optimize the distribution of ZIS in an effort to reduce poverty based on the maqashid sharia perspective. This research is expected to be a source of scientific references and academic contributions, and can provide an overview in the field for LAZ institutions and regulators in the field of ZIS distribution as a reference for better future performance. This study uses a qualitative method with a descriptive analysis approach. The results of this study indicate that the steps taken by Baznas in Bogor City to optimize the distribution of ZIS is to classify or classify the needs of mustahik based on their income, so that the nominal ZIS funds distributed have been arranged according to their needs. Furthermore, based on the indicators of maqashid sharia, there is 1 (one) indicator of the five levels of maqashid that has not been fulfilled optimally. However, overall, the ZIS distribution program in an effort to alleviate poverty by the Bogor City Baznas can be stated to have fulfilled the five levels of maqashid sharia.
Downloads
Download data is not yet available.
References
Afdali, Ahmad Arsyi, Nur Taufiq Sanusi, A Intan Cahyani, and Pengelolaan Zakat. "Kemiskinan Pada Baznas Kabupaten Soppeng." Iqtishaduna: Jurnal Ilmiah Mahasiswa Jurusan Hukum Ekonomi Syariah 3, no. September 2021 (2021): 21–29.
Amiruddin, dkk. "Optimalisasi Pengentasan Kemiskinan ( Studi Pada Baznas Kota Makassar )." Jurnal Ekonomi Islam 4, no. April (2021): 38–61.
Baznas Jabar. "Para Pemenang BAZNAS JABAR AWARD 2019," 2019. https://www.baznasjabar.org/news/para-pemenang-baznas-jabar-award-2019.
BPS. "Jumlah Penduduk Miskin 2019-2021," 2021. https://bogorkota.bps.go.id/indicator/23/112/1/jumlah-penduduk-miskin.html.
Danuludin, Muhammad, and Hilman Hakiem. "Implementasi Pendistribusian Zakat Produktif Untuk Usaha Mikro Mustahik Di Era Pandemi Covid-19: Studi Kasus Program Bogor Berkah Baznas Kota Bogor" 4, no. 2 (2021): 89.
Haidir, M Samsul. "Revitalisasi Pendistribusian Zakat Produktif Sebagai Upaya Pengentasan Kemiskinan Di Era Modern [Revitalization of Productive Zakat Distribution as Efforts to Eradicate Poverty in the Modern Era]." Muqtasid: Jurnal Ekonomi Dan Perbankan Syariah 10, no. 1 (2019): 57.
Kadir, Afifuddin, Miftahur Rahman Hakim, Fahmi Syam, and Murdiansah SA Karim. "Pengunaan Dana Zakat Pada Korban Covid-19 Perspektif Maqashid Syariah." Al-Tafaqquh: Journal of Islamic Law 1, no. 2 (2020): 107. doi:10.33096/al-tafaqquh.v1i2.61.
Murniati, Rina, and Irfan Syauqi Beik. "Pengaruh Zakat Terhadap Indeks Pembangunan Manusia Dan Tingkat Kemiskinan Mustahik : Studi Kasus Pendayagunaan BAZNAS Kota Bogor Influence of Zakat on Human Development Index and Poverty Level of Mustahik: Case Study of BAZNAS Utilization in Bogor." Jurnal Al-Muzara'ah 2, no. 2 (2014): 135–49. https://media.neliti.com/media/publications/261326-pengaruh-zakat-terhadap-indeks-pembangun-452306bd.pdf.
Navilah, Ila. "OPTIMALISASI PENGELOLAAN DAN PENDISTRIBUSIAN ZAKAT PADA BADAN AMIL ZAKAT DAERAH KABUPATEN CIREBON TERHADAP UPAYA PENINGKATAN KESEJAHTERAAN SOSIAL MASYARAKAT DI KECAMATAN ASTANAJAPURA." Jurnal Penelitian Hukum Ekonomi Islam 5, no. 1 (2020).
Qomari, Nur. "Zakat: Solusi Pengentasan Kemiskinan." Iqtishodia Jurnal Ekonomi Syariah 2, no. 2 (2017): 15–25.
Rahman, Miftahur Rahman. "Peran Zakat Dalam Mengentaskan Kemiskinan Di Indonesia." Hukum Islam 19, no. 2 (2019): 130. doi:10.24014/jhi.v19i2.8060.
Rulian, Nadilla Ambarfauziah, Lukytawati Anggraeni, Deni Lubis, Amil Zakat, Badan Amil, and Zakat Nasional. "Rulian NA , Anggraeni L , Lubis D Faktor Yang Memengaruhi Muzaki Memilih OPZ Analisis Faktor-Faktor Yang Memengaruhi Muzaki Dalam Memilih Organisasi Pengelola Zakat ( OPZ ): Studi Kasus Di Badan Amil Zakat Nasional Kota Bogor Analysis of Factors Influenci" 3, no. 1 (2015): 20–33.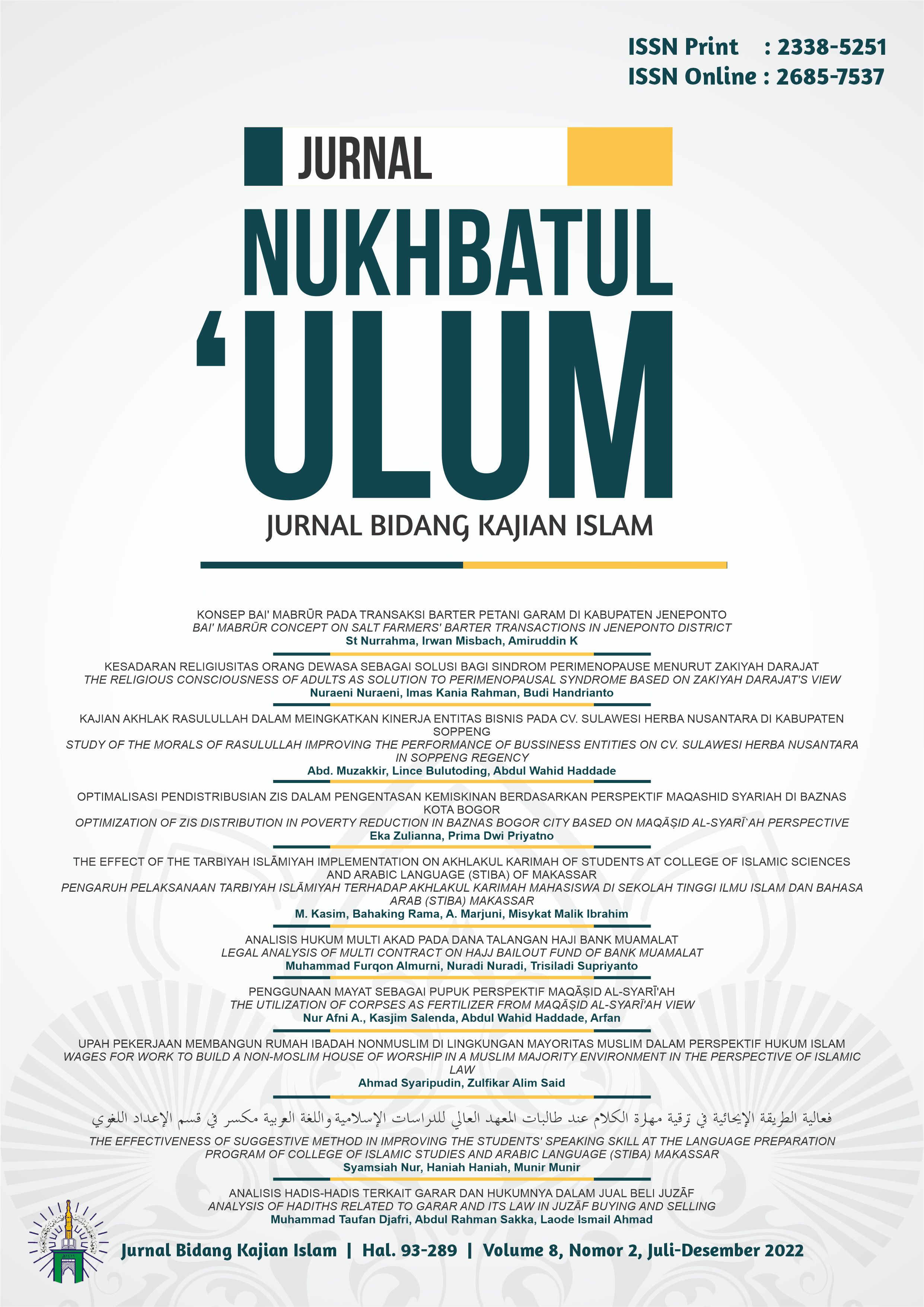 Statistic

Viewed:
63

Downloaded:
74
How to Cite
Zulianna, E., & Prima Dwi Priyatno. (2022). Optimalisasi Pendistribusian ZIS dalam Pengentasan Kemiskinan Berdasarkan Perspektif Maqashid Syariah di Baznas Kota Bogor . NUKHBATUL 'ULUM: Jurnal Bidang Kajian Islam, 8(2), 146-157. https://doi.org/10.36701/nukhbah.v8i2.641
Copyright (c) 2022 Eka Zulianna, Prima Dwi Priyatno
This work is licensed under a Creative Commons Attribution-NonCommercial-ShareAlike 4.0 International License.