تجديد النظام التعليمي نحو تحقيق رؤية و رسالة المعاهد الإسلامية في سولاويسي الجنوبية
The Role of the Educational System towards Realizing the Vision and Mission of Ummul Mukminin 'Aisyiah Boarding School of South Sulawesi
Abdul Kadir

Universitas Muhammadiyah Makassar, Indonesia

Ambo Asse

Universitas Muhammadiyah Makassar, Indonesia

Amirah Amirah

Universitas Muhammadiyah Makassar, Indonesia

Muhammad Ali Bakri

Universitas Muhammadiyah Makassar, Indonesia

M. Ilham Muchtar

Universitas Muhammadiyah Makassar, Indonesia
Keywords:
role, education system, vision and mission, boarding school
Abstract
This study aims to find out: 1) the role of the education system at Ummul Mukminin 'Aisyiyah Islamic Boarding School; 2) efforts to realize the vision and mission of Ummul Mukminin 'Aisyiyah Islamic Boarding School; and supporting and inhibiting factors in the role of the Ummul Mukminin 'Aisyiyah Islamic Boarding School education system. This research is located at the Ummul Mukminin 'Aisyiyah Islamic Boarding School, South Sulawesi, using a qualitative descriptive method along with SWOT analysis. The collected data were selected and analyzed semantically and inductively, supported by the results of direct observation. The research results show: 1) The role of the education system must follow developments in the National Education System which includes aspects of institutional and curriculum management; 2) Efforts to realize the vision and mission of Islamic boarding schools through success alumni, outstanding leaders at the local and national levels, nurturing cadres of scholars through the Tahfidz Al-Quran and Kemuhammadiyahan programs; 3) The supporting factors for achieving the vision and mission of the pesantren are adequate facilities and infrastructure, professional human resources, good leadership, effective communication and cooperation. Inhibiting factors, including; the absence of Information Technology-based blueprints, competition between Islamic boarding schools, the lack of budget support from the government.
Downloads
Download data is not yet available.
References
Anisa, Citra, and Rahmatullah Rahmatullah. "Visi Dan Misi Menurut Fred R. David Perspektif Pendidikan Islam." Journal EVALUASI 4, no. 1 (2020): 70. doi:10.32478/evaluasi.v4i1.356.
Arikunto, Suharsimi. Penelitian Tindakan Kelas. Cet. I. Jakarta: Bumi Aksara, 2015.
Azra, Azyumardi. Ulama Dan Intelektual Perempuan Indonesia. Jakarta: PT Gramedia Pustaka, 2002.
Chairiyah, Yayah. "SEJARAH PERKEMBANGAN SISTEM PENDIDIKAN MADRASAH SEBAGAI LEMBAGA PENDIDIKAN ISLAM." MA'ALIM: Jurnal Pendidikan Islam 2, no. 01 (June 1, 2021). doi:10.21154/maalim.v2i01.3129.
Fadli, Muhammad Rijal. "Memahami Desain Metode Penelitian Kualitatif." Humanika 21, no. 1 (2021): 33–54. doi:10.21831/hum.v21i1.38075.
Hadisaputra, Hadisaputra. "Paradigma Gender Dan Model Gerakan 'Aisyiyah Sulawesi Selatan Pada Masa Orde Baru." MUKADIMAH: Jurnal Pendidikan, Sejarah, Dan Ilmu-Ilmu Sosial 5, no. 2 (2021): 191–200. doi:10.30743/mkd.v5i2.4008.
Hambali, Hamdan. Ideologi Dan Strategi Muhammadiyah. I. Yogjakarta: Suara Muhammadiyah, 2011.
Jinan, Mutohharun. "MUHAMMADIYAH STUDIES: TRANSFORMASI KAJIAN TENTANG GERAKAN ISLAM DI INDONESIA Muhammadiyah Studies: The Transformation of Research on Islamic Movement in Indonesia." Muhammadiyah Studies: Analisa Journal of Social Science and Religion Volume 22, no. Desember (2015): 269–80.
Khoziny Buduran Sidoarjo, Iai Al. "Pembaharuan Pendidikan Islam Di Indonesia Saidur Ridlo." SCHOLASTICA: Jurnal Pendidikan Dan Kebudayaan 1, no. 1 (2019): 176–99.
Lenggono, Wahyu. "Lembaga Pendidikan Muhammadiyah (Telaah Pemikiran K.H. Ahmad Dahlan Tentang Pembaharuan Pendidikan Islam Di Indonesia)." Islamadina : Jurnal Pemikiran Islam 19, no. 1 (2018): 43–62. http://jurnalnasional.ump.ac.id/index.php/ISLAMADINA/article/view/2897.
Maidar, Maidar. "Pembaruan Pendidikan Islam: Telaah Retrospektif Dan Prospektif." Jurnal Ilmiah Islam Futura 15, no. 1 (2015): 54. doi:10.22373/jiif.v15i1.553.
Moleong, Lexy J. Metode Penelitian Kualitatif. I. Bandung: Rosda Karya, 2016.
Muchtar, M. Ilham. "المشكلات المنهجية في تعليم اللغة العربية للناطقين بغيرها بإندونيسيا." TARBAWY : Indonesian Journal of Islamic Education 7, no. 2 (2020): 219–28. doi:10.17509/t.v7i2.25593.
Muhsin, Ilyya, and Muhammad Ghufon. "Geliat Puritanisme Islam Di Indonesia: Menyibak Tabir Di Balik Gerakan Majelis Tafsir Al-Qur'an (MTA) Dalam Perspektif Sosiologis." INFERENSI: Jurnal Penelitian Sosial Keagamaan 12, no. 1 (August 1, 2018): 213–38. doi:10.18326/infsl3.v12i1.213-238.
Nuris, Anwar. "Ahmad Dahlan Dan Pesantren: Gerakan Pembaharuan Pendidikan, Dakwah, Dan Pemberdayaan Masyarakat Di Indonesia." Dirosat : Journal of Islamic Studies 1, no. 2 (2017): 243. doi:10.28944/dirosat.v1i2.15.
PPM, Tim LP2M. Peraturan Dan Pedoman PP. Muhammadiyah Tentang Dikdasmen Dan Pesantren. I. Jakarta: Gramasurya, 2020.
Rama, Bahaking. Jejak Pembaharuan Pendidikan Islam Pesantren, Kajian Pesantren As'adiyah Sengkang Sulawesi Selatan. I. Jakarta: Parodatama Wiragemilang, 2003.
Subekti, Yusuf Agung. "Relevansi Sistem Pendidikan Nasional Dengan Pembaharuan Sistem Pendidikan Pesantren." Ta'limuna; Jurnal Pendidikan Islam 03, no. 10 (2018): 27–28. https://e-journal.staima-alhikam.ac.id/talimuna/article/view/101.
Sururin, Moh Muslim. "Kepemimpinan Kharismatik Yang Visioner." ESENSI: Jurnal Manajemen Bisnis 19, no. 2 (2016). doi:https://doi.org/10.55886/esensi.v19i2.70.
Zaenudin, Lc., MA. "Pembaharuan Sistem Pendidikan Islam." Risalah, Jurnal Pendidikan Dan Studi Islam 1, no. Desember (2015): 1–16.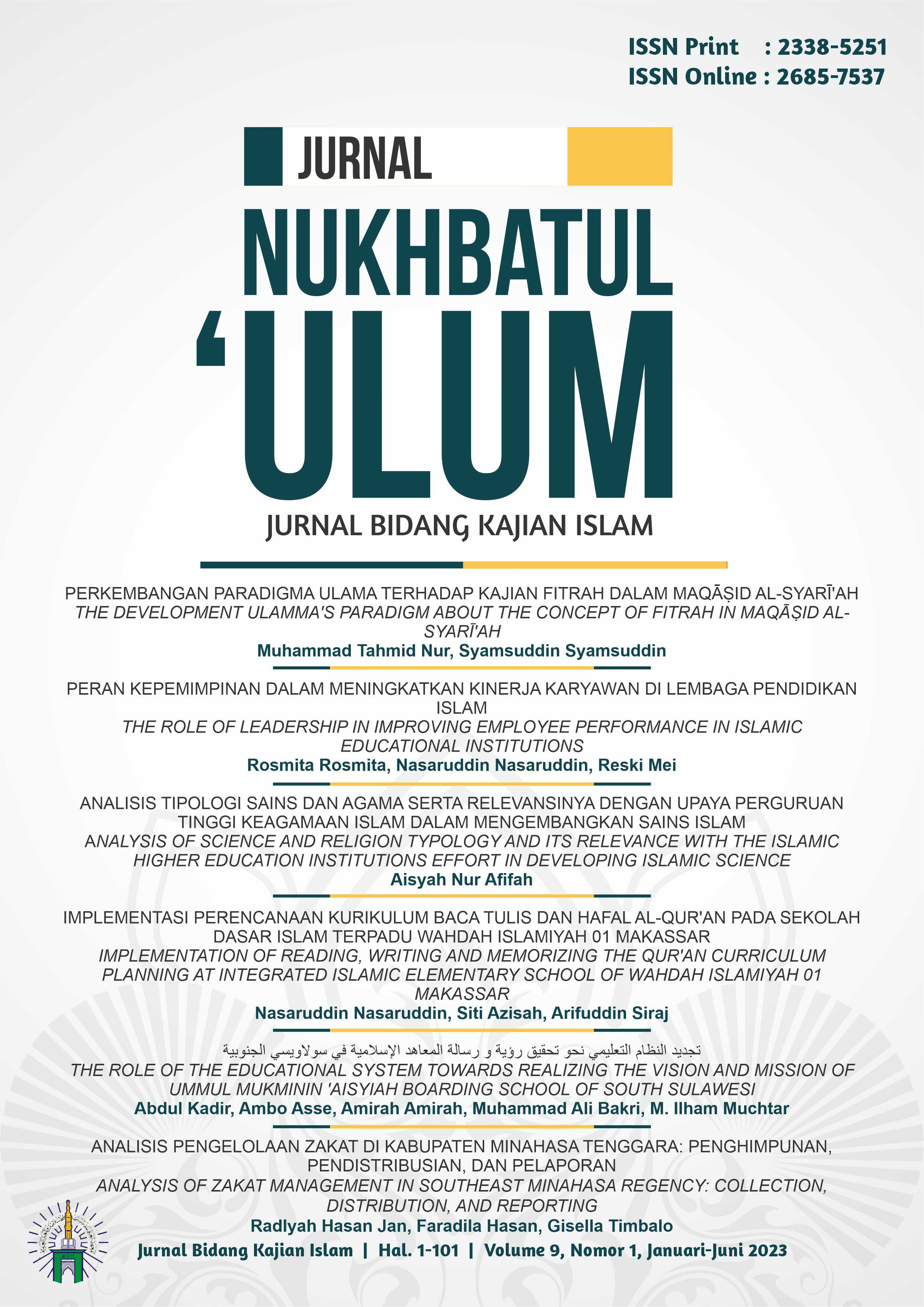 Statistic

Viewed:
21

Downloaded:
21
How to Cite
Abdul Kadir, Ambo Asse, Amirah, A., Muhammad Ali Bakri, & M. Ilham Muchtar. (2023). تجديد النظام التعليمي نحو تحقيق رؤية و رسالة المعاهد الإسلامية في سولاويسي الجنوبية. NUKHBATUL 'ULUM: Jurnal Bidang Kajian Islam, 9(1), 77-88. https://doi.org/10.36701/nukhbah.v9i1.859
Copyright (c) 2023 Abdul Kadir, Ambo Asse, Amirah Amirah, Muhammad Ali Bakri, M. Ilham Muchtar
This work is licensed under a Creative Commons Attribution-NonCommercial-ShareAlike 4.0 International License.