Implementasi Perencanaan Kurikulum Baca Tulis dan Hafal Al-Qur'an pada Sekolah Dasar Islam Terpadu Wahdah Islamiyah 01 Makassar
Implementation of Reading, Writing and Memorizing the Qur'an Curriculum Planning at Integrated Islamic Elementary School of Wahdah Islamiyah 01 Makassar
Nasaruddin Nasaruddin

Universitas Islam Negeri (UIN) Alauddin Makassar, Indonesia

Siti Azisah

 Universitas Islam Negeri (UIN) Alauddin Makassar, Indonesia

Arifuddin Siraj

 Universitas Islam Negeri (UIN) Alauddin Makassar, Indonesia
Keywords:
BTHQ, curriculum, planning, management
Abstract
This study aims to determine the application of curriculum management to learning to Read, Write and Memorize the Qur'an (BTHQ) at the Integrated Islamic Elementary School (SDIT) Wahdah Islamiyah 01 Makassar, especially at the planning stage. This research is a field research with a type of qualitative descriptive research and a case study and pedagogical approach. This study also uses Source Triangulation, Method Triangulation, and Theory Triangulation in testing the validity of the data. The results showed that SDIT Wahdah Islamiyah 01 Makassar had planned the BTHQ curriculum well. In its implementation, BTHQ curriculum planning includes determining the school's internal educational calendar, preparing SYLLABUS, preparing PROTA, preparing PROSEM, determining KKM, and making lesson plans. BTHQ curriculum planning is carried out at the beginning of each new school year using a grassroots approach through meetings with the Principal, Deputy Principal (Wakasek) of the Curriculum Section, the Academic Section, the Curriculum Team, the BTHQ Quality Assurance Team, and all BTHQ teachers. The obstacle faced was the difference in perception between BTHQ teachers about the goals and the BTHQ curriculum itself in planning. School administrators overcome this by holding coordination meetings, polling, discussing and strengthening their respective roles. Periodic activities, teacher management training from schools, BTHQ internal teacher coaching, and periodic training from the Wahdah Islamiyah Center are the supporting forces in the success of the BTHQ curriculum planning process at the beginning of each school year.
Downloads
Download data is not yet available.
References
Departemen Agama RI. Al-Qur'an dan Terjemahnya. Bandung: PT. Sygma Examedia Arkanleema, 2009.
Guruddin, Fatmawati. Manajemen Kurikulum Untuk Meningkatkan Mutu Pendidikan Islam: Studi Kasus Di SMA Al-Izzah IIBS Batu. Tesis. Malang: UIN Maulana Malik Ibrahim, 2018.
Hamalik, Oemar. Dasar-dasar Pengembangan Kurikulum. Bandung: Remaja Rosdakarya, 2010.
Hayadin. Implementasi kebijakan Pemerintah Daerah. Jakaata: Puslitbang Pendidikan Agama dan Keagamaan, 2011.
Mahmud. "Manajemen Kurikulum Sekolah di SDIT." EDUSTUDENT: Jurnal Ilmiah Pendidikan dan Pengembangan Pembelajaran 1, no. 2 (2022): h. 113. https://ojs.unm.ac.id/EDUSTUDENT/article/view/27420/14417.
Mardalis. Metode Penelitian: Suatu Pendekatan Proposal. Cet. VII. Jakarta: Bumi Aksara, 2004.
MPR. Undang-Undang Dasar Negara Republik Indonesia Tahun 1945. Jakarta: Sekretariat Jenderal MRP RI, 2000.
Munir. Pengaruh Efektivitas Komunikasi Kepala Sekolah Terhadap Kinerja Guru Sekolah Dasar Islam Terpada Wahdah Islamiyah 01 Makassar. Makassar: Universitas Indonesia Timur, 2007.
Muradi, Ahmad. Bahasa Arab dan Pembelajarannya Ditinjau dari Berbagai Aspek. Jakarta: Kencana, 2015.
Negara Republik Indonesia. Undang-Undang RI Nomor 14 Tahun 2005 Tentang Guru dan Dosen. Cet. I; Jakarta: Indonesia Legal Centre Publishing, 2008.
Qisom, Shobikhul. Buku Pintar Guru al-Qur'an Wafa Belajar al-Qur'an Metode Otak Kanan. Surabaya: Yayasan Syafa'atul Qur'an Indonesia, 2019.
Rosmita. Tamasya Ramadan Bersama al-Qur'an: Upaya Memajukan Masyarakat Dinamis Butta Toa Melalui Program KKN STIBA Makassar. WAHATUL MUJTAMA': Jurnal Pengabdian Masyarakat 3, no. 1 (2022): h. 80-92. https://doi.org/10.36701/wahatul.v3i1.543.
Rusman. Manajemen Kurikulum. Jakarta: Rajawali Pers, 2021.
Sista, Taufik Rizki. Implementasi Manajemen Kurikulum dalam Meningkatkan Mutu Pendidikan. Educan: Jurnal Pendidikan Islam 1, no. 1 (2017): h. 26 https://ejournal.unida.gontor.ac.id/index.php/educan/article/view/ 1288 .
Syaikhon, Muhammad. Penerapan Metode Tilawati dalam Pembelajaran Membaca al-Qur'an Pada Anak Usia Dini di KB Taam Adinda Menganti Gresik. Education and Human Development Journal 2, no. 1 (2017): h. 115. https://doi.org/10.33086/ehdj.v2i1.394..
Tim Kurikulum. Kurikulum Operasional Satuan Pendidikan SDIT Wahdah Islamiyah 01 Makassar Tahun Pelajaran 2022/2023.
Yuhasnil dan Silvia Anggreni. Manajemen Kurikulum dalam Upaya Peningkatan Mutu Pendidikan. Alignment: Journal of Administration and Educational Management 3, no. 2 (2020): h. 220. https://doi.org/10.31539/alignment.v3i2.1580.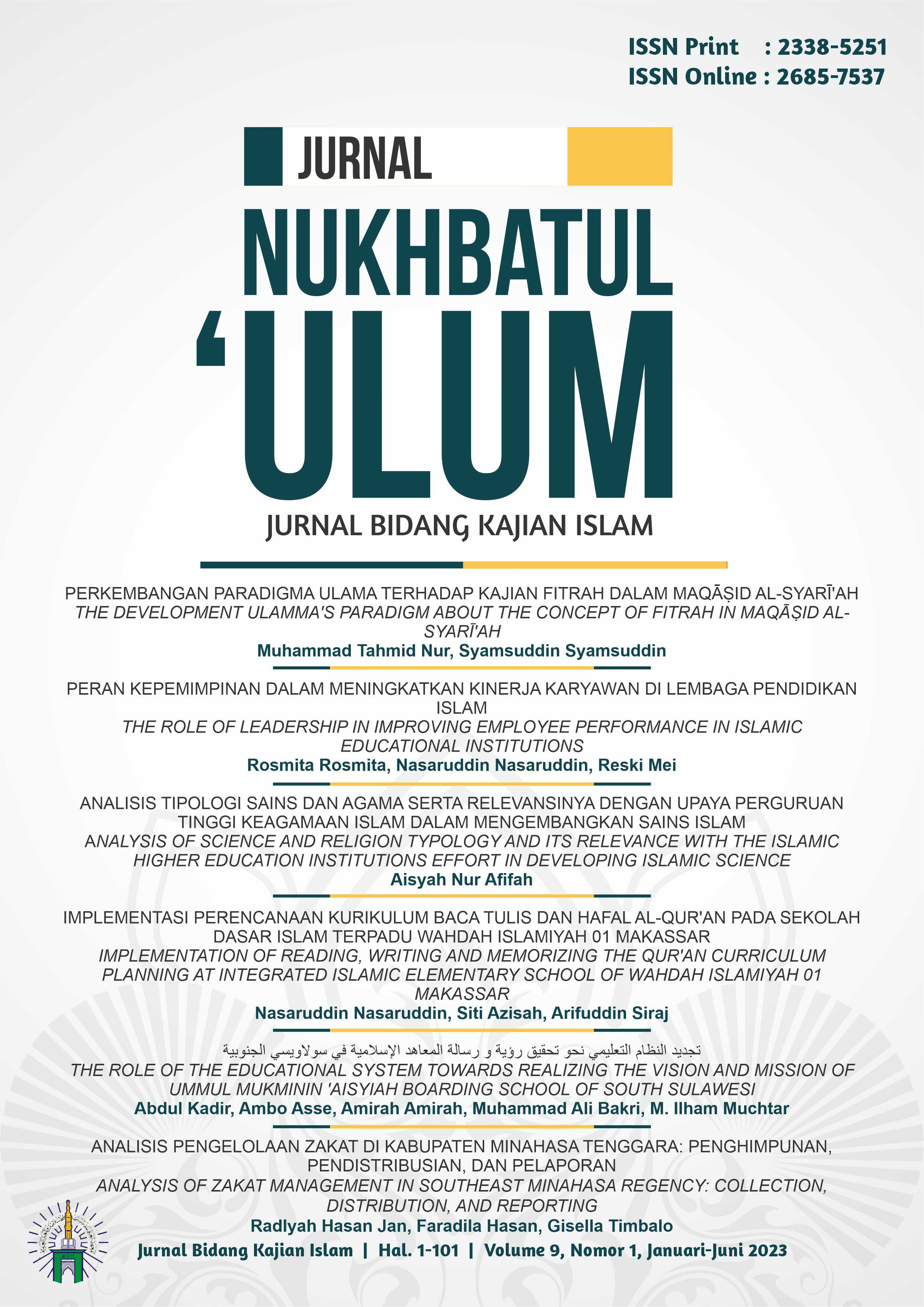 Statistic

Viewed:
40

Downloaded:
35
How to Cite
Nasaruddin, N., Siti Azisah, & Arifuddin Siraj. (2023). Implementasi Perencanaan Kurikulum Baca Tulis dan Hafal Al-Qur'an pada Sekolah Dasar Islam Terpadu Wahdah Islamiyah 01 Makassar. NUKHBATUL 'ULUM: Jurnal Bidang Kajian Islam, 9(1), 56-76. https://doi.org/10.36701/nukhbah.v9i1.860
Copyright (c) 2023 Nasaruddin Nasaruddin, Siti Azisah, Arifuddin Siraj
This work is licensed under a Creative Commons Attribution-NonCommercial-ShareAlike 4.0 International License.