Analisis Pengelolaan Zakat di Kabupaten Minahasa Tenggara: Penghimpunan, Pendistribusian, dan Pelaporan
Analysis of Zakat Management in Southeast Minahasa Regency: Collection, Distribution, and Reporting
Radlyah Hasan Jan

Institut Agama Islam Negeri Manado, Indonesia

Faradila Hasan

Institut Agama Islam Negeri Manado, Indonesia

Gisella Timbalo

Institut Agama Islam Negeri Manado, Sulawesi Utara, Indonesia
Keywords:
Baznas, management, zakat
Abstract
This study aims to analyze the collection, distribution, and reporting of zakat at the National Amil Zakat Agency in Southeast Minahasa Regency. This research is a qualitative approach (natural setting) using interviews and observation as data collection methods. The results of the study show that the management of zakat in Southeast Minahasa Regency is carried out by UPZ-UPZ in the Southeast Minahasa Regency, in this case the UPZ Al-Ansor Mosque and Ar-Rahman Mosque. The collection of zakat is preceded by outreach to the community via mosque loudspeakers and announcements when Friday prayers have been held. The collection of zakat fitrah is then carried out together with zakat mal in the month of Ramadan. The distribution of zakat is done by distributing the zakat to mustahik, at the time after the completion of the Eid al-Fitr prayer. As for zakat reporting, the National Amil Zakat Agency does not have a zakat report because the zakat reporting from the UPZ-UPZ is done through the Office of Religious Affairs in Belang District. This study highlights the current condition of zakat management which is not fully running optimally and suggests the need for increased government support to optimize the function of these zakat management institutions.
Downloads
Download data is not yet available.
References
Arifin, Mohamad. "Filantropi Zakat; Kajian Sosio-Historis Dan Dampaknya Terhadap Kesejahteraan Sosial." Syar'ie : Jurnal Pemikiran Ekonomi Islam 4, no. 1 (2021): 1–12. doi:https://doi.org/10.51476/syar'ie.v4i1.235.
Aulia, Rina, and Rabiatul Adawiyah. "Optimalisasi Zakat, Infak, Sedekah (Zis) Dan Efisiensi Lembaga Amil Zakat Baitul Maal Barakatul Ummah." Jurnal Ilmu Ekonomi Mulawarman (JIEM) 6, no. 3 (2021). doi:https://doi.org/10.29264/jiem.v6i3.9544.
Berita Zawa. "Inilah Indikator Keberhasilan Sistem Pengelolaan Zakat." Program Studi S1 Zakat Dan Wakaf (Ziswaf) Institut Pesantren Mathaliul Falah, 2016. https://zawa.ipmafa.ac.id/2016/01/inilah-indikator-keberhasilan-sistem.html.
Bimal, M K, Arti Kumari, Vinay Kumar, and Mamta Kumari. "A Study of Guided Intervention through Spiritual Method of " AUM " Meditation for Holistic Recovery from Medical Conditions of Depression , Anxiety , Sleep Disorder and Fluctuation in Vital Signs Respiratory Rate and Blood Pressure ; Caused by Psychological Trauma of COVID-19 Pandemic" 12, no. 2 (2023): 14–24. doi:10.21275/SR23129153839.
Firmansyah, Irman, and Wawan Sukmana. "Analisis Problematika Zakat Pada Baznas Kota Tasikmalaya:Pendekatan Metode Analytic Network Process (Anp)." Jurnal Riset Akuntansi Dan Keuangan 2, no. 2 (2014): 392. doi:10.17509/jrak.v2i2.6593.
Harseko. "Optimalisasi Pengelolaan Zakat Pada Badan Amil Zakat Nasional Kabupaten Luwu Utara." Hukum Islam, IAIN PALOPO, 2017.
Islamy, Athoillah. "Dimensi Maqasid Shariah Dalam Ritualitas Ibadah Puasa Ramadhan." Islamitsch Familierecht Journal 2, no. 01 (July 14, 2021): 16–35. doi:10.32923/ifj.v2i01.1785.
Latief, Nur Fitry. "'Accounting for Zakat and Infaq (Sadaqah) at Badan Amil Zakat Nasional (BAZNAS) in North Sulawesi, Indonesia', Nur Fitry Latief, "Akuntansi Zakat Dan Infaq (Sedekah) Di Badan Amil Zakat Nasional (BAZNAS) Sulawesi Utara, Indonesia." International Journal Of Accounting & Finance In Asia Pacific 2, no. 2 (2019).
———. "Managing Zakat In The 4.0 Era: An Implementation Of Simba In Baznas Of North Sulawesi." Share: Jurnal Ekonomi Dan Keuangan Islam 8, no. 2 (2019): 238–55. doi:10.22373/share.v8i2.5550.
Lubis, Deni, Dedi Budiman Hakim, and Yunita Hermawati Putri. "Mengukur Kinerja Pengelolaan Zakat Di Badan Amil Zakat Nasional (Baznas)." JEBI (Jurnal Ekonomi Dan Bisnis Islam) 3, no. 23 (2018): 1–16.
Maksuni, Maksuni. "Gerakan Cinta Zakat Untuk Mengentaskan Kemiskinan." Badan Penghubung Daerah Provinsi Banten, 2022. https://penghubung.bantenprov.go.id/Artikel/topic/2239.
Mardianto, Gino, and Fitria. "Analisis Pengelolaan Zakat, Infaq, Dan Shodaqah Pada BAZNAS Kota Prabumulih." A Research Journal On Managemen Of Zakat And Waqf 2, no. 1 (2022).
Mujahidah, Anisa Syahidah, and Nashr Akbar. "Investigating The Determinants of Muslim Intention to Accelerate Zakat Payment During The Covid19 Pandemic." Journal of Islamic Philanthropy and Disaster (JOIPAD) 2, no. 2 (November 20, 2022): 40–65. doi:10.21154/joipad.v2i2.5121.
Nisa, Anis Khoirun. "Manajemen Pengumpulan Dan Pendistribusian Dana Dana Zakat, Infaq Dan Shadaqah Di Lembaga Amil Zakat, Infaq Dan Shadaqah Masjid Agung (Lazisma) Jawa Tengah." Skripsi. Fakultas Dakwah dan Komunikasi, UIN walisongo, 2019.
Novrizaldi, Novrizaldi. "Lembaga Zakat Berkontibusi Dalam Pengentasan Kemiskinan Dan Mewujudkan SDM Unggul." Kemenko PMK, 2020. https://www.kemenkopmk.go.id/lembaga-zakat-berkontibusi-dalam-pengentasan-kemiskinan-dan-mewujudkan-sdm-unggul.
ROHIM, ADE NUR. "Relevansi Nilai Dasar Bela Negara Dengan Pembayaran Zakat Dan Implikasinya Terhadap Ketahanan Pribadi." Jurnal Ketahanan Nasional 26, no. 3 (December 31, 2020): 293. doi:10.22146/jkn.55254.
S, Burhanuddin. "Pendistribusian Zakat Melalui Prespektif Fiqih Dan Perundang-Undangan Di Indonesia." UIN Maulana Malik Ibrahim, n.d.
Sugiyono. Metode Penelitian Kuantitatif, Kualitatif, Dan R&D. Jakarta: Pustaka Media, 2016.
Syaroni, Ahmad Maulana, and Alfa Syahriar. "Anak Jalanan Sebagai Mustahik Zakat Dalam Perspektif Maqasid Al-Syariah." Isti`dal : Jurnal Studi Hukum Islam 9, no. 2 (December 21, 2022): 170–90. doi:10.34001/ijshi.v9i2.3982.
Wahib, Muhammad. "Dampak Positif Penunaian Zakat Terhadap Kesehatan Fisik Dan Jiwa Muzakki." Syar'ie : Jurnal Pemikiran Ekonomi Islam 5, no. 2 (2022): 54–66. doi:https://doi.org/10.51476/syarie.v5i1.350.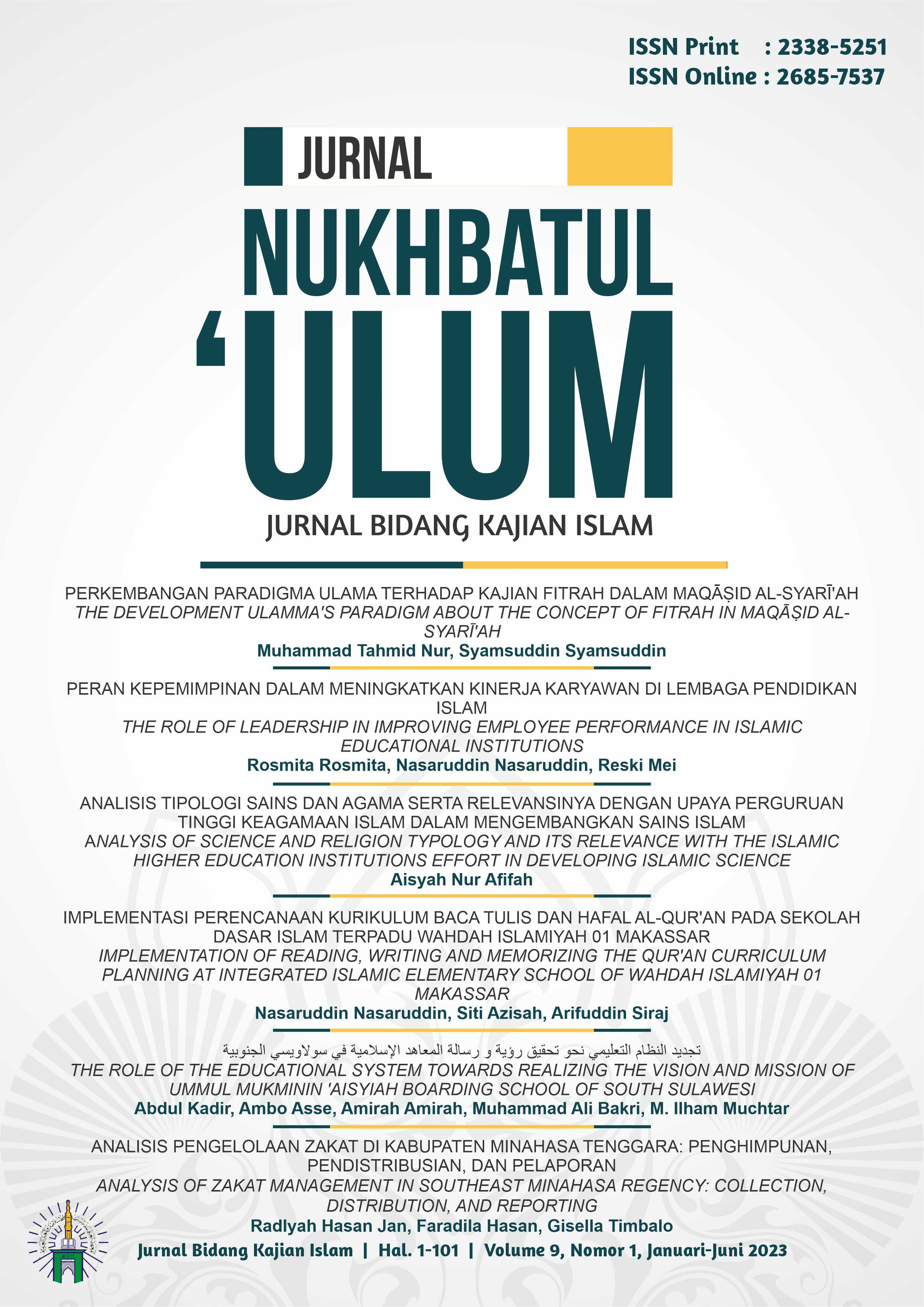 Statistic

Viewed:
24

Downloaded:
31
How to Cite
Hasan Jan, R., Hasan, F., & Timbalo, G. (2023). Analisis Pengelolaan Zakat di Kabupaten Minahasa Tenggara: Penghimpunan, Pendistribusian, dan Pelaporan . NUKHBATUL 'ULUM: Jurnal Bidang Kajian Islam, 9(1), 89-101. https://doi.org/10.36701/nukhbah.v9i1.876
Copyright (c) 2023 Radlyah Hasan Jan, Faradila Hasan, Gisella Timbalo
This work is licensed under a Creative Commons Attribution-NonCommercial-ShareAlike 4.0 International License.