Pendidikan Dakwah Muhammad Quthb
Dakwah Education of Muhammad Quthb
Ainul Yakin

Universitas Ibn Khaldun Bogor
Keywords:
Education, Da'wah, Muhammad Quthb
Abstract
The purpose of this study is to find out Muhammad Quthb's thoughts on da'wah education. This research uses the Library Research method, the source of the data is taken from Muhammad Qutb's books relating to education and da'wah. After the data is collected, it is carried out by critical and systematical analysis in the investigated problem. This research uses a descriptive analysis method, which describes or explain all of datas, then analyze them systematically. This research concludes that preaching education according to Muhammad Quthb is completed human education, it is not separated by other aspect of human nature.
Downloads
Download data is not yet available.
References
------- -------, al Ilmaniyyun wa al Islam, Bairut: Daar al Syuruq, 1994.
------- -------, Barat Menggugat Islam Menjawab, Depok: Bina Mitra Press, 2005.
------- -------, Dirasatu Fi alNafsi alInsaniyah, Bairut: Daar al Syuruq, 1993.
------- -------, Kaifa Nad'u anNaas, Bairut: Daar al Syuruq, 2003.
------- -------, La Ya'tuna bimislih, Bairut: Daar al Syuruq, 2002.
------- -------, Madza yu'thi al Islam al basyariyah, London: Daar ar riayah al Islamiyah, 1977.
------- -------, Manahij at Tarbiyah al Islamiyah, Bairut: Daar al Syuruq, 1993.
------- -------, Qhodhiyatu atTanwiiri fi alAlami alIslami, Bairut: Daar al Syuruq, 2002.
------- -------, Sistem Pendidikan Islam, Bandung: PT Al Ma'arif, 1993.
----- -----. (1983). Manahij al-Fanni al-Islami, Bairut: Daar al Syuruq.
----- -------. (1989). al insanu baina madiah wa al Islam, Bairut: Daar al Syuruq.
Amir, Samsul Munir. (2009). Ilmu Dakwah, Jakarta: Amzah.
Hafiduddin, Didin. (1998). Dakwah Aktual, Jakarta: Gema Insani Press.
Idris, Saifullah. (2007). Hakikat dan Tujuan Pendidikan Islam (Perspektif Muhammad Quthb. "Pencerahan" Jurnal Pendidikan Nanggroe Aceh Darussalam, Vol. 5, No. 2.
Malim, Misbach dan Avid Solihin. (2010). Dinamika dan Strategi Dakwah, Jakarta: Media Dakwah.
Maya, Rahendra. (2017). Pemikiran Pendidikan Muhammad Quthb tentang Metode Keteladanan (Al-Tarbiyah bi Al-Qudwah) Edukasi Islami: Jurnal Pendidikan Islam 6 (11), Vol. 6, No. 11.
Munawir, Ahmad Warson. (1997). Kamus Al- Munawir (Kamus Arab – Indonesia), Surabaya: Pustaka Progessif.
Munir, Muhammad dan Wahyu Ilahi. (2009). Manajemen Dakwah, Jakarta: Kencana.
Nata, Abuddin. (2003). Pemikiran Para Tokoh Pendidikan Islam, Jakarta: PT Raja Grafindo Persada.
Natsir, Muhammad. (2000) Fiqhud Dakwah, Jakarta: Media Dakwah.
Quthb, Muhammad. (1994). Mafahimu Yanbagy An-Tushahhiha, Bairut: Daar al Syuruq.
Saifullah, Muhammad Quthb dan Sistem Pendidikan Non Dikotomik, Yogyakarta: Suluh Press, 2005.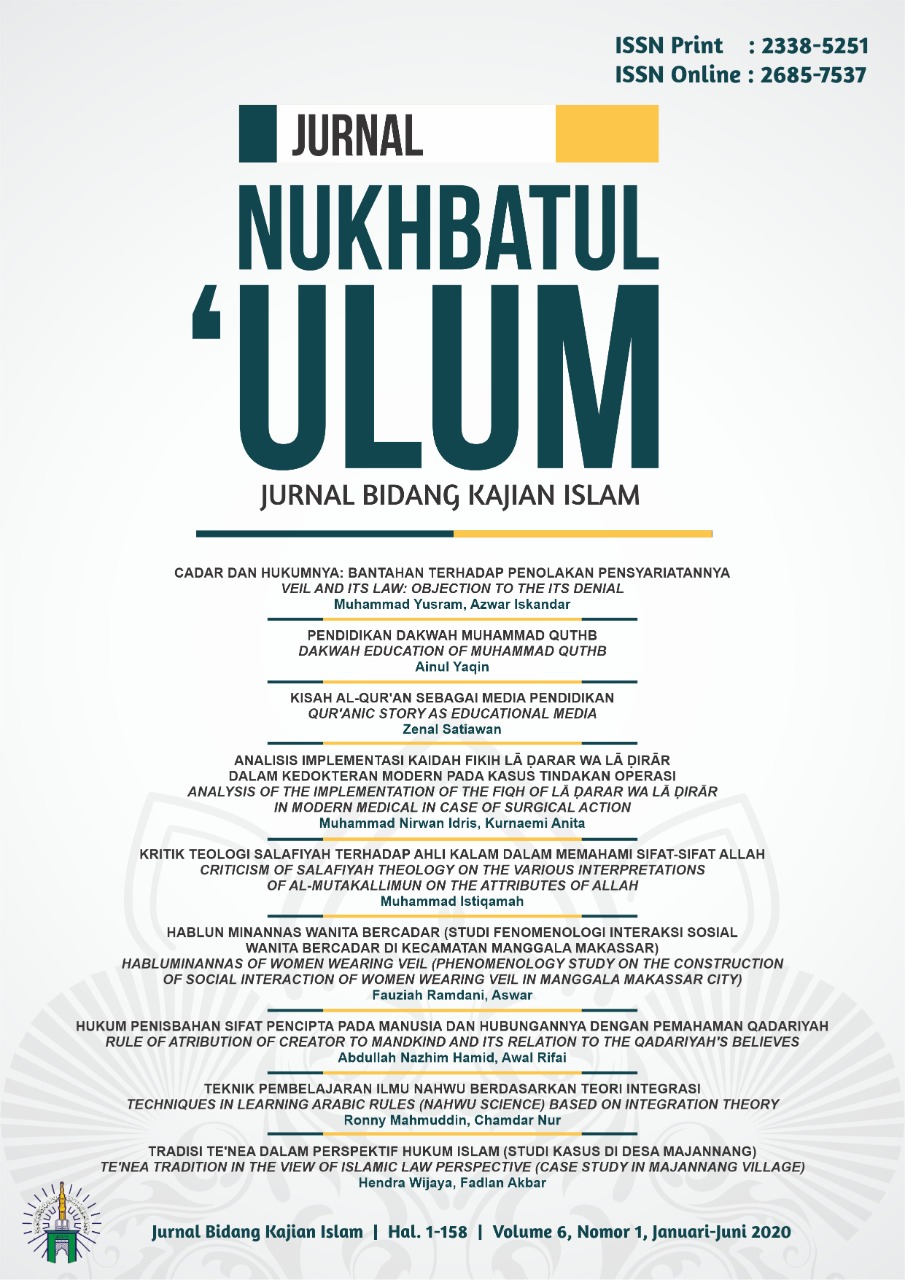 Statistic

Viewed:
344

Downloaded:
353
How to Cite
Yakin, A. (2020). Pendidikan Dakwah Muhammad Quthb. NUKHBATUL 'ULUM: Jurnal Bidang Kajian Islam, 6(1), 22-29. https://doi.org/10.36701/nukhbah.v6i1.96