فعالية الطريقة الإيحائية في ترقية مهارة الكلام عند طالبات المعهد العالي للدراسات الإسلامية واللغة العربية مكسر في قسم الإعداد اللغوي
The Effectiveness of Suggestive Method in Improving the Students' Speaking Skill at the Language Preparation Program of College of Islamic Studies and Arabic Language (STIBA) Makassar
Syamsiah Nur

Sekolah Tinggi Ilmu Islam dan Bahasa Arab (STIBA) Makassar, Indonesia

Haniah Haniah

Universitas Islam Negeri (UIN) Alauddin Makassar

Munir Munir

Universitas Islam Negeri Alauddin Makassar
Keywords:
effectiveness, suggestive method, speaking skill
Abstract
This study aims to examine the effectiveness of suggestopedia method in improving the students' speaking skill at the Language Preparation Program of College of Islamic Studies and Arabic Language (STIBA) Makassar. The methodological used in this study was quantitative experimental research by using a pre-experimental design. The data collection method used in the study were observation, test and documentation. The data analysis was conducted through descriptive analysis and inferential statistics by using the (t-test) technique. Therefore, the researcher conducted both pre and post tests so that the effectiveness of the suggestopedia method on students'speaking skill could be carefully determined. The results of the study with implementation of suggestopedia method were in the avarge of 0.000 which was considered to be smaller than 0.05. This indicates significant influence on students' speaking skill using the suggestopedia method.
Downloads
Download data is not yet available.
References
Anggraeni, Sri Wulan; Alpian, Yayan. "Menulis Puisi Siswa Kelas V Sekolah Dasar Application of Sugestopedia Methods To Improve the Writing Poetry Ability of Vocational School of Elementary School." Jurnal Pendidikan Guru Sekolah Dasar 5, no. 2 (2018): 106–22.
Arsyad, Azhar. Bahasa Arab Dan Metode Pengajarannya. Ujung Pandang: Fakultas Tarbiyah IAIN Alauddin, 1997.
Aziz Fachrurrozi, dan Erta Mahyuddin. Pembelajaran Bahasa Asing. Jakarta: Bania Publishing, 2010.
Firdaus, Erta Mahyudin, and Hikmah Hikmah. "استخدام الطريقة الإيحائية لترقية مهارةالاستماع في تعليم اللغة العربية." Jurnal Pendidikan Islam 2, no. 2 (2016): 348. doi:10.15575/jpi.v2i2.794.
Jack Richard K, dan Theodore S. Rodgers. Approaches and Methods in Language Teaching. XI. Cambridge: University of Cambridge, 1995.
Jumriah. "Istikhdāmu Al-Ṭarīqah Al-Īhāiyah Wa Fa'āliyatuhā Fī Tanmiyati Mahārati Al-Kalām 'Alā Ṭalabati Jāmi'Ati Maulānā Mālik Ibrāhīm Al-Islāmiyah Al-Hukūmiyah Malang" 1, no. 2 (2020): 179–95.
Sugiono. Metode Penelitian Kuantitatif, Kualitatif Dan R & D. Cet. XX. Bandung: Alfabetha, 2014.

الرازي, محمد بن أبي بكر بن عبد القادر. مختار الصحاح. یروت: مكتبة لبنان, 1995.
خادمة الحرمين الشريفين الملك سلمان بن عبد العزيز السعود ملك المملكة العربية السعودية. مصحف المدينة النبوية. مدينة المنورة: لمجمع الملك فهد لطباعة المصحف الشريف, 1441.
العبدلي, عبد الله علي محمد. أهمية اللغة العربية في فهم القرآن الكريم وتفسيره. القاهرة: دار الدلائل, د.ت.
مجمع اللغةا لعربية. المعجم الوسيط. جمهرية مصر العربية: مكتبة الشروق الدولية, 1432.
———المعجم الوسيط. تركيا: مكتبة الإسلامية, 1972.
الفوزان, عبد الرحمن بن إبراهيم. إضاءات لمعلي اللغة العربية لغير الناطقين بها. الطبعة الأ. الرياض: مكتبة الملك فهد, 2011.
الفوزان, عبد الرحمن بن إبراهيم و زملاؤه. دروس الدورات التدريبية لمعلمي اللغة العربية لغير الناطقين بها الجانب النظري. د.م: مؤسسة الموقف الإسلامي, 1423.
سليمان, حسن. دراسة التحليلية و موافق تطبيقه في تعليم اللغة العربية و الدين الإسلامي. مصر: دار المعارف, 1986.
طعيمة, محمود كامل الناقة و رشدي أحمد. طرائق تدريس اللغة العربية لغير الناطقين بها. مصر: منشورات المنظمة الإسلامية للتربية و العلوم و الثقافة, 2003.
مدكور, علي أحمد. ، تدريس فنون اللغة العربية. القاهرة: دار الفكر, 2002.
نقشبندي, محمد خضر عريف و أنور. مقدمة في علم اللغة التطبيقي. لبنان: دار خضر, 1412.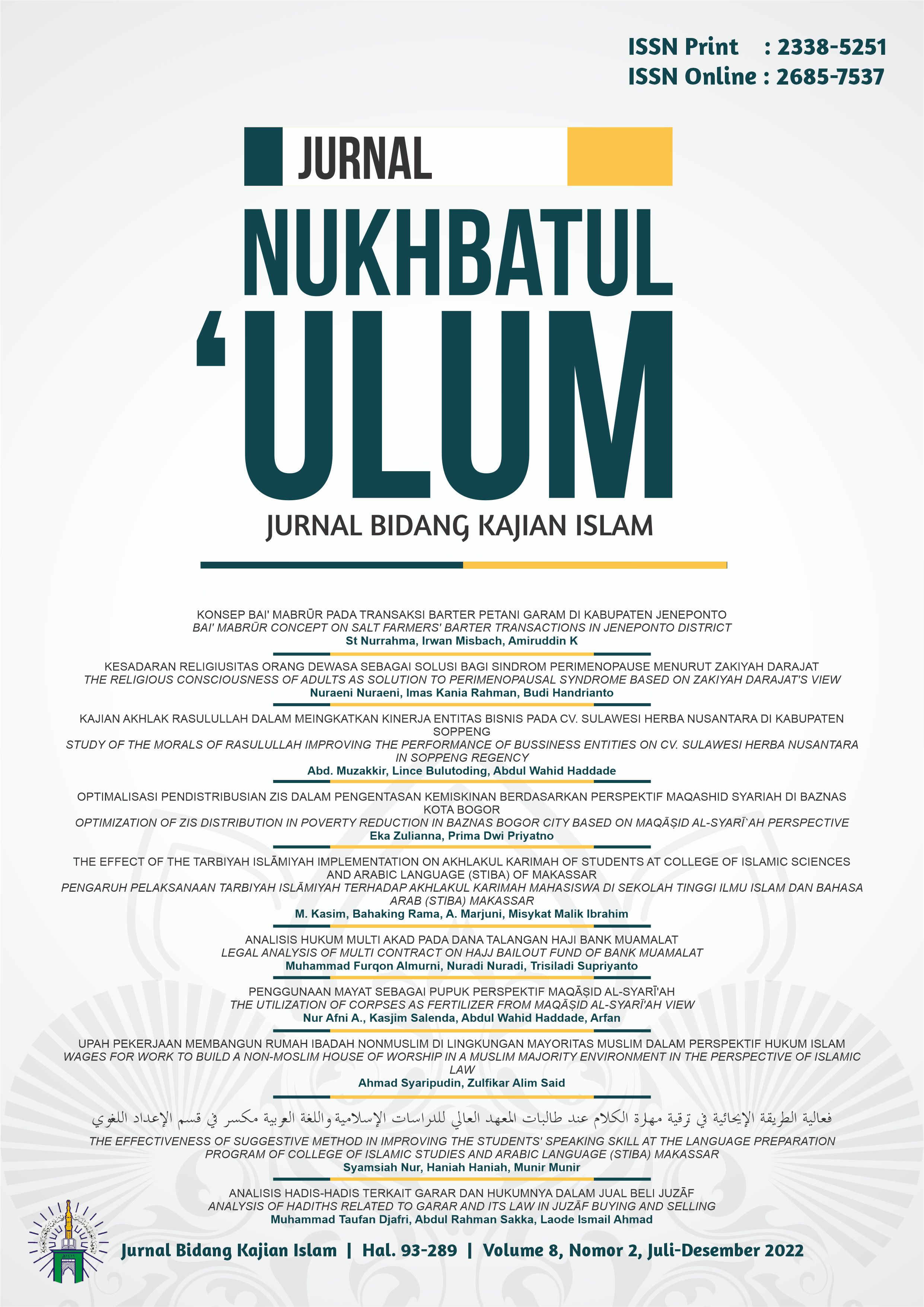 Statistic

Viewed:
65

Downloaded:
51
How to Cite
Syamsiah Nur, Haniah, H., & Munir, M. (2022). فعالية الطريقة الإيحائية في ترقية مهارة الكلام عند طالبات المعهد العالي للدراسات الإسلامية واللغة العربية مكسر في قسم الإعداد اللغوي. NUKHBATUL 'ULUM: Jurnal Bidang Kajian Islam, 8(2), 249-277. https://doi.org/10.36701/nukhbah.v8i2.616
Copyright (c) 2022 Syamsiah Nur, Haniah Haniah, Munir Munir
This work is licensed under a Creative Commons Attribution-NonCommercial-ShareAlike 4.0 International License.